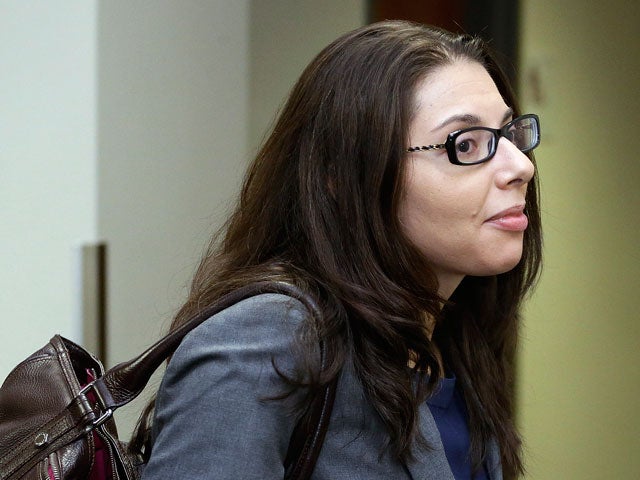 Reporter Jana Winter shielded in Aurora shooting case, N.Y. court rules
ALBANY, N.Y. -- A Fox News reporter is protected by New York law from being forced to reveal her sources for a story about the suspect in the mass shooting that left 12 people dead in a suburban Denver movie theater last year, the state's top court ruled Tuesday.
The state's shield law supports refusing to recognize a Colorado court's petition for a subpoena, the New York Court of Appeals ruled, 4 to 3.
Lawyers for the suspect, James Holmes, wanted New York-based reporter Jana Winter brought to Colorado to name two law officers who told her Holmes had mailed a notebook depicting violence to a psychiatrist. They argued that the sources violated a judge's gag order, may have lied under oath about that and won't be credible as trial witnesses.
"There is a substantial likelihood that a New York reporter will be compelled to divulge the identity of a confidential source (or face a contempt sanction) if required to appear in the other jurisdiction - a result that would offend the core protections of the shield law, a New York public policy of the highest order," the court said in overturning a mid-level appeals court's decision supporting the subpoena.
One dissenting judge said New York's law does not protect Winters because the privileged communications with her sources took place in another state.
Winter's attorney welcomed the ruling.
"We are absolutely thrilled and delighted that New York state's highest court has once again reaffirmed how important the protection of confidential sources is to the proper functioning of our society," said the attorney, Dori Hanswirth.
Hanswirth said she did not know whether Holmes' attorneys would appeal to federal court but said a federal judge would have no jurisdiction.
"This case is over as far as Jana Winter," Hanswirth said. "She does not have to appear in Colorado again and she will not appear."
According to the Reporters Committee for Freedom of the Press, the last journalist to go to jail for refusing to reveal a source was Judith Miller, a former New York Times reporter who spent 85 days behind bars in 2005.
The ruling was a defeat for Holmes' lawyers, who said Winter's sources had violated the gag order. The defense wanted Winter to identify the sources so Arapahoe County District Judge Carlos A. Samour Jr. in Colorado could somehow punish them.
Daniel King, one of Holmes' attorneys, did not initially return a call seeking comment. Defense lawyers and prosecutors routinely decline to comment, citing the gag order.
The impact of Winter's victory on the overall case against Holmes will likely be minimal, however.
Holmes is accused of opening fire on a packed audience in a movie theater in the Denver suburb of Aurora during a midnight showing of "The Dark Knight Rises" in July 2012. Prosecutors are seeking the death penalty.
He pleaded not guilty by reason of insanity to multiple counts of murder and attempted murder. Defense lawyers have acknowledged Holmes was the shooter, and the central question is whether he was legally insane at the time.
Winter had said she would refuse to comply if the judge ordered her to identify her sources, even though she could have been sentenced to jail indefinitely for contempt of court.
Winter's story, posted on the Fox News website days after the shootings, cited unnamed law-enforcement officials as saying Holmes sent a notebook to his psychiatrist containing scribblings of stick figures being shot and a written description of an upcoming attack.
Authorities have confirmed that Holmes did send the notebook, but they have never publicly said what it contains.
He underwent a mandatory sanity evaluation last summer. The results have not been made public.
Holmes' trial has been postponed indefinitely while attorneys argue a prosecution motion seeking further psychiatric evaluation.
Thanks for reading CBS NEWS.
Create your free account or log in
for more features.