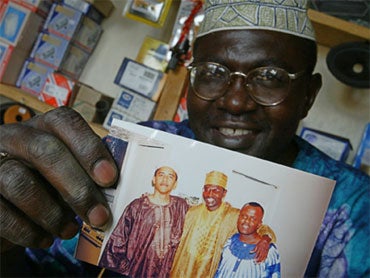 Report: Obama's half-brother says he wants Trump to win
President Barack Obama has repeatedly expressed his unwavering endorsement of his former rival and likely Democratic presidential nominee Hillary Clinton, but it turns out that support isn't echoed by his half-brother Malik Obama, the New York Post revealed in an interview. Instead, he said he wants to "Make America Great Again."
The president's older half-brother is a longtime Democrat, but he says he'll cast his vote in November for Donald Trump, the billionaire-turned Republican presidential nominee.
"I like Donald Trump because he speaks from the heart," Malik Obama told The Post from his home in the rural village of Kogelo. "Make America Great Again is a great slogan. I would like to meet him."
Mr. Trump tweeted about Malik Obama early Sunday morning:

Though Obama resides in Kenya, he remains a resident of Maryland, where he used to work as an accountant, according to public records. Reasons for his change in party affiliation, he cites, include FBI Director James Comey's recent decision not to prosecute Secretary Clinton for the mishandling of her private email server as well as his brother's "disappointing" intervention in Libya that led to the death of Muammar Qaddafi in 2011 -- a "close friend" of Malik Obama.
On behalf of the Secretary's email misuse, he told The Post, "she should have known better as the custodian of classified information." And, he continued, "I still feel that getting rid of Gaddafi didn't make things any better in Libya."
However, there's one more explanation for his newly pledged allegiance to the "party of Lincoln" - same sex marriage, a hot-button issue seemingly embedded into the social fabric of the Republican party.
"I feel like a Republican now because they don't stand for same-sex marriage, and that appeals to me," he said.
Malik Obama is a self-proclaimed polygamist who at the age of 52 married a 19-year-old.
Just last Thursday -- the final night of the Republican National Convention in Cleveland --Republicans made efforts to appear LGBT friendly. Peter Thiel, a top Silicon Valley venture capitalist, challenged typically held-conservative beliefs while exclaiming his pride as both a Republican and gay man. Soon after, Donald Trump even further courted the LGBT community in his acceptance speech.
"Only weeks ago, in Orlando, Florida, 49 wonderful Americans were savagely murdered by an Islamic terrorist," he said at the RNC. "This time, the terrorist targeted [the] LGBTQ community. No good. And we're going to stop it. As your president, I will do everything in my power to protect our LGBTQ citizens from the violence and oppression of a hateful foreign ideology. Believe me."
It isn't too surprising, however, that Malik Obama doesn't share the same excitement in the possibility of electing the first female commander-in-chief. In fact, they rarely see eye to eye -- a strained relationship that surfaced when the president's brother became the director of the Barack H. Obama Foundation, a controversy charity named after their father. The Washington Post revealed in 2011 that the organization wasn't state registered as it initially claimed and also had tax-exempt status from the IRS.
"My brother didn't help me at all," Obama said. "He wanted me to shut it down when I set it up. He hasn't supported me at all."
But soon after the Washington Post published its scathing report on the foundation, the IRS gave its stamp of approval -- leading to speculation that the president had intervened.
Malik and President Obama were once close, serving as each other's best mans, but that quickly changed after Mr. Obama assumed office in January 2009.
Thanks for reading CBS NEWS.
Create your free account or log in
for more features.