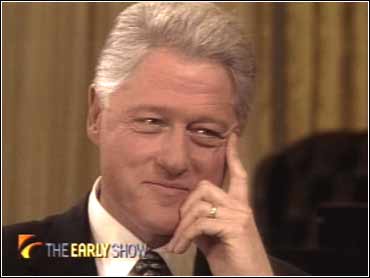 Report: Clinton Called CBS For Favor
While still president, Bill Clinton talked to the chief executive of CBS on behalf of two Hollywood friends involved in a billing dispute with the network.
CBS chief executive Leslie Moonves confirmed the discussion Tuesday but denied that Clinton's intercession on behalf of TV producers Harry Thomason and Linda Bloodworth-Thomason played a role in the dispute's resolution.
"I've had numerous chats with President Clinton over the past few years," Moonves said. "He is a friend of mine. No business decision has ever been made on the basis of a conversation with him."
Moonves said he and Clinton had talked about several subjects, one of which was Thomason. He said Clinton told him something like, "Harry's our friend, be nice."
"That was the extent of it," Moonves said.
The Thomasons and their company, Mozark Productions, were involved in a squabble with CBS over payment for an aborted comedy series when Mr. Clinton called CBS's chief executive, Leslie Moonves, according to two accounts, the paper said.
Soon thereafter, CBS, whose parent company Viacom holds hundreds of federal broadcast licenses for its stations, resolved the dispute by paying Mozark around $1 million, according to a report in The Wall Street Journal.
A CBS spokesman, Chris Ender, declined to comment, the paper said, and the Thomasons did not return several phone calls to their offices and to a lawyer.
Mr. Clinton's spokeswoman, Julia Payne, told The Wall Street Journal she had no knowledge of any "private conversation" between the former president and Moonves.
Harry Thomason acknowledged last week that he had asked Mr. Clinton to pardon convicted tax evaders Robert Fain and James Manning before leaving office, a request the president granted.
The president and Moonves have skied and golfed together, and Mr. Clinton convinced him to produce the network movie A Child's Wish, about a family's battle with illness that led to the passage of the president's cherished Family and Medical Leave Act, the paper reported.
Mr. Clinton played himself in a cameo role.
©MMI Viacom Internet Services Inc. All Rights Reserved. This material may not be published, broadcast, rewritten, or redistributed. Reuters Limited contributed to this report
Thanks for reading CBS NEWS.
Create your free account or log in
for more features.