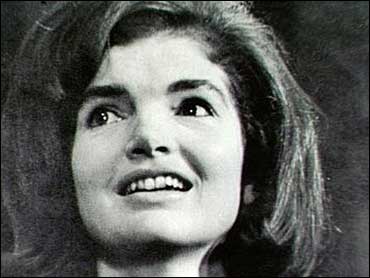 Release Of Jackie Letters Blasted
A priest's diary of private conversations with Jacqueline Kennedy after her husband's assassination should never again be seen in public, the head of Georgetown University's Jesuit community said Monday.
The Rev. Brian McDermott said the papers, which detailed Kennedy's anguish and thoughts of suicide, should have been destroyed long ago. The decision to show them to reporters last month further eroded the public's trust in priests, he said.
"The issue here is what should a priest put in writing and pass on to others," McDermott said. "It's not about academic freedom, it's about another value — the value of the relationship someone has with a priest."
The typewritten diary was kept by the late Rev. Richard McSorley, a Georgetown University theologian who counseled Kennedy over tennis lessons after President John F. Kennedy was killed.
The papers were detailed in a recent book and shown to reporters just before the 40th anniversary of the assassination.
McDermott said Georgetown's Jesuits are considering whether to make the documents available to the public through the university's archives. He said it would take an "incredibly overriding" argument to do that.
"We're in a time when boundaries have been violated in so many terrible ways by priests — this is another dimension," said McDermott, who was McSorley's supervisor. "It's really hard for me to see who has a right to see these things. Discretion would move me in the direction of not having them available."
First made public in Thomas Maier's book "The Kennedys — America's Emerald Kings," McSorley's papers paint a portrait of a grieving widow who talked about suicide and wondered whether her children would be better off being raised by her slain husband's brother Robert and his wife.
In handwritten letters and conversations on the tennis court at Robert Kennedy's Hickory Hill estate, Mrs. Kennedy spilled out her despair. McSorley detailed the conversations in his diary, which was included in nearly 60 boxes of material he left to the university when he died last year.
Maier said the issue is about academic freedom, and said McSorley wanted the papers made public because they have historical value.
"Too many Kennedy biographies portrayed (the Kennedy) marriage as a political arrangement, that they no longer cared for each other," Maier said Monday. "I think these papers show a very different picture, one that is quite compassionate, portraying a real woman of love and great humanity, rather than a stoic pop icon."
McDermott dismissed arguments that the conversations may have historical value.
"I really have a problem with the historicalness of it overriding the protection of the bond" between someone and her priest, he said.
When the papers became public, McDermott sent a letter to Jacqueline Kennedy's daughter Caroline expressing his "regret and sorrow." He said no one in the Kennedy family contacted him or the university to complain about the matter, and his regret had nothing to do with their financial support for the school.
The family's only public comment came from Sen. Edward M. Kennedy, D-Mass., who said he was "deeply disappointed" the privacy of the conversations was not respected.

Thanks for reading CBS NEWS.
Create your free account or log in
for more features.