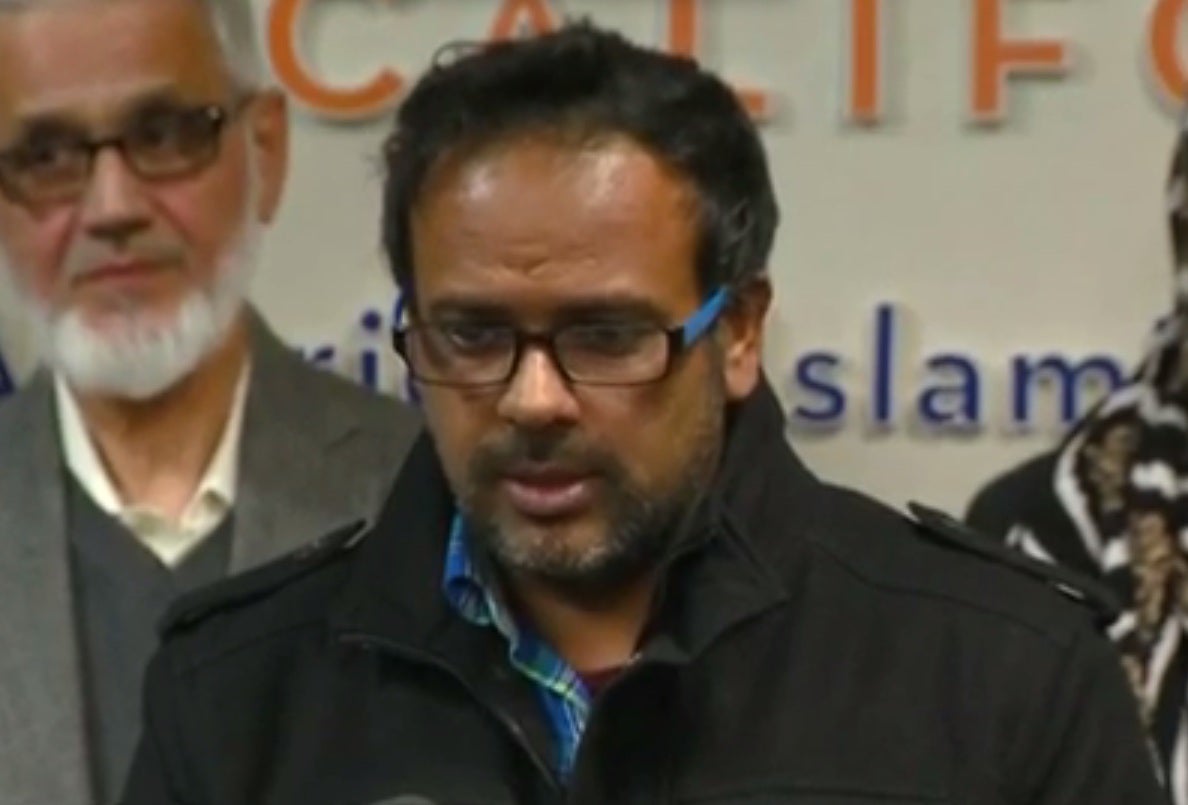 Relative of San Bernardino shooting suspect speaks out
SAN BERNARDINO, Calif. -- The brother-in-law of one of the suspects involved in the mass shooting in San Bernardino, California, spoke at a press conference late Wednesday evening condemning the shooting that killed 14 people and injured 18 others.
Farhan Khan, the brother-in-law of Syed Rizwan Farook, one of the suspects in the shooting, stood alongside local Muslim leaders expressing his sadness for the victims of the attack at the Inland Regional Center.
Police confirmed shortly after Khan spoke that the two suspects who were killed in a shootout after the attack on the center were Farook, 28, and Tashfeen Malik, 27.
Khan told reporters that the two suspects had been married for about two years.
"I cannot express how sad I am for what happened today," Khan said. "I am in shock that something like this would happen."
Khan said he spoke to his brother-in-law about a week ago.
"I have no idea, no idea, why he would do that. Why he would do something like this," he said.
When asked if his brother-in-law was a religious person, Khan said he didn't want to comment on Farook's personal life or anything else while the investigation was still unfolding.
"He was a normal person," Khan said.
Leaders of the California Chapter of the Council on American-Islamic Relations (CAIR) stood alongside Khan.
"We condemn this horrific and revolting attack and offer our heartfelt condolences to the families and loved ones of all those killed or injured," said CAIR-LA Executive Director Hussam Ayloush in a statement. "The Muslim community stands shoulder to shoulder with our fellow Americans in repudiating any twisted mindset that would claim to justify such sickening acts of violence."
San Bernardino Police Chief Jarrod Burguan said two suspects, one male and one female, were dead after engaging in a shootout with police hours after the initial attack. The pair had been spotted in a dark SUV as police investigated a residential area near the shooting location.
Police said a person was detained who was seen running near the gunbattle between the suspects and the officers. Burguan said it was not clear if that person is connected to the shooting. After the shooting, police conducted a search of the neighborhood and declared it safe.
An official told CBS News it would be a joint investigation between the FBI and local police until a motive could be established.
The shooting at the Inland Regional Center in San Bernardino was the deadliest mass shooting in a nation which has become all too familiar with them since 2012, when a man killed 26 children and adults at a school in the Newtown, Connecticut.
While the motive remains a mystery, there were reports that one of the shooters may have been at the building for a party, left and returned to shoot. The reports were being checked out, an official said.
The attack took place in a conference area where the San Bernardino County Department of Public Health was renting space to hold a banquet, said Marybeth Feild, president and CEO of the center. She said the building houses at least 25 employees as well as a library and conference center.
The FBI said it was possible the shooting was "terrorism," though it was too early to make any definitive conclusions.
A federal law enforcement official told CBS News' senior investigative producer Pat Milton that the two assault weapons found in suspects' SUV were AR-15 style rifles. There were also two pistols found in the SUV. Investigators were tracing the weapons to determine if they were legally purchased, where and when.
The dead suspects were dressed in tactical clothing and each had multiple magazines of ammunition attached to the garments.
The official said a piece of metal pipe was thrown from the SUV while the chase was underway but that it proved not to be an explosive device.
The suspects were "loaded with magazines for a gunfight," Meredith Davis, a spokeswoman with ATF, told CBS Los Angeles.
Burguan also said at a news conference Wednesday evening that authorities found what they believed to be an explosive device at the Inland Regional Center. Bomb squads were working on it, and officials told CBS News the contents of the device were being analyzed for content and construction by technicians.
Police served a search warrant on a home in Redlands, California, in connection with the shooting. Law enforcement officers were calling for people to come to the front door of a home there.
One of them called out: "This is the FBI." Officers in riot gear, a bomb squad unit and armored vehicles were outside the home Wednesday night. They appeared to have brought in robotic devices. It's unclear if anyone was inside the home.
City spokesman Carl Baker said Redlands police were assisting San Bernardino police in the search connected to the shooting.
Thanks for reading CBS NEWS.
Create your free account or log in
for more features.