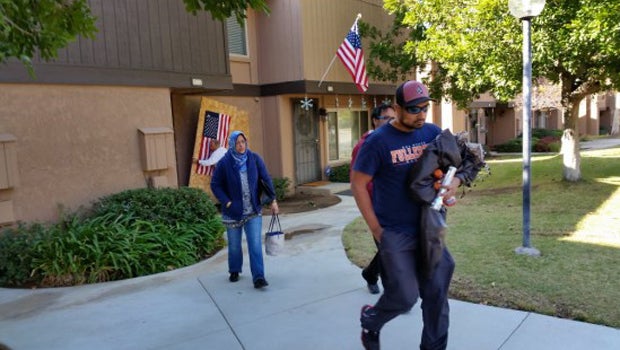 San Bernardino shooter's brother found guilty in immigration case
LOS ANGELES -- The brother of one of the shooters in the San Bernardino terror attack pleaded guilty Tuesday in an immigration fraud case stemming from the probe into the killings.
Syed Raheel Farook entered the plea in federal court in Riverside to one count of conspiracy to commit immigration fraud, the U.S. attorney's office said.
The 31-year-old is the brother of Syed Rizwan Farook, who was killed along with his wife in a shootout with police after the Dec. 2, 2015 attack in which 14 people were slain and 22 injured.
Syed Raheel Farook, his wife and Russian sister-in-law were accused last year of conspiring to arrange a fraudulent marriage between the sister-in-law and Enrique Marquez Jr., who is charged with plotting with Syed Rizwan Farook to carry out earlier attacks and with supplying guns used in the 2015 killings.
U.S. Attorney Eileen M. Decker said her office continues to seek justice for the victims of the San Bernardino killings.
"As I have said many times, we are committed to leaving no stone unturned in this investigation," she said in a statement.
Syed Raheel Farook is scheduled to be sentenced Nov. 13. He faces up to five years in federal prison, three years of supervised release and a $250,000 fine, the statement said.
A message was left for defense attorney Ron Cordova seeking comment.
Federal authorities said the marriage was a sham that sought to help Syed Raheel Farook's sister-in-law Mariya Chernykh obtain legal status in the U.S. after overstaying a visitor visa.
In court papers, authorities said Marquez confessed to the scheme when authorities questioned him about the shootings and he acknowledged getting $200 a month for the marriage.
Farook's wife Tatiana and Chernykh are scheduled for trial on March 28, the statement said.
Thanks for reading CBS NEWS.
Create your free account or log in
for more features.