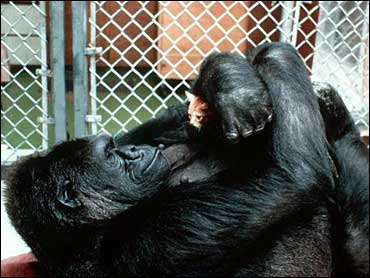 Red Hot Chili Peppers' Flea lends bass to Koko the gorilla
Ready for a serious rush of nostalgia?
Koko the gorilla -- of "Koko's Kitten" fame -- and Flea, bassist for the Red Hot Chili Peppers, teamed up in an adorable Instagram video. Flea lent the primate his bass and laid back while Koko, 45, plucked away.
The rocker wrote, "Koko rocks a flea bass like it ain't nuthin" on YouTube, though that might be stretching the truth a bit -- Koko probably needs a lot more practice before she tries playing "Give It Away."
It's hard to know who's having a better time. Koko kisses the instrument's fretboard multiple times, while Flea calls it "the day that I will never forget in my life."
We'll call it a draw.
Koko, a Western lowland gorilla who knows more than 1,000 words in sign language, lives at the Gorilla Foundation in Woodside, California.
Thanks for reading CBS NEWS.
Create your free account or log in
for more features.