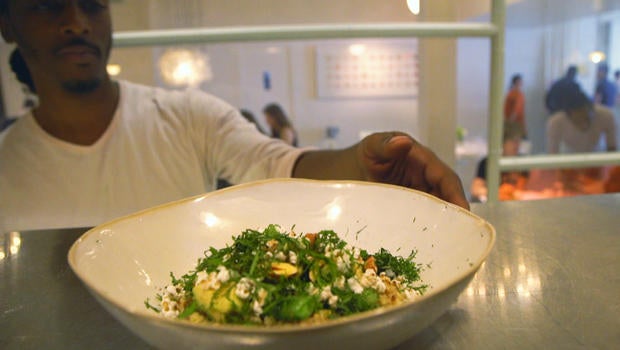 Restaurants making vegetables the star of the meal
More than 22 million American adults today eat mostly or strictly vegetarian or vegan. Farmers markets have grown steadily since 2004, rising to more than 8,000. Vegetables are also dominating this year's cookbook releases, with healthy seasonal veggie recipes for the home cook filling page after page.
And at restaurants nationwide, vegetables are no longer the sad side dish on the dinner plate -- they're now the star!
With dozens of restaurants around the world and several Michelin stars, internationally renowned chef Jean-Georges Vongerichten knows the best ingredients make the best food.
On a recent tour of the fresh produce stands at New York City's Union Square Greenmarket he told CBS News contributor Jamie Wax, "When you see a market like this, you don't want to eat anything else."
He introduced us to the familiar, like kale …
Wax asked Vongerichten, "Can kale survive its trendiness? Do you think kale is forever?"
"Forever," he replied. "You can cook it, you can serve it raw."
… and the more unusual, like the flowering part of the watercress, peppery and spicy.
And even the completely unknown, like fiddlehead ferns.
Inspired by the abundance and variety of vegetables, Vongerichten recently opened his first vegetarian restaurant, abcV, just around the corner.
"We treat a mushroom exactly like we do any other piece of fish or a piece of meat," he said.
"With vegetables, you have to push a little harder because people say, 'Oh, it's just a piece of vegetable.' By adding flavors in layers, you can create something really unique and satisfying."
Chefs and restaurants across the country and at all price points are making veggies the star of the plate. Whether vegan, vegetarian or vegetable-forward, it's now about celebrating vegetables, not trying to replace meat.
"We went from being focused on nose-to-tail eating to now thinking about root-to-stem eating," said Food & Wine editor Nilou Motamed, who was dining at the Michelin-starred vegetarian restaurant Nix in New York City.
"Vegetable-forward cooking is not necessarily vegetarian cooking, but it's really looking at vegetables as the focal point of a meal, and the rest as additional players," Motamed said.
In Chicago, chef Dan Snowden and the self-styled vegetable-affectionate restaurant Bad Hunter put down roots late last year in the city's meatpacking district.
"We just love our vegetables here," Snowden said. "But we also like meat."
He says he's feeding the appetites of a health- and environment-focused public that is clamoring for vegetable-based meals, where meat is a side dish, a garnish … or even absent.
"The educated diner wants to know where their food is coming from and why and how," Snowden said. "We really abide by that philosophy of using produce and meats as consciously as we can."
And millennials are part of that trend. "Millennials are pushing the envelope for us all," said Motamed. "They are engaged. They care."
When asked if people who come into his vegetable-focused restaurant are skeptical they will enjoy it, Vongerichten said, "I think breakfast, no. Lunch, no. Dinner, a little bit. I mean, they're nervous about dinner, because generally [they] think of a little more substantial meat, fish restaurant. So we replace it by dishes like this: Whole cauliflower."
And while not everyone is ready to spend big kinds of money on a vegetable entrée, more hungry diners are turning up for a taste.
Wax asked, "Is that fun for you as a chef to make converts of people who don't believe in this kind of cooking?"
"Absolutely, absolutely," Vongerichten replied. "The challenge is why we do it, no? I think plants and vegetables are going to be the way of the future. I mean, it takes two weeks to grow a radish. It takes two or three years to raise a cow. I think the diet's going to be better for everybody."
"And that's just fine with you?"
"It's fine with me. It's the way we go."

More "Real Food":
For more info:
Thanks for reading CBS NEWS.
Create your free account or log in
for more features.