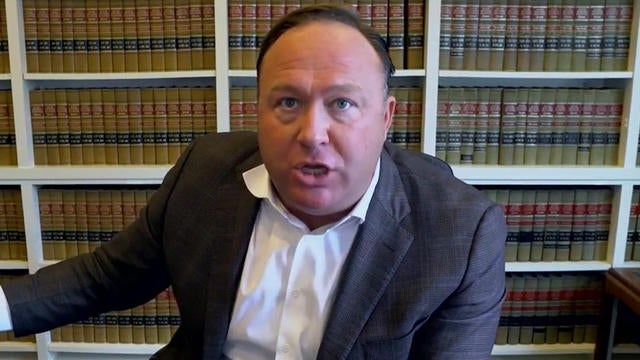 Radio host Alex Jones loses custody battle with ex-wife
AUSTIN, Texas -- A jury has stripped right-wing radio host and conspiracy theorist Alex Jones of having primary custody of his children and awarded joint custody to his ex-wife.
The Austin American-Statesman reports that state District Judge Orlinda Naranjo also announced Kelly Jones will decide where their three children will live.
The Travis County jury deliberated all Thursday afternoon and late into the night before returning its verdict.
In closing arguments, Kelly Jones' attorney told jurors the radio personality is a "cult leader" who's turning their children against his ex-wife.
Earlier, Alex Jones' attorney told the jury the children, ages 9, 12 and 14, are thriving under Jones' care and he should remain the sole caregiver.
Jones is the founder of InfoWars and a frequent purveyor of conspiracy theories. Most recently, the site has been sued by yogurt maker Chobani, who charge that InfoWars posted fabricated stories earlier this month that linked Chobani owner Hamdi Ulukaya and the company to a sexual assault case involving refugee children.
The trial for custody of the children began April 17 with Jones' attorney claiming the radio host was a "performance artist." Jones later defended himself against that characterization on the stand.
"I am an actor, we're all actors, but I believe in what I stand for," he told the jury.
Thanks for reading CBS NEWS.
Create your free account or log in
for more features.