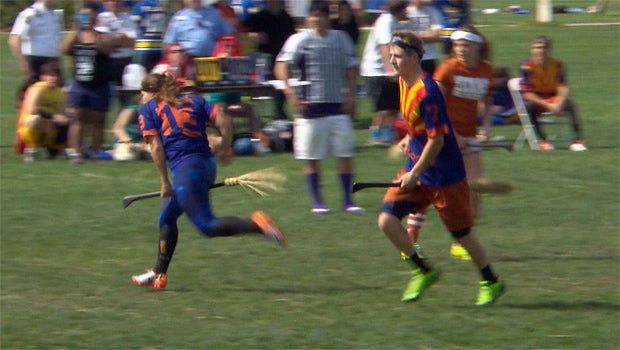 ​Quidditch, the sport of wizards
Quidditch, anyone? No idle question in Columbia, South Carolina, where a big championship match is underway this weekend. Anna Werner attended last year's contest, where she saw an author's imaginary game come to life:
It's been nearly 20 years since the first Harry Potter book came out and proceeded to cast a spell over fans around the world. J.K. Rowling's creation became the most popular book series in publishing history, with over 450 million copies sold -- and one of the biggest movie franchises in film history, with nearly $8 billion in ticket sales.
And now Potter-mania has spawned another craze, one based on the high-flying fantasy game played by Harry and his friends called Quidditch, which has now jumped from the world of wizards to the playing fields of Rock Hill, South Carolina.
Yes, real-world Quidditch, complete with players "riding" broomsticks.
"Quidditch has exploded into the college scene and the high school scene all over the world," said one girl. "It's absolutely amazing!"
It's even been the subject of a documentary called "Mudbloods" (a Harry Potter reference, of course).
"People get passionate about it because they grew up with Harry Potter," said one fan.
The documentary introduces Alex Benepe, one of the founders of Quidditch. He's been playing since 2005, when a classmate at Middlebury College turned to him with an idea: "'This weekend, we're gonna try and play real-life Quidditch,'" Benepe recalled. "We were freshman. And I just thought to myself, 'There's no way this is gonna work. This is gonna be so dumb!'"
Not so dumb after all. Eleven years later, the game is played by thousands of athletes all over the world, although players are often asked some unusual questions, like "What is the snitch? " "Do you wear a cape?" "How do you fly?" "Do you really use brooms?"
Who would have thought this sport would catch on? Well, even before any of the eight blockbuster Harry Potter movies were made, author J.K. Rowling was ready to line up. "I will be right at the front of the queue wanting to see Quidditch," she said. "Because I've seen this in my head for so many years, and actually that's the one bit I REALLY want to see!"
The movie laid out the game, with its wizards on broomsticks ("It had to be on broomsticks, it just had to be," Rowling reasoned), and giant hoops for goals.
Earthbound Quidditch still has hoops and balls. Sadly, players can't fly. Instead, they simply hold a broomstick between their legs. Alex Browne and Missy Sponagle admit the broom thing takes some getting used to.
So what is the point of having the broom between your legs, if you can't fly?
"You know, why do you have to dribble a basketball?" replied Browne. "'Cause someone invented the sport and said, 'You've gotta dribble a basketball.' Why do you have to have a broom between your legs for this? Because it's Quidditch!"
He also addressed an obvious concern: "I think everyone recommends wearing a cup, and no one does."
Then there's the role of that little golden ball with wings, called the Snitch. Catch it, and you end the game! But in real-life Quidditch, snitches are yellow people.
So, is there a personality type for Snitches?
"Usually extroverted," said Brian. "We like to do a lot of fun stuff. We like to pump up the crowd."
"A little bit like a rodeo clown?"
"Yeah, that's actually not too far off. Dignified rodeo clown!"
Dignified? Note the ball in a sock hanging off each butt. Snatching that "Snitch sock" still ends the game, but getting hold of it can be a real challenge.
"My specialty is throwing and tossing [players]," said Nathan.
And does he enjoy it? "Yeah, you know, it's therapeutic!" he laughed.
Even with all these undeniable displays of athleticism, Quidditch still doesn't get much respect. In the movie "The Internship," Quidditch is a game that's played for laughs.
"There are sports that are socially acceptable," said Browne. "And for whatever reason, Quidditch isn't socially acceptable yet."
But he and his girlfriend, Missy, claim since it's co-ed, Quidditch is great for couples.
"I can give her an assist; she can score a goal off my pass," said Browne. "It's awesome. It's really cool!"
What does the future hold for the fastest-growing sport based on a fantasy series filled with wizards and magic wands? With a little help from the Quidditch Referee of the Year, Alex Scheer, Quidditch is going pro.
"I am working with a group of individuals on starting the first professional Quidditch league," Scheer said.
And yes, there will be Quidditch trading cards!
"You get a lot of people who resist Quidditch," said Scheer. "They try to fight it. And they try to ignore it and block it out. But it's one of those things -- you can't fight it. It's coming!"

For more info:
Thanks for reading CBS NEWS.
Create your free account or log in
for more features.