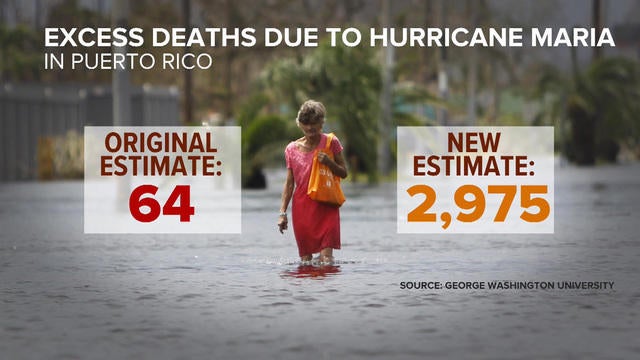 Hurricane Maria is now one of the deadliest disasters in U.S. history
Hurricane Maria now stands as one of the deadliest natural disasters in U.S. history — claiming even more lives than Hurricane Katrina — after a new report said the death toll in Puerto Rico was more than 46 times higher than the initial government tally. Puerto Rico Gov. Ricardo Roselló is raising the official toll to match the study's findings.
Maria led to an estimated 2,975 deaths in Puerto Rico, according to the analysis by George Washington University's Milken Institute School of Public Health, which was commissioned by Puerto Rico's governor. That makes Maria the deadliest hurricane to hit the United States in more than 100 years, and one of the nation's deadliest disasters ever.The new analysis looked at historical death patterns on Puerto Rico between 2010 and 2017, and compared those figures with the number of deaths that occurred between September 2017 — when the storm slammed the island — and February 2018.
Based on the study's findings, Maria's fatalities surpass those of Hurricane Katrina, which killed about 1,800 when it hit the Gulf Coast in 2005, and every other U.S. natural disaster since the early 20th century.
It is topped by the great hurricane that struck Galveston, Texas in 1900, killing at least 8,000 people, according to the National Oceanic and Atmospheric Administration. And the San Francisco earthquake in 1906 killed more than 3,000 people, according to the U.S. Geological Survey.
Puerto Rico's government initially confirmed only 64 deaths from Maria. When President Trump visited the island about two weeks after the storm, he praised the disaster response and expressed relief that Maria did not turn out to be a "real catastrophe" like Hurricane Katrina.
"Every death is a horror, but if you look at a real catastrophe like Katrina and you look at the tremendous hundreds and hundreds of people that died and what happened here with a storm that was just totally overbearing, no one has ever seen anything like that," Trump said during a visit to the U.S. territory in October 2017. He told emergency responders that they should be "very proud" of the low death count in Puerto Rico.
The new report says the lower figure only took into account direct causes of death like flying debris and drownings and not a broader increase in mortality rates resulting from the catastrophe.
The revised toll from Hurricane Maria is now nearly identical to the number of people who died from the 9/11 attacks — 2,977, including some who died years later from illnesses caused by toxic dust exposure.
Several prior studies of Maria's impact have also estimated the death count in the thousands. Puerto Rico said in a report to Congress earlier this month that it saw 1,427 more deaths "than normal" in the four months after Hurricanes Irma and Maria hit, though it said not all of the deaths may be attributable to the storms. A study published in the Journal of the American Medical Association estimated the number at 1,139. And a Harvard University study based on door-to-door surveys estimated that Maria killed more than 4,600 people.
Thanks for reading CBS NEWS.
Create your free account or log in
for more features.