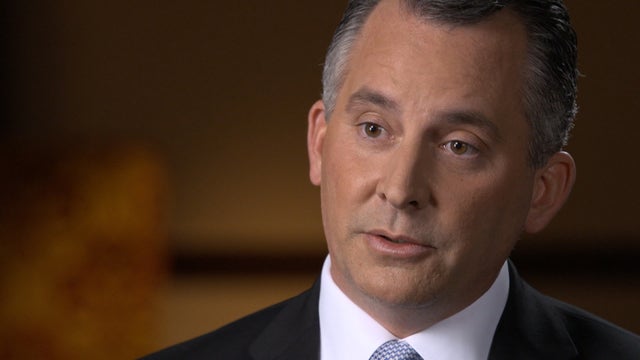 U.S. Rep. says calling donors for money is a shameful distraction
Rep. David Jolly says he was told his first job as a newly elected congressman was to raise $18,000 a day so he could get reelected. On Sunday's 60 Minutes, the Florida Republican calls the daily phone calls he and other members of Congress feel pressed to make to donors a "shameful" distraction from work they should be doing for the people who elected them. Jolly and other frustrated congressmen talk to Norah O'Donnell on 60 Minutes Sunday, April 24 at 7 p.m. ET/PT.
Two years ago, Jolly won a special election to the seat he occupies, a seat that was up for grabs again only months later. In a strategy session, he says, one member of the Republican Party leadership showed him he had six months to raise $2 million. "And your job, new member of Congress...your first responsibility is to make sure you hit $18,000 a day," he says he was told.
Asked how he could achieve such a goal, he tells O'Donnell, "Simply by...cold-calling a list that fundraisers put in front of you... 'They gave $18,000 last year to different candidates, they can give you a thousand too if you ask them to,'" he says he was told. "And they put you on the phone and it's a script," says Jolly. "It's a cult-like boiler room...where sitting members of Congress are compromising the dignity of their office...It's shameful."
And it's a daily routine for many members of Congress from both parties. The law does not allow them to make such calls from their offices, so both parties provide convenient call centers just a few blocks away. The calls and fundraising events are usually lunchtime activities. Says Jolly, "The House schedule is actually arranged, in some ways, around fundraising...You never see a committee working through lunch because those are your fundraising times."
Jolly introduced a bill a few months ago called "The Stop Act." It would prohibit federal elected politicians from personally soliciting contributions, but not do anything to limit the huge influx of money in the political system made possible by the Citizen's United Supreme Court ruling -one of the reasons politicians need so much money to be elected. "This is Congressional reform," says Jolly. "Members of Congress spend too much time raising money and not enough time doing their jobs."
Rep. Rick Nolan, Democrat from Minnesota, is co-sponsoring The Stop Act . "Thirty hours is what they tell you you should spend. And it's discouraging good people from running from public office," he tells O'Donnell. "I could give you names of people who've said, 'You know, I'd like to go to Washington and help fix problems, but I don't want to go to Washington and become a mid-level telemarketer, dialing for dollars, for crying out loud."
Thanks for reading CBS NEWS.
Create your free account or log in
for more features.