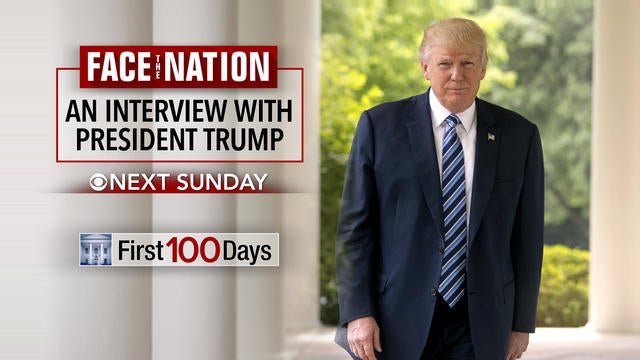 CBS News' John Dickerson to interview President Trump on his 100th day in office
WASHINGTON -- President Donald Trump will sit down with CBS News' chief Washington correspondent and "Face the Nation" anchor John Dickerson for an exclusive interview on Saturday, the president's 100th day in office.
Dickerson will interview Mr. Trump at the White House then travel with him as the president holds a rally in Pennsylvania Saturday night to mark his first 100 days in office. The first half of the interview will air Sunday, April 30, on "Face the Nation," with the second half airing on "CBS This Morning" the next day. "CBS This Morning" will broadcast live from the White House on Monday, May 1.
During his campaign, Mr. Trump laid out a "100-day action plan to Make America Great Again," which included items like repealing and replacing Obamacare. That goal seems unlikely to happen before his first 100 days draw to a close, with Congress yet to come to any legislative deal.
But there is one big deadline looming before Mr. Trump's 100th day on the job: the Friday deadline for Congress to pass spending legislation to avoid a government shutdown.
Mr. Trump said in a tweet last week that the 100-day standard is "ridiculous," despite laying out his own agenda for it.
Pennsylvania, where Mr. Trump will hold his rally, was a pivotal state in his successful bid to defeat former Secretary of State Hillary Clinton in the 2016 race for the White House.
Mr. Trump's rally will take place at roughly the same time as the White House Correspondents' Association dinner, which the president had already said he would not be attending.
Thanks for reading CBS NEWS.
Create your free account or log in
for more features.