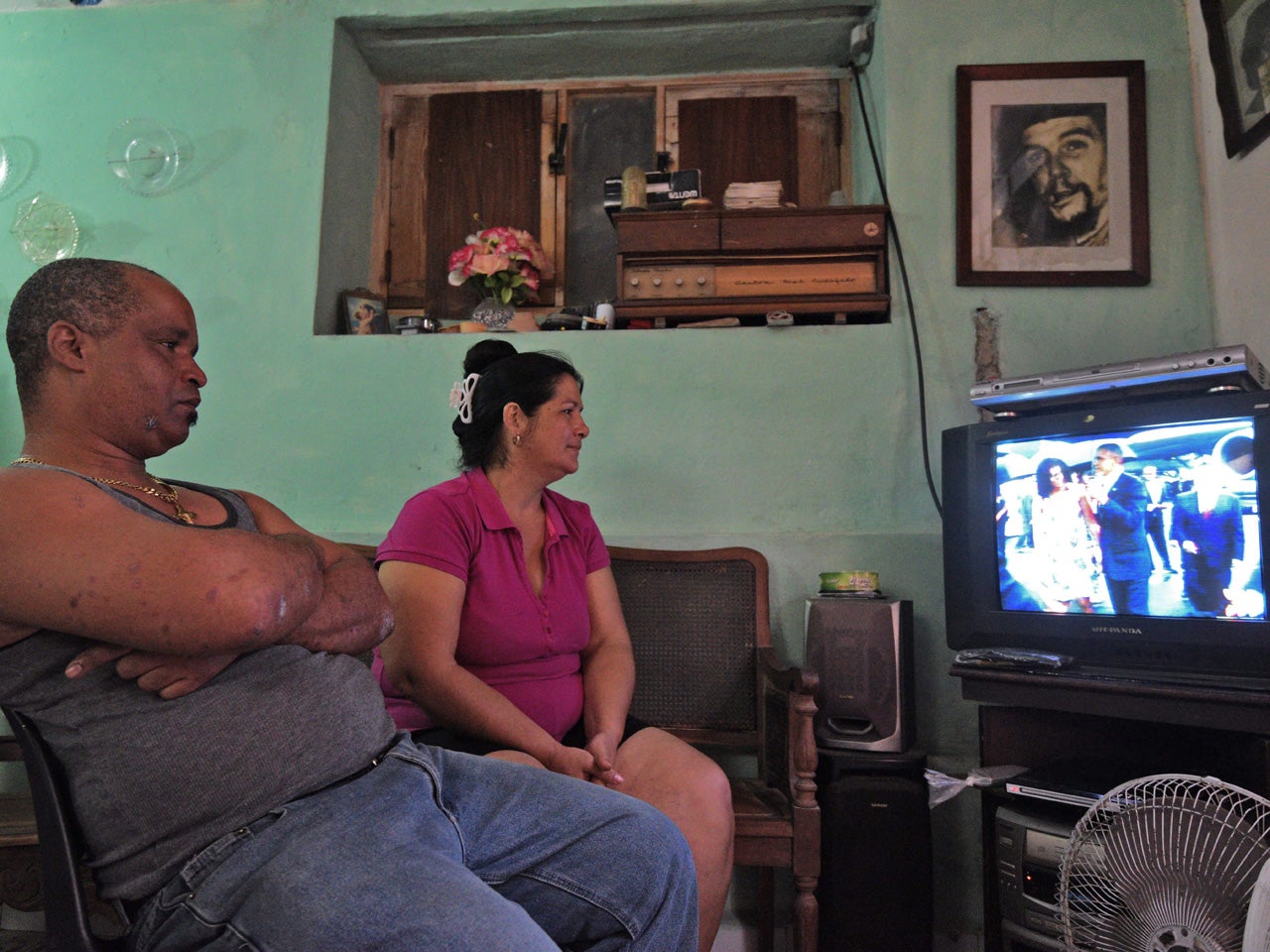 President Obama welcomed in Cuba on historic visit
President Obama arrived in Cuba early Sunday evening, signaling a historic shift in U.S.-Cuba relations as the first sitting U.S. president to visit the island nation in nearly nine decades.
The president took to Twitter to announce his arrival:
Cuban Foreign Minister Bruno Rodriguez and other senior government officials met the Obama family as they stepped off the plane on to rainy Cuban ground. Cuban President Raul Castro was noticeably absent, though he is expected to greet Mr. Obama during Monday's official welcome at the presidential palace.
After touching down in Havana, the president's two-day trip to Cuba will include a packed schedule, with plans to have official meetings with Castro and to appear at a White House summit with business entrepreneurs.
But Mr. Obama will also have time to celebrate the diversity of culture on the island just 90 miles off American shores. His more leisurely planned activities include a tour of Old Havana and an appearance at a baseball game between the Tampa Bay Rays and Cuba's national team. The president will also visit Havana Cathedral, where he will be greeted by Catholic leaders that had helped to open diplomatic ties between the two nations.
The president departed from the Joint Base Andrews in Maryland on Sunday afternoon, accompanied by his wife and two daughters. In a bipartisan show of support, a bevy of about 40 U.S. House and Senate members also joined him.
Several business leaders, including representatives from PayPal, Airbnb, and hotel franchise Marriott International, are also expected to make the trip to Havana in the coming days to take part in the White House's entrepreneurship conference.
The visit comes more than a year after the White House moved to normalize relations with America's previous Cold War-era foe.
Last fall, the U.S. embassy officially opened in Cuba, resuming diplomatic relations with the island nation. Since then, the president's administration has already instituted several changes in its policies towards Cuba.
Last month, the U.S. and Cuba inked a deal to reboot commercial air traffic between the two countries for the first time in about 50 years. And earlier this month, the president sent a letter to an elderly Cuban woman that was carried aboard the first direct mail flight to Cuba in just as long.
Other policy shifts include Obama's announcement last month that the administration would move to shut down America's detention facility in Guantanamo Bay.
Despite the friendly overtures between the two nations in recent months, some tensions remain.
The U.S. continues to remain skeptical of the Cuban government's restrictions on media and publicly critical speech, along with its human rights policies.
Mr. Obama's visit was also sharply criticized by at least two candidates vying for the Oval Office this year.
Republican front-runner Donald Trump fired off a scathing tweet just as the president's plane landed in Havana:
Texas Sen. Ted Cruz, whose father immigrated from Cuba, also decried the trip, which he said sent a signal to political prisoners that "nobody has your back."
"Until Obama, siding with the oppressed had always been America's aspiration," Cruz wrote in an editorial published in Politico on Sunday. "In Cuba the Castros have been the implacable enemies of the United States for more than half a century. It is in our interests to make common cause with the brave souls who oppose them...This is why it is so sad, and so injurious to our future as well as Cuba's, that Obama has chosen to legitimize the corrupt and oppressive Castro regime with his presence on the island."
During his time in the country, the president is also expected to meet with Cuban dissidents, a gathering that the White House required on the schedule before the trip.
The last time a sitting president made a trip to Cuba was in 1928, when Calvin Coolidge arrived on the island's shores aboard a battleship.
Thanks for reading CBS NEWS.
Create your free account or log in
for more features.