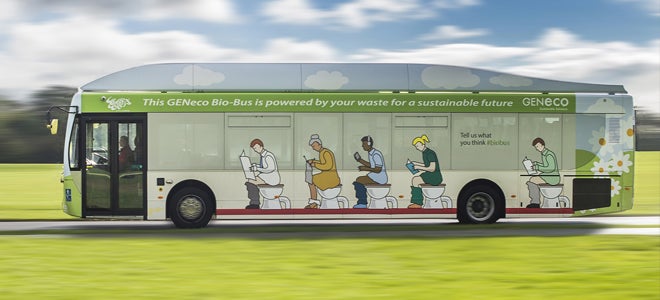 ​Poop-powered bus hits the road in Britain
This week, passengers in the UK couldn't complain their bus being loaded with trash. It was fueling the engine.
The 40-seat Bio-Bus runs on gas generated through the treatment of food waste and human waste, producing lower emissions than typical diesel engines. It can travel up to 186 miles on a single tank.
What does it take to make a tank's worth of gas? Roughly the amount of waste excreted by five people in one year.
The fuel is the veritable epitome of a renewable resource. It's limitless.
As Collin Field of Bath Bus Company told CBS News's Alphonso Van Marsh, "We will never, ever, ever, while we are on this planet, run out of human waste."
The biomethane gas is produced at Bristol sewage treatment works through a process known as anaerobic digestion. It's just one example of the kind of eco-mindedness that has earned the city the 2015 European Green Capital Award.
The plant can produce 4.5 billion gallons of biomethane gas per year, from nearly 20 billion gallons of sewage and 35,000 tons of food waste, collected from homes, supermarkets and food manufacturers.
In addition to fueling the Bio-Bus, this output is also being supplied to the national gas network. GENeco, the company that runs the Bristol plant, said it is capable of powering almost 8,500 homes.
The bus began transporting passengers Wednesday from the Bristol Airport to the historic city of Bath, 19 miles away. Bath Bus Company will use the bus -- which is emblazoned along the side with illustrations of people on the toilet -- to shuttle up to 10,000 passengers a month on its Bristol-to-Bath route. The vehicle will also be available for other local routes.
Mohammed Saddiq, GENeco general manager, said in a statement, "Gas powered vehicles have an important role to play in improving air quality in UK cities, but the Bio-Bus goes further than that and is actually powered by people living in the local area, including quite possibly those on the bus itself."
Thanks for reading CBS NEWS.
Create your free account or log in
for more features.