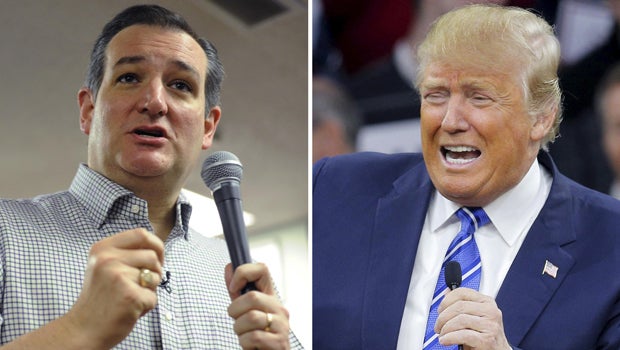 Poll: Turnout key to whether Ted Cruz or Donald Trump wins Iowa
A new Monmouth University poll shows Donald Trump leading Ted Cruz among likely Iowa Republican caucus goers, but low turnout in Monday's caucus could hurt his chances of winning.
Thirty percent of likely caucus goers said they supported Trump, while 23 percent said they supported Cruz. While Cruz's support is just one point behind what he received in Monmouth's December poll, Trump's support has grown from 19 percent that month. It is the businessman's best showing in a Monmouth Iowa caucus poll since he entered the race.
The poll found Marco Rubio receiving 16 percent support, Ben Carson receiving 10 percent support, and all other candidates drawing less than 5 percent support.
Cruz performs better among Republicans who have voted in state primary elections before, leading that group by 5 percentage points over Trump. His supporters are very high among those who haven't taken part in party elections: He receives 44 percent of support among Republicans who have voted in just the general election and 50 percent support among independents who say they are planning to attend the Republican caucus. Rubio is the second most successful candidate among non-primary GOP voters, getting 20 percent of their support.
Monmouth is estimating a turnout of 170,000 voters, far more than the 122,000 who turned out in 2012. According to their projections, increasing turnout to 200,000 voters would give Trump an even bigger lead - 32 percent to Cruz's 21 percent. But a smaller turnout, like 130,000 voters, would benefit Cruz: He and Trump could end up in a tie with 26 percent each, according to Monmouth's model.
"Turnout is basically what separates Trump and Cruz right now," said Patrick Murray, director of the independent Monmouth University Polling Institute in West Long Branch, NJ. "Trump's victory hinges on having a high number of self-motivated, lone wolf caucusgoers show up Monday night."
The poll also suggests that Cruz's organization in the state is stronger than Trump's. Twenty-five percent of likely caucus goers report that they were contacted by the Cruz campaign, compared with just 13 percent for Trump. Voters who were contacted by a campaign are more likely to say they're supporting Cruz (28 percent) than Trump (25 percent). However, those who haven't been contacted by a campaign but plan to caucus are far more likely to say they're supporting Trump (35 percent) than Cruz (19 percent).
A Quinnipiac poll released Wednesday morning showed the Democratic race is much tighter, with Bernie Sanders leading Hillary Clinton, 49 percent to 45 percent. Martin O'Malley gets 4 percent support. Those results are virtually unchanged from Quinnipiac's survey on Jan. 12.
The Monmouth survey polled 500 likely Republican caucus attendees by telephone from Jan. 23 to 26. The margin fo error is plus or minus 4.4 percentage points.
The Quinnipiac survey polled 606 likely Iowa Democratic caucus participants by phone from Jan. 18 to 24. The margin of error is plus or minus 4 percentage points.
Thanks for reading CBS NEWS.
Create your free account or log in
for more features.