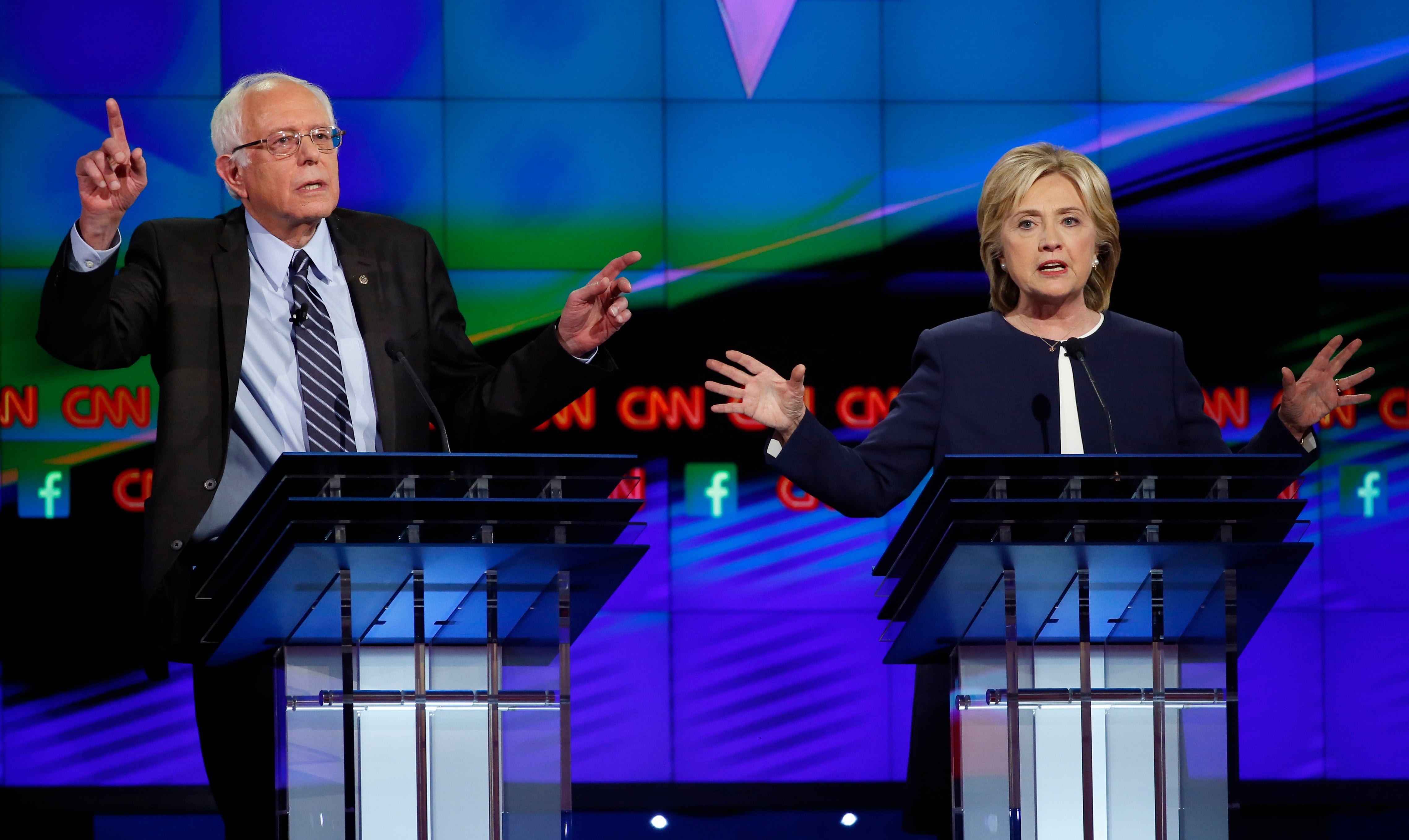 Poll: Clinton deadlocked with Sanders in New Hampshire
Hillary Clinton is now in a virtual tie with Sen. Bernie Sanders in the key early voting state of New Hampshire, according to a Suffolk University/Boston Globe poll released on Friday.
Clinton leads Sanders 37 percent to 35 percent among likely Democratic primary voters - within the margin of error - the survey found. Vice President Joe Biden -- who's considering a run -- came in third place with 11 percent support.
Several recent polls had shown the Vermont independent had been leading Clinton in the Granite State, which Clinton had won in the 2008 presidential primary.
Nearly half of likely Democratic voters in New Hampshire said Biden shouldn't run for president, compared to 36 percent who want him to jump into the race.
A majority of Democrats polled said Clinton won Tuesday night's Democratic debate in Las Vegas, while less than a quarter said Sanders won.
But even with Clinton's slight lead, she received the lowest rating when voters were asked who they trust the most. About 22 percent said they trust Clinton, 23 percent trust Biden and 33 percent trust Sanders.
And despite the trust issues, more than half of people surveyed said Clinton has the best chance of winning the general election next November. Only 16 percent said Sanders has the best chance and 14 percent said the same about Biden.
Among women, Clinton leads Sanders 41 percent to 34 percent while Sanders leads Clinton 37 percent to 31 percent among men.
On the issue of gun control, 41 percent of voters said they favor Clinton's call for stricter gun control compared to 24 percent who said they are aligned with Sanders' more lax position on the issue. Clinton attacked Sanders' record on gun control at the debate.
The poll surveyed 500 likely voters in New Hampshire's Democratic presidential primary between October 14 and 15 with a margin of error of +/-4.4 percentage points.
Thanks for reading CBS NEWS.
Create your free account or log in
for more features.