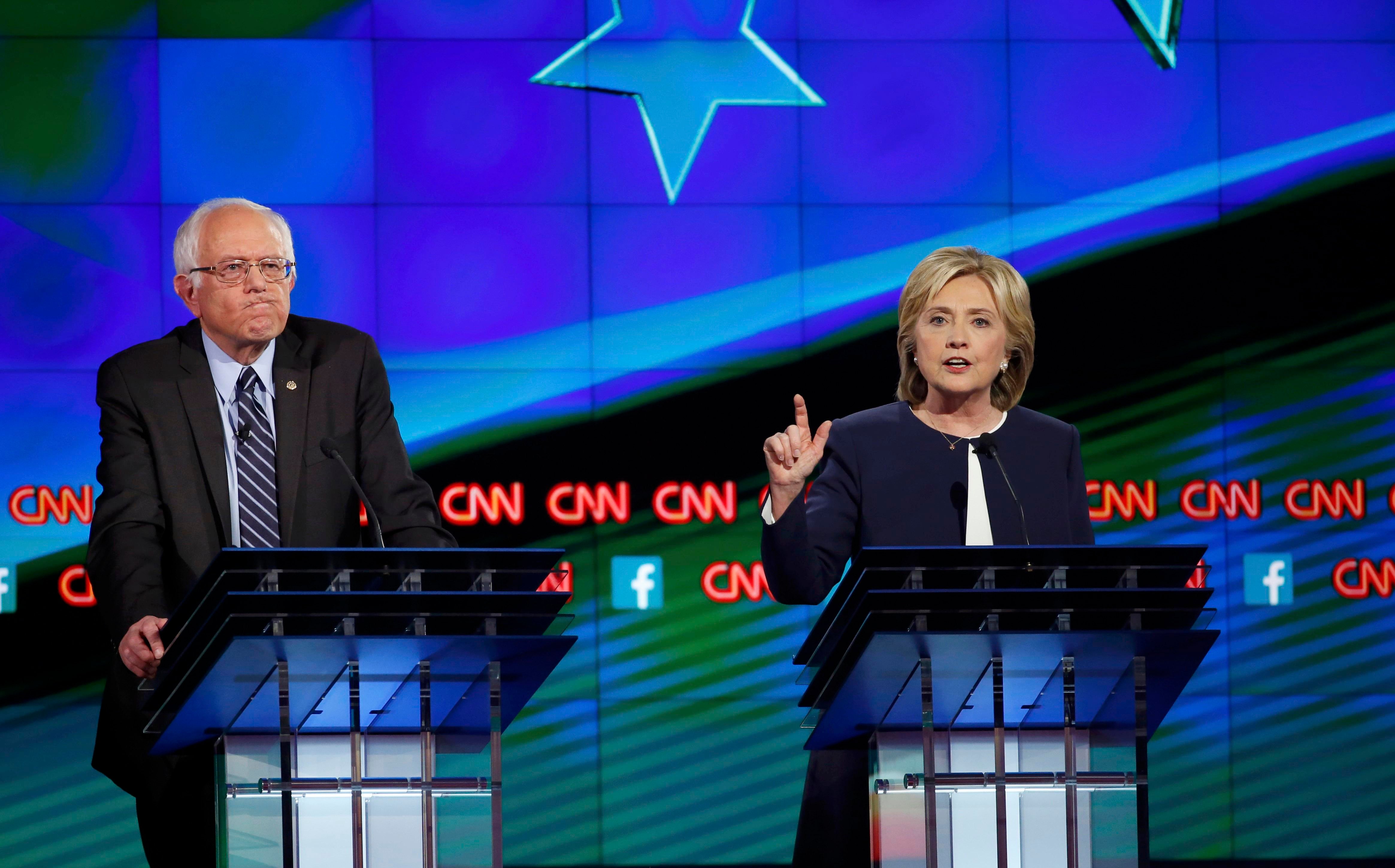 Democratic debate: Hillary Clinton attacks Bernie Sanders on gun control
With the specter of this month's mass shooting at an Oregon community college still hanging over the country, presidential contenders took on the politically charged topic of gun control during Tuesday's first Democratic primary debate.
Hillary Clinton first blasted opponent Bernie Sanders for his positions on gun control. When asked if she believed the Vermont senator was tough enough on the issue, she responded, "No, not at all."
"I think that we have to look at the fact that we lose 90 people a day from gun violence," Clinton said. "This has gone on too long, and it's time the entire country stood up against the NRA. The majority of our country supports background checks, and even the majority of gun owners do."
Sanders has a complicated history with gun control legislation, coming from a state with a strong hunting tradition where as recently as 2010 over half of adults owned guns. Though he has received a D- rating from the NRA, he's also voted in line with the conservative organization on legislation like 1993 Brady Act. Sanders voted against the bill, which demanded a waiting period and national background checks for gun buyers.
Clinton also charged that her opponent had voted for an "immunity provision" for gun manufacturers so they wouldn't be held responsible in lawsuits for a gun misused by a third party. The act in question, the Protection of Lawful Commerce in Arms Act passed by Congress in 2005 and voted for by Sanders in the House, gave manufacturers and dealers of small-caliber weapons protection from liability lawsuits.
During the debate, Sanders called the measure "a large and complicated bill."
"There were provisions in it that I think made sense," he said. "For example, do I think that a gun shop in the state of Vermont that sells a gun legally to somebody -- and that somebody goes out and does something crazy -- that that gun shop owner should be held responsible? I don't."
But, he added, "On the other hand, where you have gun manufacturers and where you have gun shops knowingly giving guns to criminals - or aiding and abetting that, of course we should take action."
Clinton fired back.
"I voted against it," she said. "I was in the Senate at the same time. It wasn't that complicated to me. It was pretty straightforward to me that he was going to give immunity to the only industry in America -- everybody else has to be accountable, but not the gun manufacturers. And we need to stand up and say enough of that. We're not going to let it continue."
In an exchange with former Maryland Gov. Martin O'Malley, Sanders defended his positions as coming "from a rural state."
"The views on gun control in rural states are different than urban states whether we like it or not," Sanders said. "Our job is to bring people together around strong common-sense gun legislation. I think there is a vast majority in this country who want to do the right thing and I intend to lead the country in bringing the people together."
O'Malley argued against the Vermont independent, saying that it was "not about rural" communities versus urban ones.
The Maryland Democrat spoke of his own record in passing firearm regulations in his own state.
"We are able to pass this," he said of his state, "and still respect the hunting traditions of people who lived in our rural areas and we did it by leading by principle not by pandering to the NRA."
Sanders shot back, "I don't think I am pandering, but you have not been in the United States Congress."
Thanks for reading CBS NEWS.
Create your free account or log in
for more features.