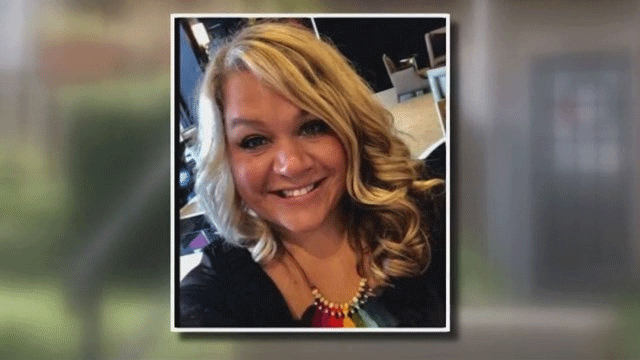 Police: Texts point to love triangle in murder of pregnant teacher
BALTIMORE – Court documents released Thursday reveal that the Maryland man accused of killing his pregnant girlfriend was engaged to another woman.
Tyler Tessier, 32, is charged with first-degree murder in the death of Laura Wallen, who police say was four months pregnant. The 31-year-old high school teacher had been reported missing Sept. 5 by her family after she didn't show up for the first day of class at her Columbia, Md. school. According to court documents, her body was discovered Wednesday in a shallow grave near property owned by Tessier's friend in Damascus, about 38 miles west of Washington, D.C.
Investigators say that although he initially denied having a romantic relationship with anyone other than Wallen, Tessier eventually admitted he was engaged to another woman and that both women thought he was dating them exclusively.
According to the documents, Wallen texted the woman a week before her disappearance, saying, "It's important that some things are cleared up and I imagine that if you were in my position, you'd want some answers as well. By no means is this an attempt at confrontation, just looking for an explanation…woman to woman."
Police have not released a cause of death. Montgomery County Chief of Police Tom Manger said there was nothing on Wallen's body to indicate how she was killed.
Manger said Wallen texted her sister on Sept. 2 and said she was with Tessier in a remote field, but wasn't sure why. Wallen texted pictures to her sister of a location that appeared to be the same wooded area where her body was found, investigators said. Manger said that Wallen was last seen that night, when surveillance video at a local Safeway supermarket recorded her in the store with Tessier.
The court documents go on to describe the elaborate steps Tessier allegedly took to cover up Wallen's death, including texting her sister from Wallen's phone, pretending to be her. In the first text exchange, on the morning of Sept. 4, Tessier allegedly wrote: "I am like 95 percent sure Tyler is not the father" and later "I am going to try and get a hold of Antwan."
Police say that Wallen's sister told them she had dated someone named Antoine about two years ago but hadn't interacted with him since. She also told police that she and Wallen were very close and her sister wouldn't have shared information as important as questioning the father of her child via text.
On Sept. 3, according to the charging documents, Tessier called a friend and asked him to give him a ride to Baltimore "late night." The friend told police that he declined, telling Tessier he thought it was a bad idea to go to Baltimore at night. Tessier allegedly texted the friend back saying "It probably is. Just trying to clean up a mess."
Police also say that Tessier admitted to attempting to dispose of Wallen's cell phone, her driver's license, and the license plate on her car, and that he told a friend to lie about picking him up at Wallen's residence if the police contacted her.

Wallen's parents spoke at a news conference Monday and announced a $25,000 reward for information that led to her. Tessier sat with the parents, holding their hands, and appeared emotional as he made a brief statement.
Manger later said it was a "calculated decision" by detectives to let Tessier speak to the media in order to hear what he would say. Wallen's family knew that he was at the time a person of interest, Manger said.
"Laura, if you're listening, it doesn't matter what's happened, doesn't matter what type of trouble – there's nothing we can't fix together, myself and your family," Tessier said at the press conference. "There's so many people, so many people that miss you."
He continued, "We just want her back."
Thanks for reading CBS NEWS.
Create your free account or log in
for more features.