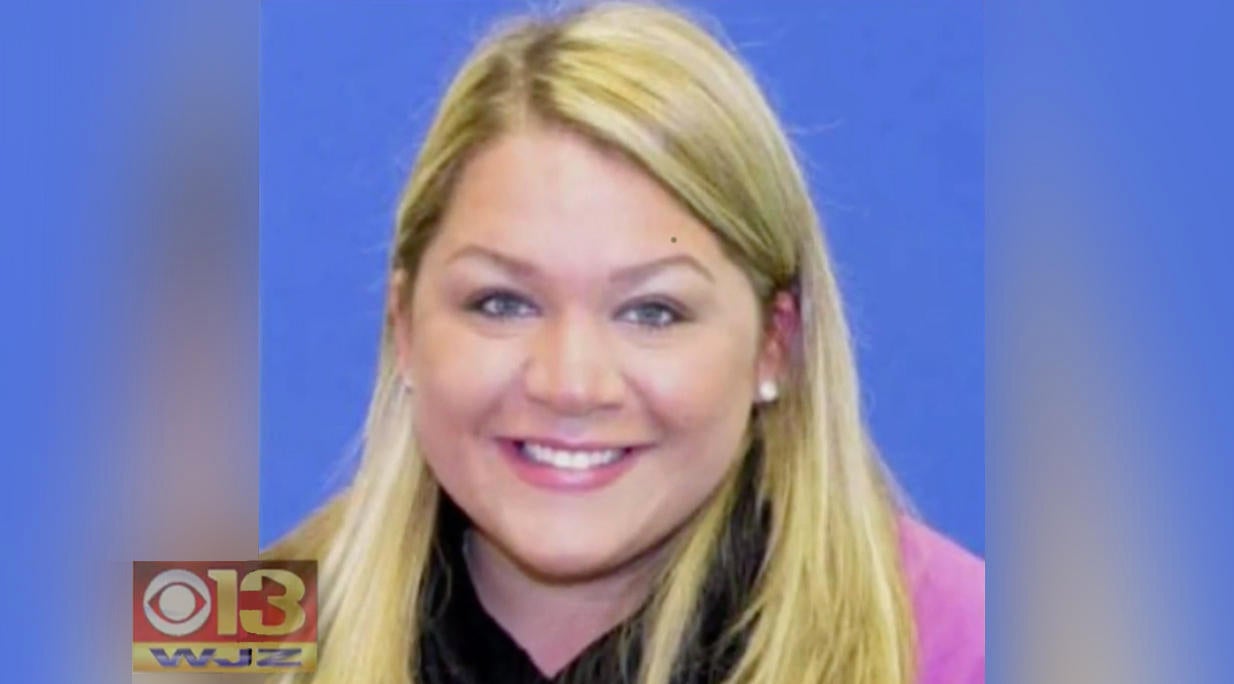 "She is still alive somewhere": Family pleads for pregnant teacher's safe return
COLUMBIA, Md. -- Family of a pregnant Maryland teacher who vanished before the start of the school year last week are pleading for her safe return.
Authorities say 31-year-old Laura Elizabeth Wallen of Olney last contacted family members by text message on Sept. 4. Wallen, who is four months pregnant, failed to show up for the first day of classes the next day at Wilde Lake High School in Columbia, where she teaches history and law.
Police say there's no evidence to indicate foul play, but described the disappearance as "uncharacteristic." Family says she was excited about the pregnancy and spent days preparing her classroom for the start of the school year.
Montgomery County police discovered her black 2011 Ford Escape abandoned in the parking lot of a Columbia apartment complex on Thursday, less than a mile from the school, but Wallen remains missing. Her father and boyfriend spoke at a press conference along with police Monday, offering a $25,000 reward and begging anyone with information to come forward.
"I wanted to let Laura know that we're out there looking for her and we're not giving up on her," her father Mark Wallen said. "She is still alive somewhere."
Wallen said he immediately knew something was wrong when he called the high school Tuesday morning and was told she hadn't yet shown up to work and hadn't requested a substitute teacher.
"We miss her and we love her, and it's one of the hardest things a father can do is have their child taken away way, way too soon," Wallen said.
Her boyfriend Tyler Tessier, who is the father of the child, said there was nothing to indicate something might have been wrong in the weeks leading up to her disappearance.
"Laura, if you're listening, it doesn't matter what's happened, doesn't matter what type of trouble – there's nothing we can't fix together, myself and your family," Tessier said. "There's so many people, so many people that miss you."
Tessier also begged, "If somebody has her – please understand you've taken away a huge person in so many people's lives."
"We just want her back," Tessier said.
Detectives are processing Wallen's car, her apartment, and her computer for any evidence, interviewing friends, family and co-workers, combing through surveillance video and canvassing around the area where the car was found for leads, Montgomery County Lt. Sean Gagen said. They're not sure whether she has any connection to the residential complex, Gagend said.
"As each day passes, we're becoming increasingly concerned for Laura Wallen and her baby," Gagen said.
He asked anyone who believed they may have seen Wallen or her black Ford Escape over the Labor Day weekend to contact Montgomery County police.
Gagen would not speak to the content of the text message that was the woman's last known communication, but police have said the family was concerned by it.
"People are concerned for her safety," said Brian Bassett of Howard County schools. "I know she's really highly regarded at Wilde Lake High School."
Students have flooded social media using the hashtag #BringWallenHome.
Detectives described Wallen as a woman who has blonde hair and blue eyes. She weighs 200 pounds and stands 5-foot-5 tall. Anyone with information is asked to call Montgomery County Police at 240-773-5070.
Thanks for reading CBS NEWS.
Create your free account or log in
for more features.