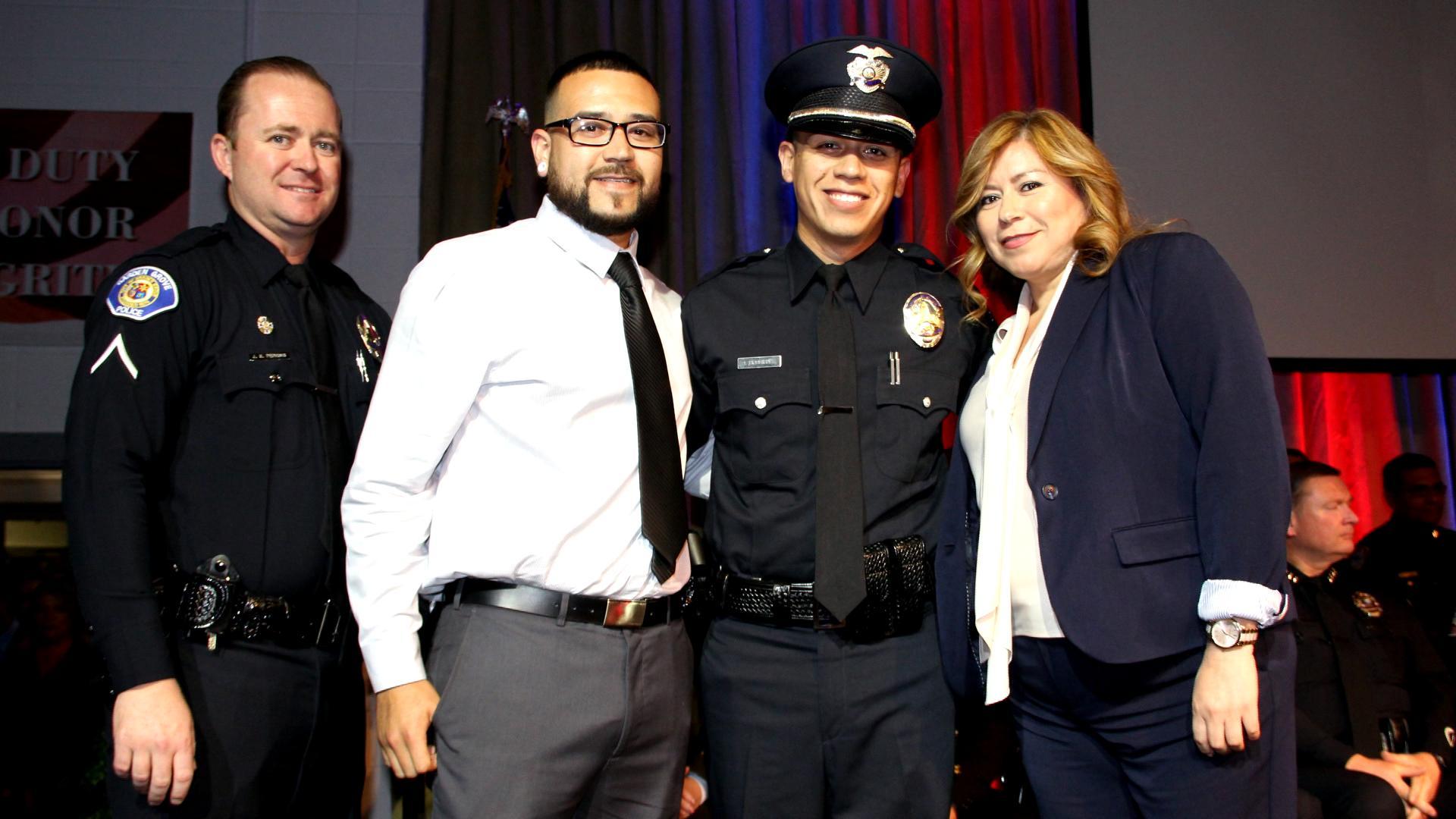 Police officer becomes unlikely father figure for young man
Our series "A More Perfect Union" aims to show that what unites us as Americans is far greater than what divides us. In this installment, we meet a police officer and a young man whose unlikely bond led that young man down an unexpected path.
---
For Daniel Rodriguez, it could have all turned out differently. At an early age, lessons in law and order turned into motivation.
"Growing up, my father was incarcerated," Rodriguez said. "Like, he wasn't there, actually incarcerated a couple months before I was born and was in for a little over ten years."
But Rodriguez said he didn't resent law enforcement.
"I knew they were doing their job," Rodriguez said. "And even then when he was arrested, they would come and talk to us and comfort us. It was never just a job to them."
As a teen, Rodriguez joined the Police Explorers program for aspiring future officers in Garden Grove, California, south of Anaheim.
"I think I needed somebody to — to vent to about things," Rodriguez said. "And, you know, just make me feel that much better going home and knowing that I was able to talk to someone about it."
That "someone" was veteran officer and Explorers mentor Jason Perkins, who turned out to be a good listener.
"Daniel, in his mind, selected me. And — I had no choice in it," Perkins said with a laugh. "It's step up and be that person in his life, or turn and walk away. And I can't turn my back on — on him."
Perkins guided Rodriguez through troubles in high school.
"There's, you know, things that — the beginning years of high school I'm not too proud of," Rodriguez said. "Having Jason around, and being able to talk to him, and, you know, going through high school, and you have girlfriends, and you're not — you don't wanna talk to Mom about, like, 'Oh, my girlfriend this, and my girlfriend that.'"
And when he entered the police academy, Rodriguez said Perkins was was his rock.
"Having Jason there as moral support and kinda that backbone of saying, 'Hey, man, you got this. Don't worry about it. Like, you need to believe in yourself.' It — it definitely helped out a lot."
And Perkins was there alongside his brother and mother, Leticia Macias, to pin on his badge at graduation.
"Jason, he — he hasn't just been a mentor for him, he's also been a great, dear friend," Macias said. "That male figure he was lacking at home. I will forever be grateful for that, yes."
"He would always tell me, 'I'm not here to replace your father,'" Rodriguez said. "But I — I think he — he was able to fill that void of that male figure that I didn't have growing up. And I — I don't know where — when or where it started. I, you know, started calling him Pops."
Perkins gave Rodriguez his own term of endearment.
"Mijo," Perkins said. "Spanish for son. So he's — he's the son I never had, in every sense of the word."
Today, Rodriguez patrols the streets of nearby Placentia, now leading his own police explorer program.
"It came full circle for me, working with the kids and — and trying to do my best at mentoring them," Rodriguez said. "And using, you know, the skills that I've — I've kind of grasped from Jason and trying to do what he's done for me for all the other kids."
"There's so many lives out there that he'll have an impact on in his career," Perkins said. "My career is winding down. But his is just getting started. So that's — that's why I say he'll do 100 times what I ever did in my career, he'll do in his."
Thanks for reading CBS NEWS.
Create your free account or log in
for more features.