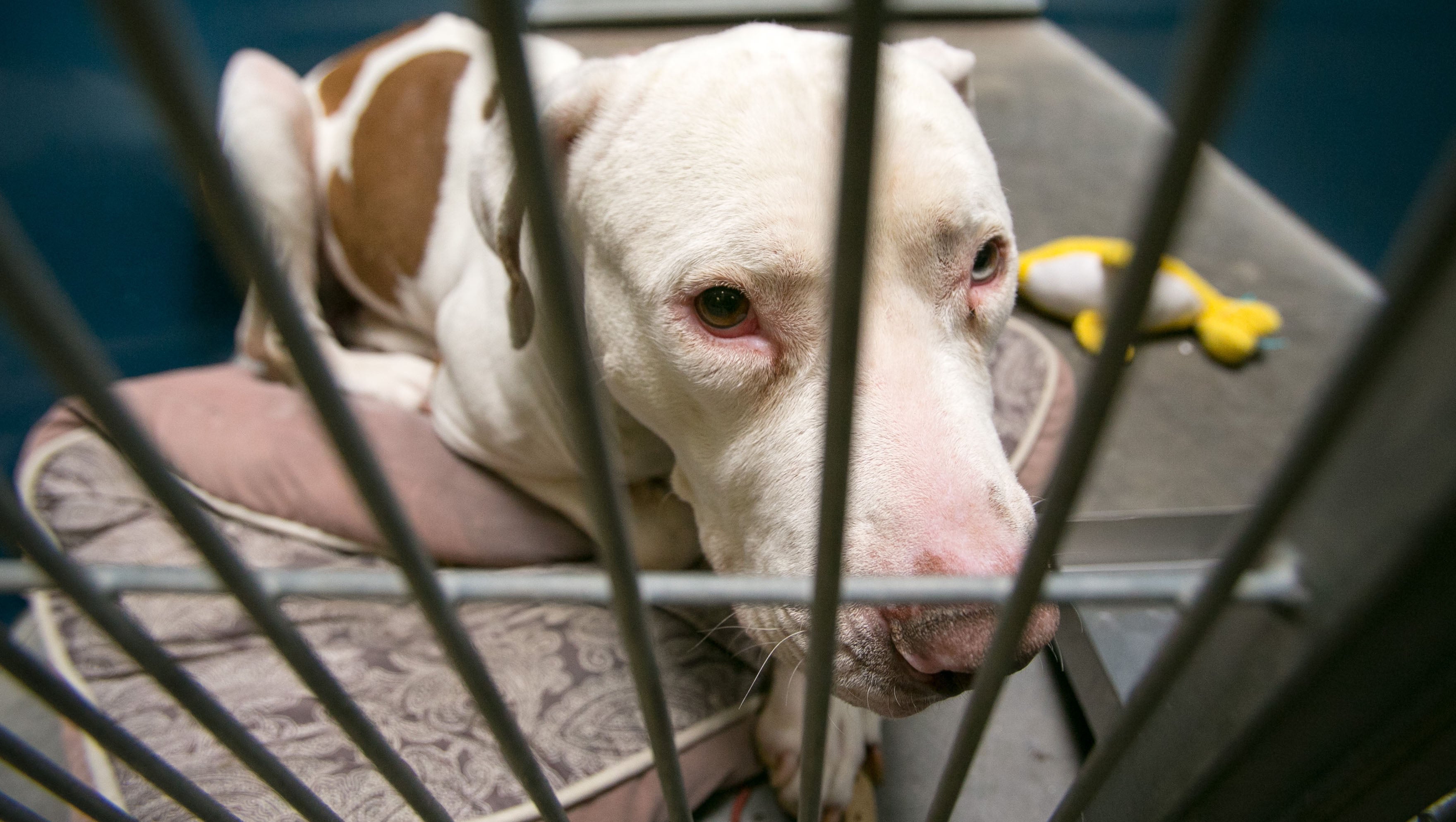 Pit bull that mauled boy escapes death penalty, but gets life sentence
PHOENIX - A Phoenix judge on Tuesday spared the life of a pit bull that mauled a 4-year-old boy last month and touched off a polarizing Internet debate on mercy, blame and animal violence.
Municipal Court Judge Deborah Griffin ruled that the dog named Mickey must be neutered, defanged and microchipped. She declared the dog vicious earlier in the day and could have ordered euthanasia.
"There would be absolutely no possibility of the animal ever doing this to someone again," Griffin said, saying the dog must remain in a facility for the rest of its life and can't be adopted.
An animal rights group is the trustee for the dog and has 30 days to find a rehabilitation center or shelter to take Mickey. An animal advocate in court started to cry when hearing the dog would live.

The Feb. 20 attack left Kevin Vicente with a broken eye socket and jaw, and the boy has months, if not years, of reconstructive surgery ahead of him.

The question of whether the pit bull should live or die attracted a team of top death penalty lawyers, led to candlelight vigils and riled up thousands of animal lovers on social media who placed blame with the dog's owners and child's baby sitter.

Guadalupe Villa, one of the adults at the scene, filed the vicious-dog court petition that started the case. In her petition, she describes Mickey as a dog that has a history of acting without provocation and that killed one of her dogs.

Animal advocates hit back, saying both the dog and boy are victims and the baby sitter watching the child was negligent in letting him play near the animal. They also argued the owner was fostering aggression by keeping the dog chained up.

Pit bulls are viewed by some as a dangerous breed, a reputation their fans dispute.

Those who had hoped to rescue Mickey took their cause to Facebook, where a "Save Mickey" page has garnered more than 59,000 likes. The dog's supporters recently used social media to organize a candlelight vigil and even a YouTube video plea.

"This is not Kevin versus Mickey," said attorney John Schill, one of three attorneys representing the dog in the court petition. "Having Mickey killed is not going to take away Kevin's pain or injuries. The only thing this is going to do is kill a poor, innocent dog."

Schill was working pro bono at the request of the Lexus Project, a New York-based nonprofit that has been raising money for a legal defense fund for the dog and is the dog's trustee.

The same group fought earlier this year for the life of a dog that fatally mauled a toddler in Nevada. In that case, the mastiff-Rhodesian mix was turned over to an animal rescue after the city of Henderson gave up the court fight to euthanize the dog.

Support for Mickey intensified after an employee at the Maricopa County Animal Control and Care Center, which has custody of the dog, wrote on Facebook that Mickey was "going night night."

Melissa Gable, a center spokeswoman, said the employee will face administrative action but declined to elaborate.

The dog has been living in a cage away from other animals and from public view. According to Gable, that hasn't stopped some people from showing up and trying to see him. The facility has also received numerous phone calls from people pleading against euthanizing him.

"We have said if the court deems that Mickey should not be euthanized, we are working to find an appropriate outlet for him," Gable said. "We're trying to do what we can, but we're just the bad guy in this situation."

Meanwhile, support in the form of donations and gifts from around the world have come in for Kevin since the dog bit the boy in the face on Feb. 20.

Floridalma Vicente, the boy's mother, had to quit her job as a motel housekeeper to care for him, according to The Arizona Republic. A single mother with two other children back in her native Guatemala, Vicente said she is grateful for the outpouring of public support. But she can't understand the support that has emerged for the dog.

"It disturbed me at first that they placed more value on an animal than on a child, and that made me feel very bad," Vicente told the Republic through a Spanish interpreter. "If they don't care about (Kevin), well, I do."
Thanks for reading CBS NEWS.
Create your free account or log in
for more features.