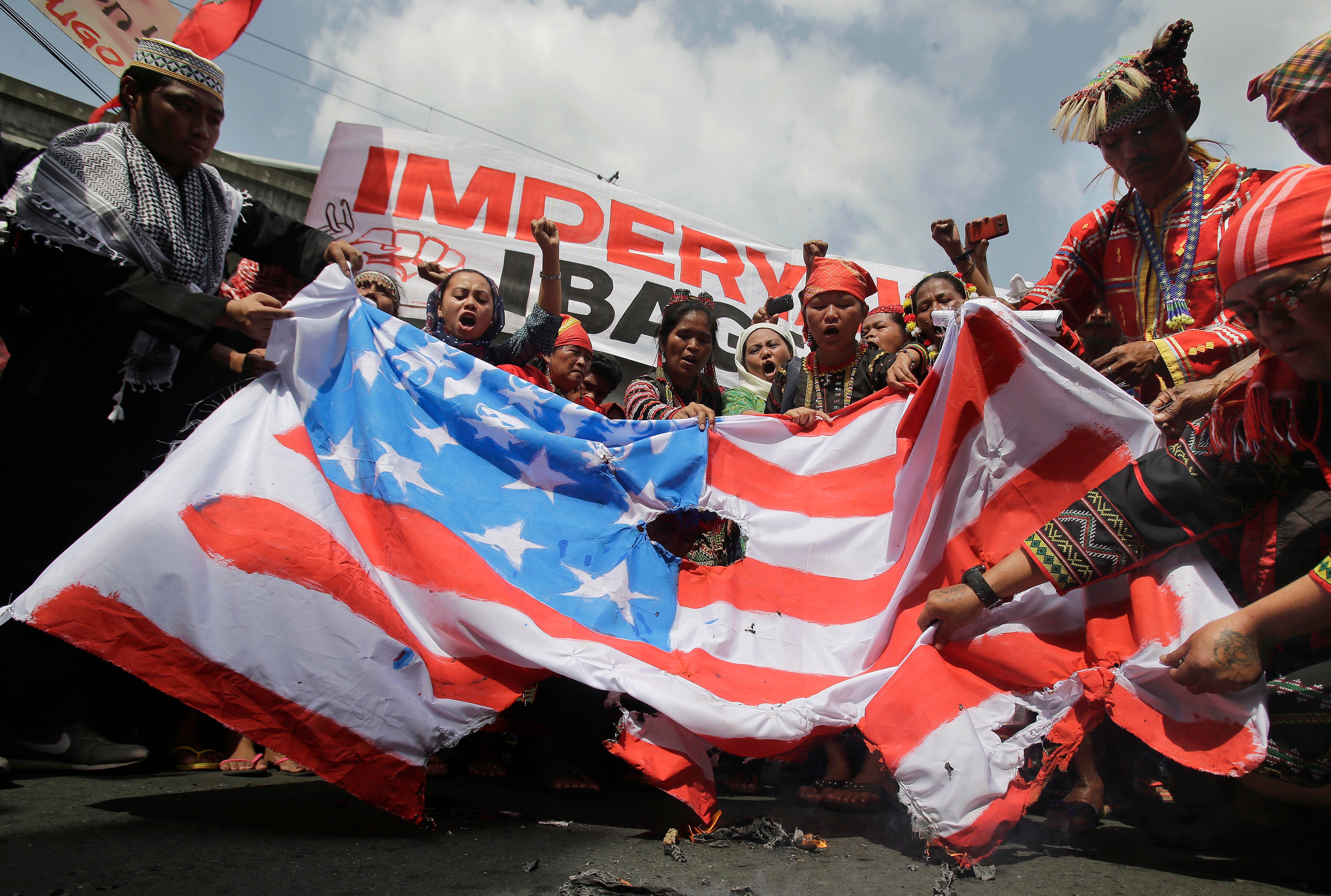 Anti-U.S. protesters demand action after violent police response
MANILA, Philippines -- Hundreds of Filipinos protesting Friday outside the presidential palace burned a mock U.S. flag and asked President Rodrigo Duterte to punish police officers for brutally dispersing an anti-U.S. rally and ramming a van into some of the activists.
About 1,000 left-wing protesters, carrying placards that read "U.S. troops out now" marched 1.8 mile to the presidential palace in Manila to condemn the violent police action and seek justice for those injured.
Protest leader Piya Malayao, who was among those hit by the van in Wednesday's rally at the U.S. Embassy, walked with crutches, her right leg bandaged. She and other protesters handed a letter to officials in which they asked Duterte for justice.
"That action coming from the police could have really taken a lot of lives," Malayao said, adding the protesters would file criminal complaints against the officers. "That attack (was) really meant to kill our people."
Police say the protesters had no rally permit and attacked officers. Nine officers have been removed from their posts, including the van driver, while a police investigation is conducted. The driver, Franklin Kho, told reporters he did not deliberately hit the protesters but was trying to drive away because they were hitting the van and he feared they would commandeer it.
Rallies are common at the heavily-guarded seaside embassy in Manila's tourist district, and police have wielded shields and batons against the large crowds previously. But Wednesday's actions against more than 1,000 left-wing students, laborers and tribal people have been seen as among the most brutal in recent years. That's largely because of the van hitting protesters, but police were also seen using a firetruck hose, lobbing tear gas and hitting people and pulling their hair.
Videos of the van hitting the protesters like bowling pins have gone viral online.
Associated Press TV footage showed the van repeatedly ramming the protesters as it drove wildly back and forth after activists surrounded and started hitting it with wooden sticks. Horrified protesters are heard screaming and cursing at the police.
Malayao and a few others were hit and injured, some hospitalized.
Lawmakers have also called for a congressional inquiry. U.S.-based Human Rights Watch urged national police chief Ronald dela Rosa, who has expressed dismay over the violent dispersal, to carry out an impartial investigation and prosecute those behind the violence.
"Failure to do so will only guarantee that the culture of impunity for unlawful police violence continues," HRW said in a statement.
Wednesday's protesters were demanding an end to the presence of visiting U.S. troops in the Philippines and to support Duterte's vow to chart a foreign policy not dependent on the U.S., the country's longtime treaty ally.
The violence happened as the police and Duterte are under increased international scrutiny for their alleged role in the killings of thousands of drug suspects and pushers as part of the tough-talking president's war on illegal drugs.
Thanks for reading CBS NEWS.
Create your free account or log in
for more features.