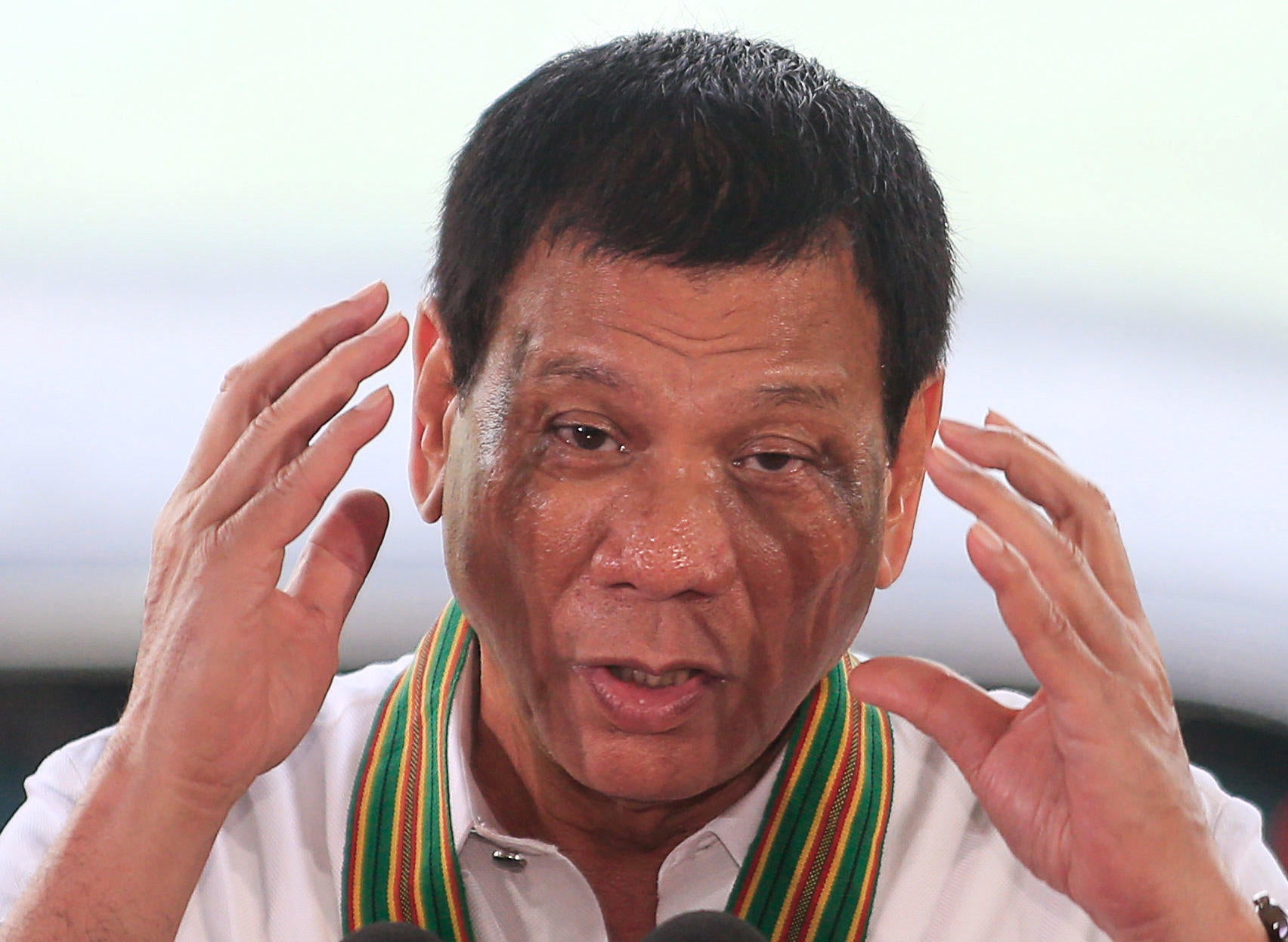 Philippines President Duterte tells Obama "you can go to hell" in new tirade
MANILA, Philippines - Philippine President Rodrigo Duterte has told President Barack Obama "you can go to hell" in his latest tirade against the U.S. over its criticism of his deadly anti-drug campaign.
He also lashed out anew at the European Union in a speech Tuesday saying the 28-nation bloc, which has also criticized his brutal crackdown, "better choose purgatory, hell is filled up."
Duterte, who took office in June, has been hypersensitive to criticisms over his anti-drug fight, which has left more than an estimated 3,000 suspected drug dealers and pushers dead in just three months, alarming the United Nations, the E.U., the U.S. and human rights watchdogs.
Angered by the U.S. criticism, Duterte has declared he wants to reduce the presence of U.S. troops in the country.
The brash-talking president has lashed out at everyone critical of his bloody drug war, which most call a human rights violation for its encouragement of vigilantism and lack of due process. He recently felt forced to apologize to Jews worldwide for comparing himself and his drug war to Hitler.
President Barack Obama, U.N. officials and human rights watchdogs have raised concerns over the widespread killings, but Duterte has lashed back at them and other critics. He said that critics were impeding his battle against a problem that has worsened into a national security threat.
In responding to U.S. concerns about the drug war, Duterte said of Obama "son of a bitch I will swear at you" when they were supposed to meet in Laos at a summit. While the two met, it's not clear if Duterte did swear at him.
A former Filipino militiaman recently testified before a Senate committee hearing that Duterte, while he was still Davao's mayor, ordered him and other members of a liquidation squad to kill criminals and opponents in gangland-style assaults that left about 1,000 dead starting in the late 1980s.
Rights groups have long accused Duterte of involvement in death squads. He has denied the claims, even while engaging in tough talk in which he stated his approach to criminals was to "kill them all."
The Philippines is a long-standing close ally of the U.S., but Duterte has appeared to actively court its rivals Russia and China, saying they expressed support when he complained to them about the United States.
Duterte's bloody anti-drug war and his foul-mouthed outbursts in defense of the campaign have also unnerved foreign investors in one of Asia's fastest-growing economies.
Analysts and businessmen point to uncertainties about Duterte's policies and flip-flopping pronouncements as largely to blame for foreign selling in the stock market and the peso's plunge to a seven-year low, reversing the initial optimism after his June 30 inauguration.
Some experts say unpredictability is slowing longer-term foreign investment in the Philippines. Photos and reports in the media of killings of suspected drug dealers and users - more than 3,000 since July 1 - have contributed to sagging confidence.
"We can all deal with risks. We can put measures in place to provide for risks," said Guenter Taus, the head of the European Chamber of Commerce in the Philippines. "But uncertainty is a factor that we do not like in business, and that is exactly what we're experiencing right now because we don't know where we are heading."
Thanks for reading CBS NEWS.
Create your free account or log in
for more features.