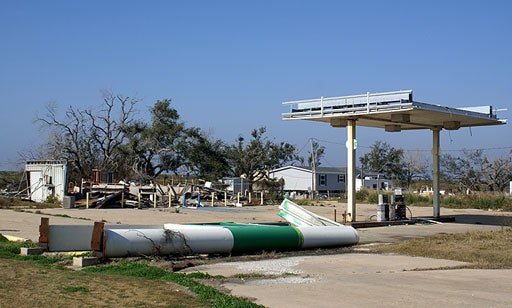 Peru Judge Quizzes Lori Berenson
Lori Berenson, the American on trial for alleged collaboration with leftist guerrillas in Peru, was questioned Tuesday about her work as secretary to a top El Salvadoran guerrilla leader.

Berenson, 31, said she was personal assistant to Salvador Sanchez Ceren, a commander of El Salvador's former Farabundo Marti National Liberation Front, or FMLN.

"We are concluding that you were a person who was active in the military wing of the Farabundo Marti and probably in the political wing," said presiding magistrate Marcos Ibazeta.

Berenson said she was involved solely in the peace talks that ended El Salvador's civil war in 1992. She pointed out that the ex-guerrilla is now a congressman, who goes by his real name, Leonel Gonzalez.

"I don't know where you are getting the idea that I worked in the military wing," she said. "I did no work related to that."

In San Salvador last week, Gonzalez confirmed that Berenson was his personal secretary and told The Associated Press that Berenson "never had any relationship with our military structures."

A secret Peruvian military court convicted Berenson of treason in 1996 and sentenced her to life in prison for allegedly helping Peru's Tupac Amaru Revolutionary Movement plan a thwarted takeover of Congress.

But after years of pressure from the United States, Peru's highest military court overturned the conviction in August, leading to the new civilian trial that began last week on the lesser charges of "terrorist collaboration."

Prosecutors allege she rented a house in 1995 as a hideout for the Tupac Amaru rebels and collected information with the wife of the group's top commander for a planned attack on Congress.

Berenson denies the charges and maintains she did not know her housemates were rebels.

During Berenson's cross-examination Tuesday, Ibazeta asked the former Massachusetts Institute of Technology student about her decision to drop out of school in the late 1980s to devote herself to a U.S. movement that supported El Salvador's leftist rebels.

She said she believed the Salvadoran guerrilla movement was "legitimate in that there was no other way to change what for them was unjust."

Her lawyer, Jose Luis Sandoval, who has argued that Berenson was duped by the Tupac Amaru guerrillas, said Tuesday that the court was trying to convict her for her political ideals.

"Obviously, ideas, opinions and beliefs cannot stand as criminal evidence for a trial," he said after Tuesday's proceedings. "Her opinions should not be evidence for this trial, but they're clearly trying to use them that way."

During opening testimony last week, Berenson accused authorities of manufacturing evidence, forcing witnesses to testify against her, and politically manipulating her case.

"I would like to make it clear I am innocent," Berenson told a three-judge panel from behind bas in a concrete cell.

Berenson's brief statement was the first time she has been able to defend herself in court.

The defendant occasionally talked to her lawyer and flashed glances at her parents, Mark and Rhoda Berenson, who have waged a five-year campaign for her release. Berenson occasionally smiled as the charges were read out.

"She is optimistic and a little nervous." Berenson's lawyer Jose Sandoval said minutes before the trial got under way.

Berenson's family has doubted she will get a fair trial in Peru, where courts are seen as corrupt and controlled by politicians. Berenson's parents said she would not confess.

Peru has no jury system and it is not unusual for defendants to appear in court from behind bars.

The lawyer asked for a potentially key piece of evidence — an alleged false identity card with Berenson's fingerprint — to be declared inadmissible. He said the evidence was fake.

Most Peruvians, having suffered through fierce guerrilla wars in the late 1980s and early 1990s, have little sympathy for someone they see as an idealist mixed up with rebels.

"I'm not interested. We Peruvians have more important things to worry about than the trial of a gringo," Irma Ramirez, a 45-year-old housewife and shantytown dweller who lives near the prison, located on Lima's poor outskirts.

An Interview with
Lori Berenson

"I am not a terrorist by any means; quite the contrary. I do not believe in any act of terrorism," Lori Berenson told CBS News Correspondent Peter Van Sant in an exclusive interview from a maximum-security prison in Peru. Berenson described horrible conditions where she is being held and said her health has suffered during her imprisonment.

"Lori has nothing to confess. She is innocent. Innocent people don't confess," her father, Mark Berenson, told reporters.

The public trial is expected to last four to six weeks and will offer defense counsel the opportunity to cross-examine witnesses — not allowed at her military trial.

Berenson was one of thousands of people arrested in the 1990s under tough anti-terrorist laws — allowing judges to hear trials through two-way mirrors — during a crackdown by the hardline Fujimori on leftist guerrillas.

Berenson was kept for the first three years in a high-security Adean prison where she was dogged by bad eyesight and poor circulation caused by the high altitude. She is now at a top security jail for women in Lima.

If found guilty, Berenson could appeal to Peru's Supreme Court — a process that could take some four to five months.
Thanks for reading CBS NEWS.
Create your free account or log in
for more features.