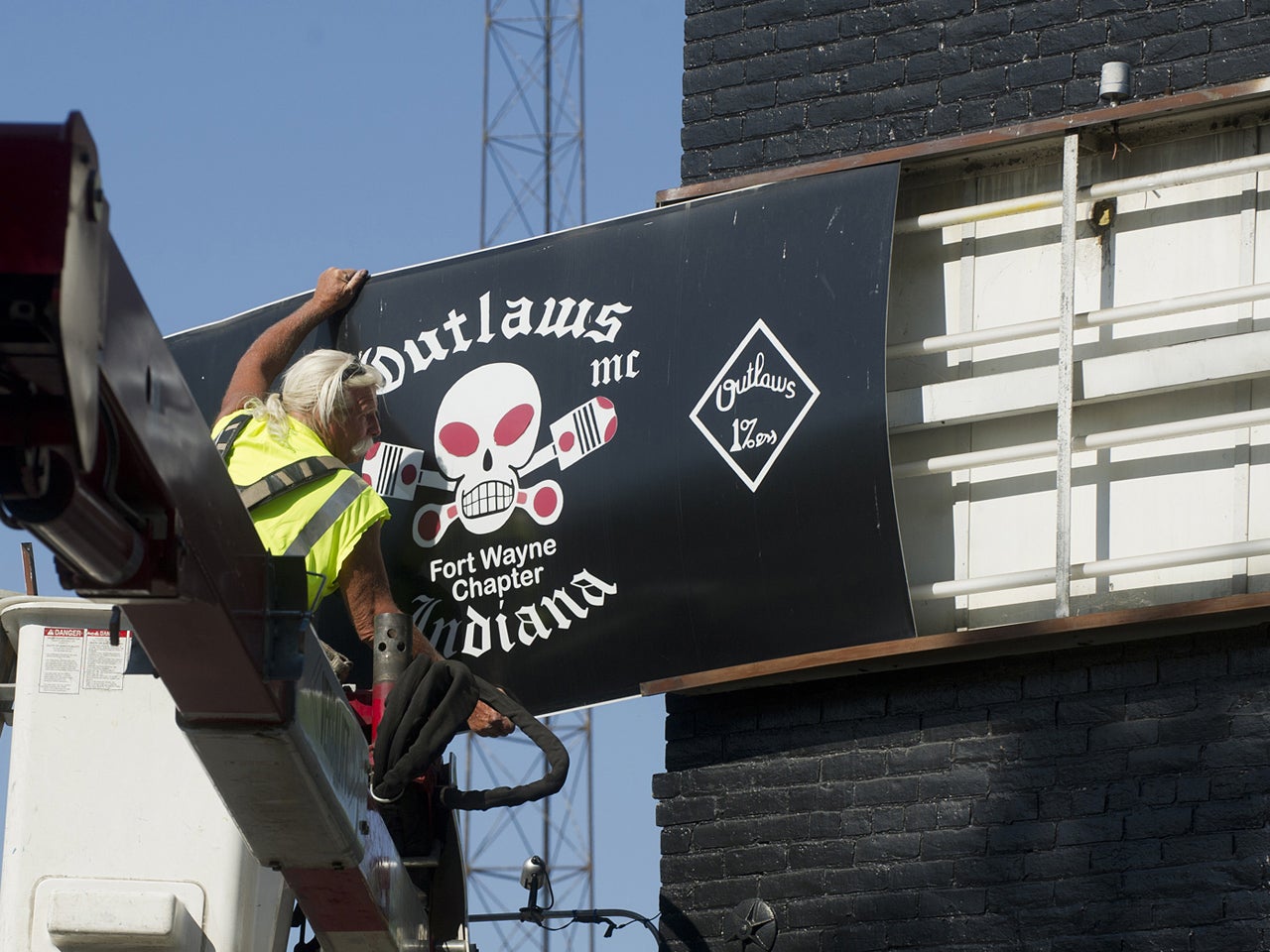 Outlaws motorcycle gang hit with mass arrests
(CBS/AP) INDIANAPOLIS - Dozens of people connected to the Outlaws motorcycle gang were arrested during early-morning raids Wednesday that federal prosecutors said were aimed at dismantling a criminal organization where violence was part of doing business.
An indictment unsealed Wednesday shows that 42 people — from alleged gang members to a millionaire CEO — are facing a wide-range of charges that include drug trafficking, extortion, money laundering, witness tampering and illegal gambling. The charges, which come after a more than year-long investigation, were filed in U.S. District Court in Indianapolis.
"All kinds of people from different walks of life are involved in criminal activity," said Assistant U.S. Attorney Brad Blackington, the lead prosecutor in the case.
It's a case authorities describe as the largest bust of organized crime in the history of Indianapolis, reports CBS affiliate WISH-TV in Indianapolis.
Every member of the Outlaws Indianapolis chapter is currently in custody, along with several gang associates, Blackington said. Members of the motorcycle group's chapters in Ohio and Illinois also were arrested, U.S Attorney Joe Hogsett said during a news conference in Indianapolis to announce the arrests.
Only one of the suspects remained at large Wednesday following the raids in several Indiana cities and towns that involved more than 300 officers from federal, state and local agencies. The raids netted about 35 guns including several assault rifles, about $14,000 in cash and more than a dozen motorcycles, Hogsett said.
Boy's motorcycle gang wish starts with fight
Mongols biker gang member, sentenced to life in prison for SF Hells Angels leader's murder
Hells Angels funeral shooting suspect Steve Ruiz arrested at Northern Calif. motel
No contact information is on the Outlaws' website, and phone messages left by The Associated Press for some people named in the indictment weren't returned. A spokesman for the Marion County jail in Indianapolis, where all the suspects were taken, said it wasn't clear if any had attorneys. Court documents didn't include attorney information.
Investigators said the gang's criminal operations included using violence to collect on debts, insurance fraud schemes and running illegal gambling. The 70-page indictment also alleges the gang trafficked drugs, including cocaine and prescription painkillers.
Joshua N. Bowser, the first suspect named in the indictment and among those facing the most charges, was described by authorities as the gang's enforcer. Among other things, he is accused of conspiring with businessman Charles N. Ernstes II, who Blackington described as "a millionaire CEO," to extort money from a person who declared bankruptcy after Ernstes gave him a loan. Ernstes also is charged.
Ernstes' attorney, Michael Allen, issued a statement saying his client pleaded not guilty "and will vigorously defend himself in court."
There was no home phone number listed for Bowser and authorities didn't know if he had an attorney.
Another suspect is a hospital employee accused of being involved in trafficking prescription drugs, investigators said. The suspect still at large, 28-year-old Terrell Adams, is being sought on drug charges and isn't an Outlaws member, prosecutors said.
Investigators used a variety of ways to infiltrate the gang, including wiretaps, drug buys and an undercover agent who posed as an extortion victim, Blackington said.
"Basically, the FBI and other law enforcement agencies threw the kitchen sink at these folks," he said.
Thanks for reading CBS NEWS.
Create your free account or log in
for more features.