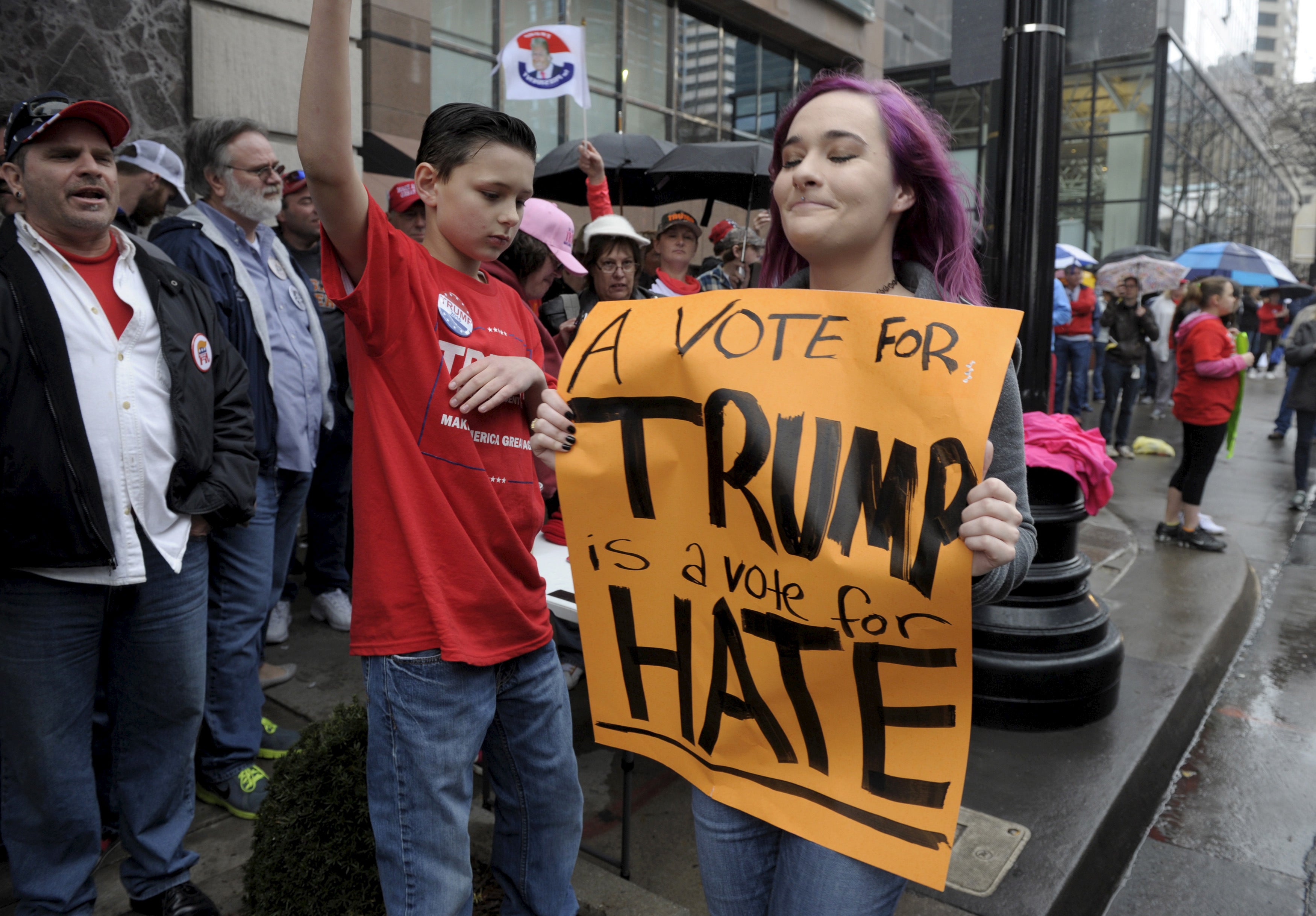 Our Principles super PAC puts up anti-Trump ad highlighting protests
Our Principles PAC, one of the more persistent outside groups trying to stop Donald Trump from winning the GOP nomination, is taking advantage of a tumultuous week for the Trump campaign, with a new television spot spotlighting the increasing tensions at Trump's rallies.
The ad starts with a narrator's voice saying, "Donald Trump campaign violence..." overlaid with a New York Daily News cover reading "BLOOD ON DON'S HANDS." The commercial then cuts to clips of Trump at various rallies seeming to encourage supporters to treat the protesters that interrupt his speeches with physical aggression. Here's the spot:
The quotes include Trump saying of protesters that he would like to "punch em' in the face," and another saying that in the past, "they'd be carried out on a stretcher, folks." The ad also includes Trump vowing, "I promise you, I will pay for the legal fees," which Trump said on the day of the Iowa caucuses. At that rally, he was talking about people in the audience who wanted to throw tomatoes at him.
"So if you see somebody getting ready to throw a tomato, knock the crap out of 'em, would you?" Trump said. "Seriously. Okay?...I promise you, I will pay for the legal fees. I promise."
But Trump has also said at rallies that protesters should be handled without violence as they are escorted out, frequently saying, "Don't hurt em!" Frequently, the campaign also makes an announcement before rallies saying that supporters should chant's Trump's name rather than harming protesters.
This commercial is part of an existing investment into television advertising in Florida and national cable networks. The group has spent $3.5 million alone in Florida in the last two weeks.
"The culture of a campaign is instilled at the top," said Tim Miller, a spokesperson for Our Principles PAC. "Donald's reckless attitude and thuggish yes-men would be a disaster for our party in the general election and a danger in the White House."
This is also the first television ad to take aim at Trump's campaign manager, Corey Lewandowski, for allegations stemming from a West Palm Beach press conference in Florida.
The narrator says, "Now Trump's campaign manager faces criminal charges for allegedly assaulting a female reporter."
Fields has accused Lewandowski of pulling her down while trying to ask Trump a question. Fields herself has admitted that she did not see who pulled her down, instead relying on the eyewitness account of Ben Terris, a Washington Post reporter.
The campaign has vigorously denied the allegations and Lewandowski has claimed he's never even met Fields.
The commercial also spotlights an actual incident of violence -- a sucker punch thrown by a Trump supporter at a protester on Wednesday in Fayetteville, North Carolina -- before concluding, "Donald Trump is too reckless and dangerous to be president."
The Trump campaign did not return a request for comment. Our Principles PAC is one of a handful of groups that have poured in millions of dollars in advertising into Florida. The others include Club For Growth and The American Future Fund.
Thanks for reading CBS NEWS.
Create your free account or log in
for more features.