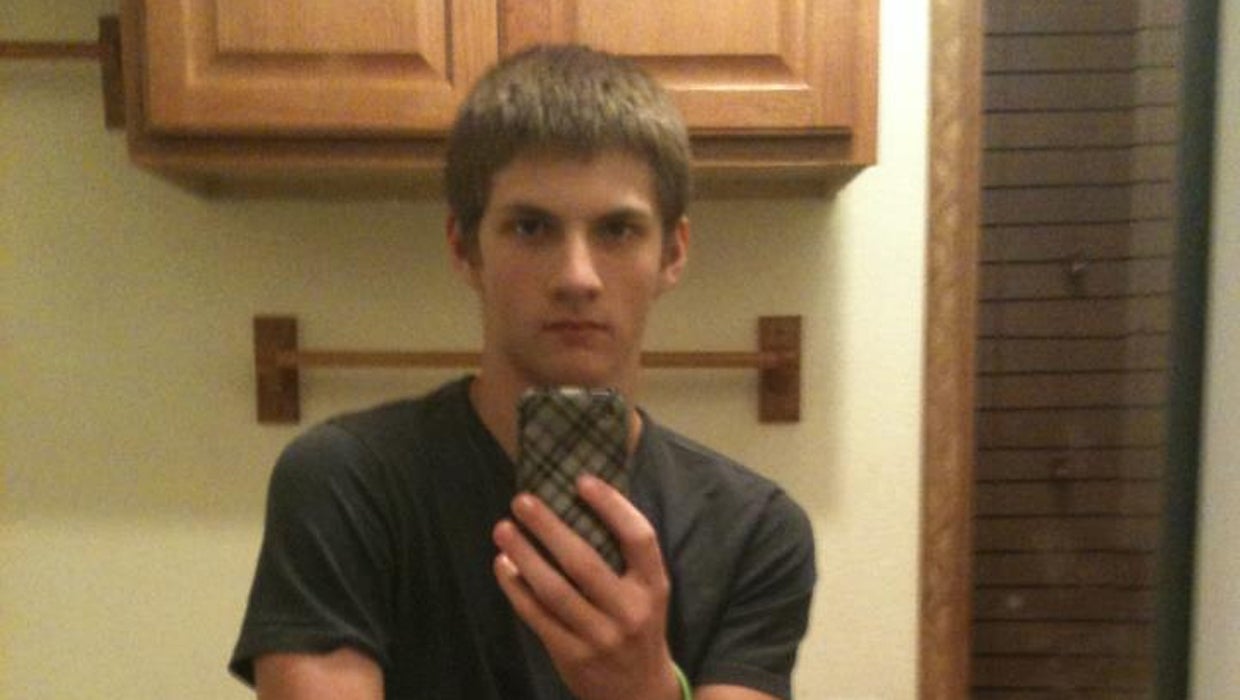 Oregon school shooting: Picture emerging of teen gunman Jared Michael Padgett
TROUTDALE, Ore. -- Jared Michael Padgett was a straight-arrow kid who had a fascination with guns, planned a career in the military and was deeply devoted to his Mormon faith, those who knew him say.
And they're all wondering why the 15-year-old took an assault rifle, a handgun and nine ammunition magazines to his high school and killed a fellow freshman, injured a teacher and took his own life.
Police said Wednesday that they have not been able to establish a link between Padgett and Emilio Hoffman, the 14-year-old who was shot dead in a locker room.
Police have not said what they think Padgett's motive might have been, or whether they believe Padgett had a specific target when he arrived at Reynolds High School in Troutdale Tuesday morning or planned a random shooting.
Padgett was passionate about guns and had a temper, but he also seemed like a nice and normal kid, students say.
"He always talked about guns," said Kaylah Ensign, a student who had a class with Padgett and was a close friend of the victim. She said Padgett could be kind and respectful but sometimes got angry.
"He helped kids, and I never would have thought he would do that," Ensign recalled. "And he was really neat."
Freshman Daniel DeLong, 15, said he would see Padgett in the halls but did not have any classes with him.
"Honestly, he looked like a really nice kid, like somebody you'd want to have on your side," DeLong said.
Earl Milliron, a close friend of the Padgett family, said Jared planned a career in the military, was a devout Mormon and was ordained as a deacon at age 12. He was so dependable at church, Milliron said, that the bishop appointed Jared president of the deacons' quorum.
"His father never told me he was worried about Jared. And I never suspected that he had serious problems," said Milliron, 86, who has known the Padgett family for more than 25 years and belongs to the same church ward. "I refuse in my mind to believe that Jared Michael who did the shooting is the same Jared Michael I knew."
Padgett's oldest brother had served in the military in Afghanistan and the younger boy was planning the same path, Milliron said. Jared Padgett was in the Junior Reserve Officers' Training Corps program and was proud to be seen in his uniform.
Padgett's parents had separated about five years ago, and the father raised the couple's six children, Milliron said.
"I saw Jared at church every Sunday," he said. "He was very quiet, I never saw him angry, he was extremely even-tempered, he was always at the best possible behavior."
Padgett had taken the weapons used in the attack from his family home, Troutdale Police Chief Scott Anderson said.
"The weapons had been secured, but he defeated the security measures," the chief said.
Padgett took a school bus to campus and carried a guitar case and duffel bag. But police declined to say if the weapons had been concealed in the baggage.
Friends of Padgett said he didn't appear angry when he boarded the bus but questioned why he was carrying the guitar case and duffel bag, reports CBS Portland, Oregon affiliate KOIN-TV.
"A few of our friends asked what was in the bag. He said it was a stand for his uniforms and said he had sports gear," said Jose Garcia, who grew up with Padgett.
At school, Padgett headed to a gymnasium that was detached from the main building and shot Hoffman in a locker room, authorities said. He also wounded physical education teacher Todd Rispler, who managed to make his way to an office and warn administrators about the shooting. A lockdown was ordered, and authorities notified.
As the gunman moved through a hallway, he encountered two officers, exchanged fire with one of them, and went into a restroom, Anderson said.
Padgett was later found dead in the bathroom.
Jennifer Hoffman, the mother of the victim, said Emilio loved his friends and sports, especially soccer. He had a sister and three brothers, along with a number of foster siblings he had grown up with.
She says he enjoyed science and history, but soccer was his whole life.
She urged his friends to "be happy like Emilio. Smile like him. Laugh like him."
Thanks for reading CBS NEWS.
Create your free account or log in
for more features.