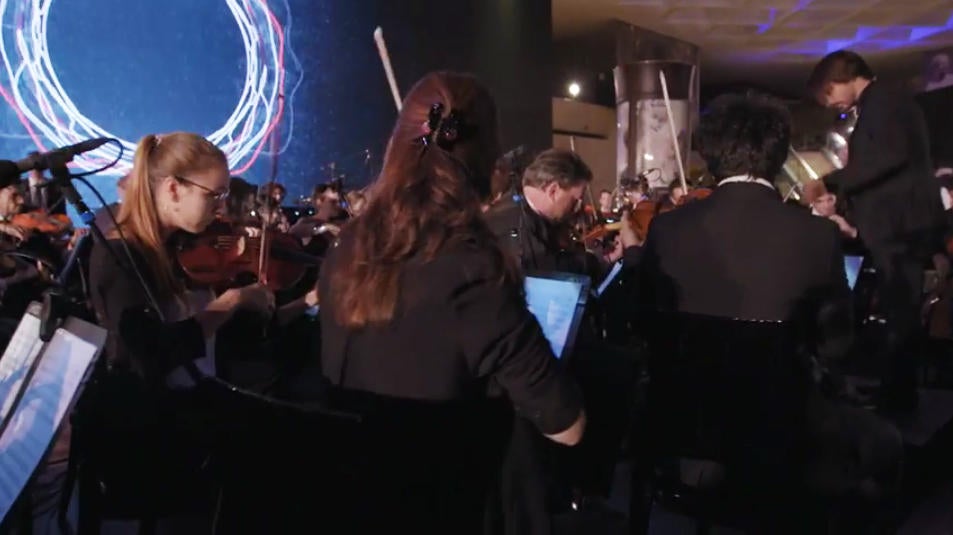 Orchestra music created with the help of artificial intelligence
You wouldn't think that articles on business and tech topics would make for the most beautiful music, but believe it or not, they were used by an artificial intelligence system and human composers to create an original symphony.
It sounds like science fiction, but last week inside the Louvre Pyramid in Paris, a 50-piece orchestra performed "Symphonologie," a "symphonic experience" from Accenture Strategy, a business and technology consulting firm. The project aims to shed light on the tangible uses of this kind of artificial intelligence and its broad potential.
"Initially, we talked about what could be a way for us to grab our clients and others in the business world? What would draw their attention? We wanted to show what's happening with digital and technology, and we thought about metaphors that cross cultures. What languages cross cultures? What's universal? We realized that music cuts straight through the list – there are so many different cultures and spoken languages around the world and we quickly went to music as something that transcends culture," Mark Knickrehm, group chief executive at Accenture Strategy, told CBS News. "The big question was how do you make music in the digital space using technology and artificial intelligence​? It was quite creative to go from there. Words have real meaning, and they can make music."
How was the orchestral work created? The final product was a unique combination of human and machine contributions.
First, Hannah Davis, a creative technologist and musician, used her TransProse artificial intelligence program to aggregate and analyze articles on business and tech – enough articles to fill a 600-page book. The program pinpointed "emotionally charged words" from these texts.
Then, these words were categorized into eight different sentiments, representing distinct emotions. The data from each category was transferred into a corresponding musical element – think pitch, notes, or keys, for instance. The results were digitized into different audio files that were assigned to specific orchestra instruments. This essentially created a basic sample of what the music​ composed from this data would sound like.
Then, enter composer and pianist Mathiew Lamboley, who took the music files and composed an arrangement around the artificial intelligence-generated melodies​. To make it a full multimedia experience, data visualists cross-referenced specific moments from the score with the "sentiments" generated from the original articles to create a live visual art display during the performance. Voila – "Symphonologie" was born.
While idea of a complex orchestral work created in large part through artificial intelligence is interesting, it isn't hard to imagine eyebrows being raised with doubt about the ultimate usefulness of this kind of project. Knickrehm said the implications of "Symphonologie" are wide; he sees the musical piece as a concrete example of how A.I.​ could be used by Accenture clients in fields ranging from health care to business.
"You know, the goal of this is to have people hear it and see it and say 'I get what you are doing,'" Knickrehm said. "We then start talking to people about what artificial intelligence is, how it could be used in strategy, how the cloud could be leveraged. You know, we are in year zero when it comes to this technology​. It's growing and we can start to see how it is opening up business possibilities and services."
From IBM's Watson​ cognitive computing system to consumer-oriented digital assistants like Apple's Siri​, artificial intelligence is becoming an increasingly commonplace throughout everyday life.
Knickrehm stressed that one key area that this kind of technology could be used would be in retail. Now that everyone has smartphones​, he said A.I. systems could be used to process images of the kinds of products you like and have those items delivered directly to the store. More advanced technology could offer increasingly personalized experiences for consumers.
Similarly, he predicted powerful applications for this kind of technology in the medical field.
"One area that is perhaps more impactful but less immediate to the consumer is in health care. This technology could be used to predict who will get sick and with what illness – we could work with our health care clients to change the outcomes. We have vast amounts of health data and genetic data, there are much cheaper genetic tests​ now. This kind of technology could change how businesses act, how doctors and nurses treat people differently," Knickrehm said.
And to think, all of this futuristic technology is infused into a musical performance. Though the Paris performance was for a private audience, Knickrehm said others may be able to experience "Symphonologie" for themselves with future performances in other cities around the world.
Thanks for reading CBS NEWS.
Create your free account or log in
for more features.