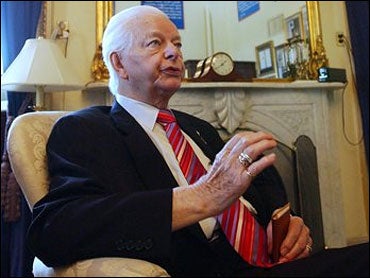 One Byrd Gets Lion's Share Of Earmarks
At age 90, Sen. Robert Byrd of West Virginia has been in the Senate longer than anybody else. And he's spent much of that time as head of the most powerful spending committee, with extraordinary control over earmarks - grants of your tax dollars without the normal public review, CBS News investigative correspondent Sharyl Attkisson reports for Follow the Money.
Byrd was the first senator to rack up a total of $1 billion in earmarks for his home state.
That was in 1999. Today he's past the $3 billion mark.
In his famously colorful Senate speeches, Byrd has repeatedly defended his earmarks.
"Hear me!! Some members have asserted that all, all, all earmarked funding is wasteful spending or an abuse of power," Byrd said. "Hogwash!"
And though tradition frowns on sitting members of Congress funding projects in their own name, they don't seem to have a problem with it in Byrd Country. West Virginia is full of ventures paid for with your tax dollars but named after him.
You can take the Robert C. Byrd Highway to the Robert C. Byrd Locks and Dam, explore space through the Robert C. Byrd Telescope, and work at the Robert C. Byrd Hilltop Office Complex.
In all, we found more than 40 projects bearing the Byrd name. Many of them sound perfectly reasonable, but the problem is other needy communities never get a crack at the money.
"He's unabashedly unapologetic about his earmarking," said watchdog Leslie Paige, who calls the earmarks "Byrd droppings."
"It's always been 'to the victor goes the spoils' with these earmarks," said Paige, who works for Citizens Against Government Waste. "Which means if you've got a member who sits on a powerful committee, you're gonna get the lion's share of that money."
But it's made Byrd a hero back home.
"Yeah man, you're lookin' at Big Daddy. Big Daddy!"
---

Read more about Byrd's pet projects at Couric & Co.

---
That's Byrd at the opening of the Robert C. Byrd Biotech Center, to which he generously gave $35.6 million of your tax dollars.

"Our effort to construct this facility and create a stronger foundation for the biotech industry here in West Virginia began where? With a visit to my office. Yeah. Yeah man," Byrd said. "A visit to my office, yeah."

Byrd wouldn't agree to an interview with CBS News.

His five decades in office have been money in the bank for West Virginians. So much so, they might consider some sort of monument in Byrd's name.

Except there are already so many.
Thanks for reading CBS NEWS.
Create your free account or log in
for more features.