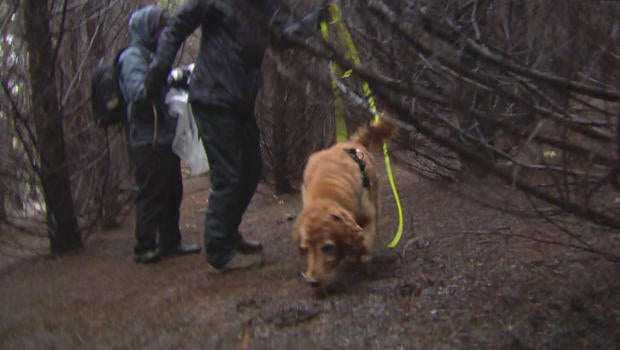 On the hunt with truffle-sniffing dogs
A TASTE OF SUMMER is again on our morning menu: a delicacy harvested by trained scavengers, as John Blackstone will show us:
Please don't sniff at the livestock arena setting. This is the pinnacle of scented sport: The North American Truffle Dog Championship. Twenty-four contestants work to catch the carefully-buried scent of truffles.
Only the five best noses advance to the final round – hunting for wild truffles deep in a forest near Eugene, Oregon, America's prime truffle country.
Oregon's cool wet weather and dark forests create perfect growing conditions for a fungus noted for its distinctive taste and smell. But since truffles grow entirely underground, only their scent gives them away.
A dog like Autumn might be considered a favorite. She is a lagotto romagnolo, the traditional truffle-hunting breed from Italy,
But America is a land of opportunity. No matter the breed or pedigree, here an underdog can be victorious. What counts is motivation … and Gustave, a chihuahua mix, had plenty
Blackstone asked, "What's his special talent?"
"His special talent is he's obsessed with food!" laughed Marci Tippmann. "He will do anything that you want him to that will get him something to eat!"
Gustave is now an inspiration to others. Looking on at the awards ceremony were dogs enrolled in truffle dog training classes.
Deb and Bob Walker teach the two-day seminar, which aims to turn out accomplished truffle hunters. The walkers spent decades training search-and-rescue dogs for law enforcement before transitioning to truffles.
Bob says almost any dog can do this.
Day One starts with the skill called imprinting. It works like this: Smell the truffle? Get a treat. Repeat.
The potential reward can be much more than a cookie. Wild Oregon truffles sell for as much as $200 a pound, and the culinary world is demanding them.
Chef Robin Jackson came to the festival to prepare truffle-inspired dishes. That, after all, is the whole point of a truffle.
Blackstone asked, "Can Oregon truffles compete with truffles from Europe that we're so familiar with?"
"Oh, absolutely. It's a complete different animal," Jackson replied.
Problem is, right now there aren't enough trained dogs to build a thriving truffle industry in Oregon. "Europe is all dog-harvested truffles," said Bob Walker.
"I thought it was pigs?" asked Balckstone.
"Yeah, they used to use pigs!"
"It's pretty much all dogs now," added Deb Walker. "I mean besides, who wants to put a 300-pound pig in the back of your Subaru?"
Arlene Pullium's five-pound terrier mix Sadie Bug is certainly a lot easier to handle. "I came with Sadie, because I've got acreage that probably has truffles on it. And that's good exercise for her, and I, to go do it."
"She seemed to do pretty well here?" said Blackstone.
"She's doing a lot better than I expected, yes!"
And expectations were high for a five-month old black lab named … Truffles.
So, how did Truffles come to be named Truffles? "Because I got her with the intention of training her to be a truffle dog!" replied Jessica Hutchinson.
Of course, it's not just the dogs that need the lessons; handlers must be trained as well.
Blackstone asked, "Who's more difficult to train, the dog or the handlers?"
"Handler!" laughed Bob Walker.
"The dogs are easy," said Deb Walker. "But think about it: People aren't used to doing all these kind of things with their dog, and it's a whole new skill set for them."
That new skill set is set for a workout on the second day of training, when the novice truffle dogs, along with their humans, head into a forest rich in truffle potential.
For Little Sadie, there just seemed to be too many distractions. "No, she's found a mouse hole, I think," said Arlene Pullium.
But with the pressure of a namesake on the line, Truffles the Labrador came through. "She found one! She found one! She found her first truffle!' said Jessica Hutchinson. "I'm so proud of her! I think she's found herself!" she laughed.
After two days of training, 23 of the 24 dogs in the beginners' class found truffles – even little Sadie.
"I was headed back downhill, that's all she wanted to do," said Pullium. "But I'm tired, so I would just walk along, and she stopped and pulled. And there it was!"

For more info:

Story produced by John Goodwin.

See also:
Thanks for reading CBS NEWS.
Create your free account or log in
for more features.