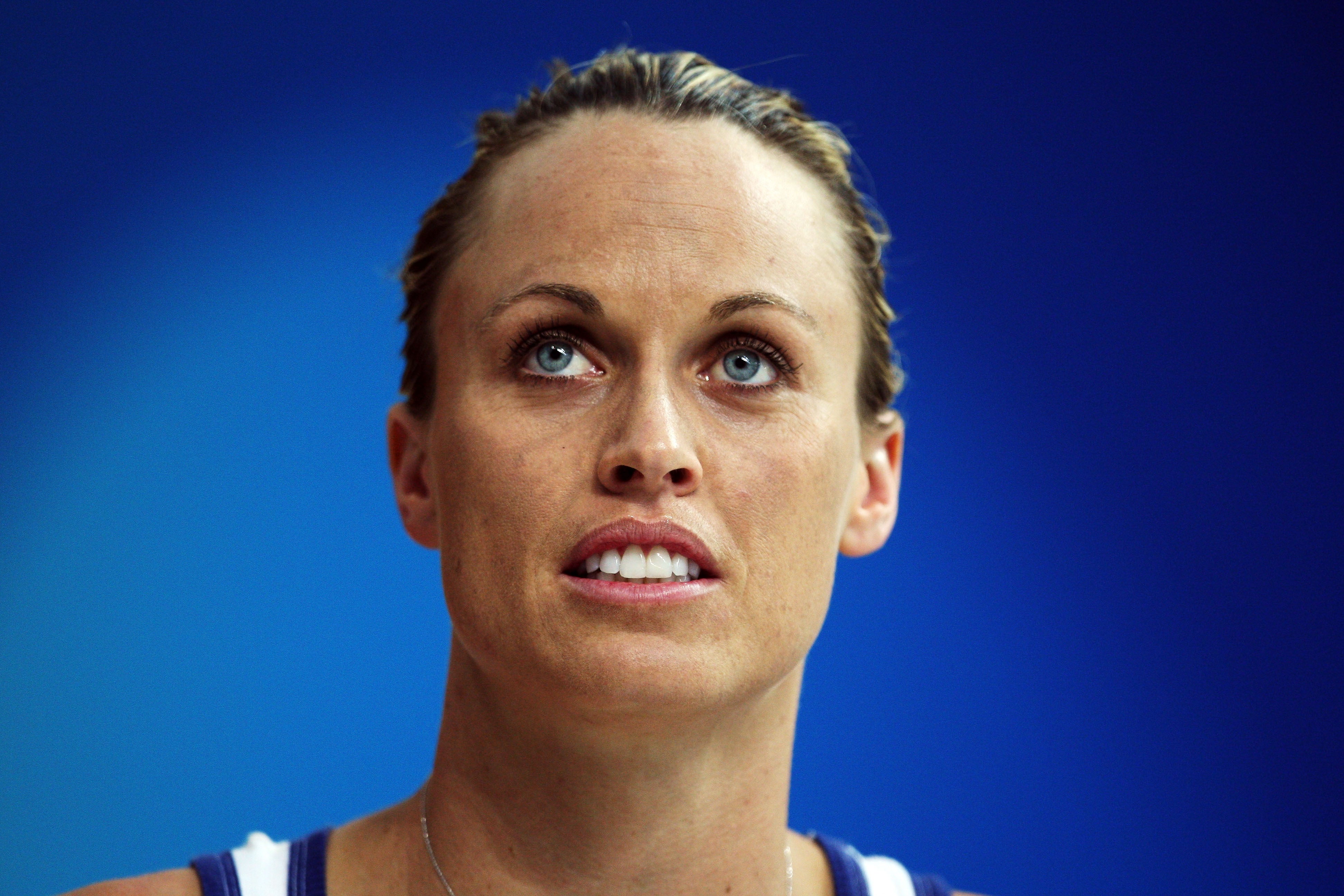 Olympic swimmer Amanda Beard recounts drug abuse, bulimia in book
(AP) Amanda Beard is happily married and a proud mom, finally at peace after years of struggling at various times with depression, bulimia, drug abuse and toxic relationships with famous men while feeling unworthy of the swimming success that made her an Olympic medalist at 14.
Beard kept her physical and emotional turmoil hidden behind a huge smile, revealing little to her family, friends and coaches while she distracted herself from the pain with swimming.
But even that wasn't much of a refuge after she burst on the international scene by winning two silver medals in the breaststroke events and gold in the relay at the 1996 Atlanta Olympics. Beard hit puberty soon after, going through a growth spurt that added 6 inches and 30 pounds to her slender frame. Normal for most girls, it was disastrous for a swimmer.
Her body's changes made her slower in the water and she lost races, generating whispers on the pool deck and the horrible feeling that she was letting people down.
Beard recounts her ups and downs in the 245-page memoir "In the Water They Can't See You Cry" released this week.
The 30-year-old swimmer traces the cause of her struggles to her parent's divorce when she 12. Her mother moved out and Amanda lived with her father in their Irvine, Calif., home. Her two older sisters were already out of the house. Although her family was loving, Beard said they never discussed their feelings out loud.
"It was definitely a snowball effect," she said Thursday from New York where she was promoting the book. "It started with my parents' divorce, the pressure I put on myself after the `96 Olympics, not dealing with puberty. All of those things I just constantly pushed down and tried not to deal with. Those things just kind of built off each other."
Beard started drinking in high school, when she hated her looks and felt unlovable. Adding to her burden was a case of mild dyslexia that made her cry daily and led to grades of Cs and Ds.
Swimming was the only area in which Beard rarely wavered. Although she briefly quit five months after the Atlanta Games, she soon returned and earned an athletic scholarship to Arizona. That's where her bulimia began, a problem five-time Olympian Dara Torres also dealt with as a college swimmer at Florida.
Beard writes how in college she once vomited seven times in one day despite being scared by the physical toll it took on her body.
"But the fear wasn't as powerful as the benefits of purging," she writes.
As a freshman, she caught the eye of South African swimming star Ryk Neethling, a senior on the Wildcats' team. They began a volatile relationship that lasted through the 2004 Athens Olympics. Beard writes how the couple had "loud screaming mean fights" and she started cutting herself to escape the pain.
"I wasn't trying to kill myself," she writes. "I was trying to figure out how to live in a bad relationship."
Beard's star eventually eclipsed Neethling's, something she said he couldn't accept even though she was supporting him financially after turning pro. She describes a two-month visit to his family in South Africa that included use of Ecstasy, cocaine and acid.
Beard never succeeded in getting the attention and approval she so desperately sought from Neethling, who eventually moved back home.
Not long after their relationship ended, Beard began dating NASCAR driver Carl Edwards, who comes off as controlling and jealous in the book. She writes that while their sex life sizzled, Edwards tried to control her, ordering her not to talk to other drivers at his races. She writes that their yearlong relationship was mostly one-way, with Beard following him from track to track and Edwards paying little attention to anything in her life.
"I don't know if I'll hear from them," Beard said about her famous exes. "This is all from my point of view and the things that I was going through. A lot of people do have relationship issues and they can't find their voice. I couldn't not talk about the things that I felt with other people. Those are big chunks of my life."
Adrift after Athens, Beard found herself inspired to continue swimming not by Edwards, but by his rivals Dale Jarrett and Mark Martin, who both won races in their late 40s. She made her fourth Olympic team in 2008, although she finished 18th in Beijing.
Still plagued by her history of negative feelings about her body, Beard nonetheless parlayed her California surfer girl looks into sexy magazine shoots, including a Playboy spread in 2007. Along the way, she met and fell for photographer Sacha Brown.
The couple moved in together, where Brown got a startling glimpse of Beard's volatility. She was still cutting herself and the unhappiness that Beard had pushed deep inside frequently surfaced in fits of smashing dishes and expensive sunglasses around their house.
It wasn't until Brown confronted Beard and encouraged her to seek therapy that she began addressing the issues that had made her miserable for years.
"We joke that he's my knight in shining armor," she said. "He's the person that saw me for everything I was and was still standing by me and in love with me."
They later married and had son Blaise, now 2. Brown is at home in Tucson, Ariz., with their son during Beard's two-week book tour.
Sharing her story has made Beard realize she was never truly alone in her problems.
"I'm so surprised that a lot of people have dealt with the same things that I have," she said. "It just blows me away, whether it's a father who tells me about his daughter or a mom talking. It's very cool to have that kind of connection with other people."
Beard hopes the book inspires others to seek help.
"We can't be ashamed of who we are or embarrassed of the things that we're going through," she said. "It makes me almost emotional in a way to hear people's stories especially if they're still struggling with overcoming things. It breaks my heart because it's not a fun place to be and you feel so lonely."
She's no longer taking antidepressants and has learned to discuss her feelings and assert herself with a degree of confidence she had always lacked.
"This book has helped open up a line of communication," she said. "Now I'm in a place where I can reach out so much more and communicate with my family."
Beard is currently training in preparation for this summer's Olympic trials, in which she hopes to make the U.S. team for London, which would be her fifth games.
"When trials show up, you never know what will happen," she said. "After this summer, we want to try to have another baby. I'd love to get back into shape again and swim through 2016."
Thanks for reading CBS NEWS.
Create your free account or log in
for more features.