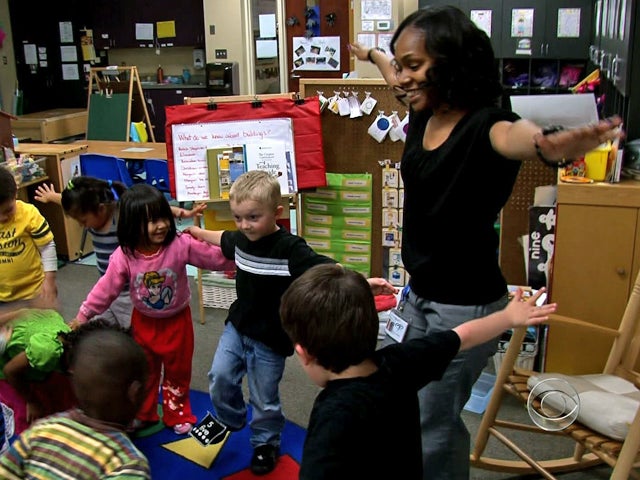 Oklahoma offers pre-K model for nation
This is Part One of a two-part report on pre-K education. To read Part Two click here.
(CBS News)TULSA, Okla. - When Barbara Powell's granddaughter, Morgan, started pre-K last year, Powell was in awe at how much the three-year-old had taken in.
"It teaches all of the stuff that they need to be prepared for going to school. They learn their ABCs, their colors, their shapes, sounds, writing," Powell said.
For the past 15 years, Oklahoma has offered public pre-school for all four-year-olds, and 75 percent of them attend, which is the second-highest rate in the nation, behind Florida.
The Tulsa program Morgan attends goes further than most by serving kids under four and even newborns. It's run by the Community Action Project and targets low-income families.
Powell, who works at a Wendy's, is raising three of her grandchildren. The other two went through pre-K here too.
"It kind of helps fill in the work that I can't do with them at home," she said. "This is school. They learn.They learn a lot."
In Oklahoma, every pre-K teacher must have a college degree and training in early childhood education. Classes are not overcrowded, as the child-to-teacher ratio is limited to 10 to 1.
That helps Oklahoma wins high marks for quality. For example, even though 79 percent of Florida four-year-olds access state-funded pre-K, Oklahoma spends roughly $1,500 more than Florida per child per year.
A decade-long study led by Georgetown University professor William Gormley found distinct advantages for Oklahoma pre-K kids upon entering kindergarten.
"Students who participated in the school-based pre-K program in Tulsa are substantially ahead of their peers in every respect: nine months ahead in reading skills, seven months ahead in writing skills, and five months ahead in math skills," Gormley said.
"Disadvantaged children benefit the most," he said. "Hispanic children whose parents speak Spanish at home experience some of the biggest improvement."
The CAP schools in Tulsa are funded by a mix of state funds and since 2006 by $15 million a year from the George Kaiser Family Foundation.
"Initially, people were concerned that we were ripping children out of the cradle, from their loving parents, and putting them into an institution," said Kaiser, a billionaire oilman who lives in Tulsa. "Eighty-eight percent of them were in day care already, and all we were trying to do was make that day care constructive and educational."
The public-private partnership forged with Kaiser's cooperation sets Oklahoma apart from other states whose support for pre-K is generally limited to classes for four-year-olds. Oklahoma has the largest state-funded pre-K program for kids aged 0 to 3.
In most states, the only public funding for 0 to 3 education is from the federal government through Early Head Start.
The National Institute for Early Education Research at Rutgers University announced this week that 27 of the 40 states that offer public pre-school for four-year-olds cut funding last year by an average of 10 percent per child enrolled. Oklahoma's funding went up $81 per child.
President Obama's proposed federal budget now pending before Congress would allocates $75 billion in grants for state preschool programs for all four-year-olds.
"All the science shows that effective, high-quality early childhood education pays more dividends than almost anything else you can do," the president said Saturday during a forum on inclusive economic growth and development in San Jose, Costa Rica.
"If children get a good start, if they're read to, and their vocabulary is expanding, and they're taught their numbers and their colors and all the basic building blocks, then they're much more likely to succeed," Mr. Obama said.
The CAP pre-schools already serve 2,100 kids in 13 locations. They are strategically located adjacent to elementary schools, making for a smooth transition for the children and an easier commute for families with more than one child.
Part of the CAP and Kaiser philosophy is to break the cycle of poverty by helping adults with parenting and jobs skills.
Dee Dee Pasley's son went to a CAP school and now her grandson, Josiah, does. It's his second year.
"Now he's able to really express himself," Pasley said. "The classes have really taught him how to just ask for what you want, use your words."
Pasley benefits through CAP's career advancement class and is training to become a medical assistant.
"I think they've come to the understanding to help the children you also have to help the family," Pasley said.
"We have a lot of families who have no other people outside the school to support them," said Joanne Morris, director of the CAP site attended by the Pasley and Powell's families. Early intervention is key.
Morris said, "If these children have the skills they need to be successful now, they'll take those skills with them all the way through adulthood."
For Barbara Powell, the benefits are evident in childhood.
"Whenever you see them learn something, and they are so excited that they've learned something or that they finally did something, and you see it in their eyes -- that's your reward."
Thanks for reading CBS NEWS.
Create your free account or log in
for more features.