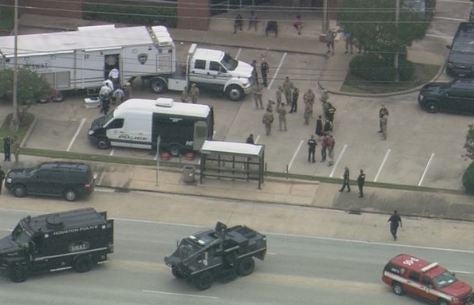 Official: High-powered weapon fired at Houston police helicopter in shootout
HOUSTON, Texas -- Two people are dead and six others have been injured in a shooting in west Houston, according to the Houston Police Department, CBS affiliate KHOU reported.
One of the deceased is a suspect who was shot by a SWAT officer. The other is a citizen who was shot and killed inside a vehicle, police said.
According to authorities, the civilian was in his 50s and was a customer at an auto detail shop where the suspect shot him with a pistol. Police say the suspect was also armed with an AR-15 that was used to shoot at officers.
Acting Police Chief Martha Montalvo said a police helicopter was also shot at with a "high-powered" weapon. KHOU reported the suspects are believed to have had high-powered weapons, AR-15s.
The HPD helicopter had five bullet strikes. Police believe the deceased suspect shot at HPD's helicopter, KHOU reported.
Police spokesman John Cannon says there were two armed suspects involved. One was killed; the other was wounded and taken to a hospital.
Three civilians were among the wounded. Their conditions are unknown at this time. Two officers were also wounded. One was shot in the hand and is expected to be okay.
At least two drivers told KHOU their vehicles were shot at.
Police said the first officer who pulled up to the scene was immediately shot at, leaving 21 bullet holes in his windshield.
Video posted to Twitter captures the sound of gunshots. Police can be seen running, and telling people to get inside.
Neighbors near the scene of the shooting Sunday said they heard several shots and knew something was wrong.
Stephen Dittoe, 55, lives in the house right behind the shooting scene, separated by a fence and tall shrubbery at the end of cul-de-sac.
"I heard the first shot and I thought it was a transformer" exploding, he said.
His wife, Ha, 41, said it went on too long for that and described the series of staccato sounds. She took their two children, ages 6 and 7, into the bathroom, told them to eat breakfast in there, and called 911.
About an hour after the shootings began, a SWAT officer killed the gunman, said Cannon.
"If he hadn't taken that action that quickly, this likely would have been a lot worse than it was," Cannon said.
The county medical examiner may identify the gunman on Monday, Cannon said.
Houston Police Union President Ray Hunt says an officer who was hit several times in the chest was wearing both a metal breastplate and a bulletproof vest. The second officer was shot in the hand.
KHOU was on the scene and spoke with witnesses who said they were shot at by one of the shooters.
SWAT, Houston Police, Houston Fire Department and Precinct 5 deputies rushed to the scene.
The motive behind the shooting is unknown at this time
Thanks for reading CBS NEWS.
Create your free account or log in
for more features.