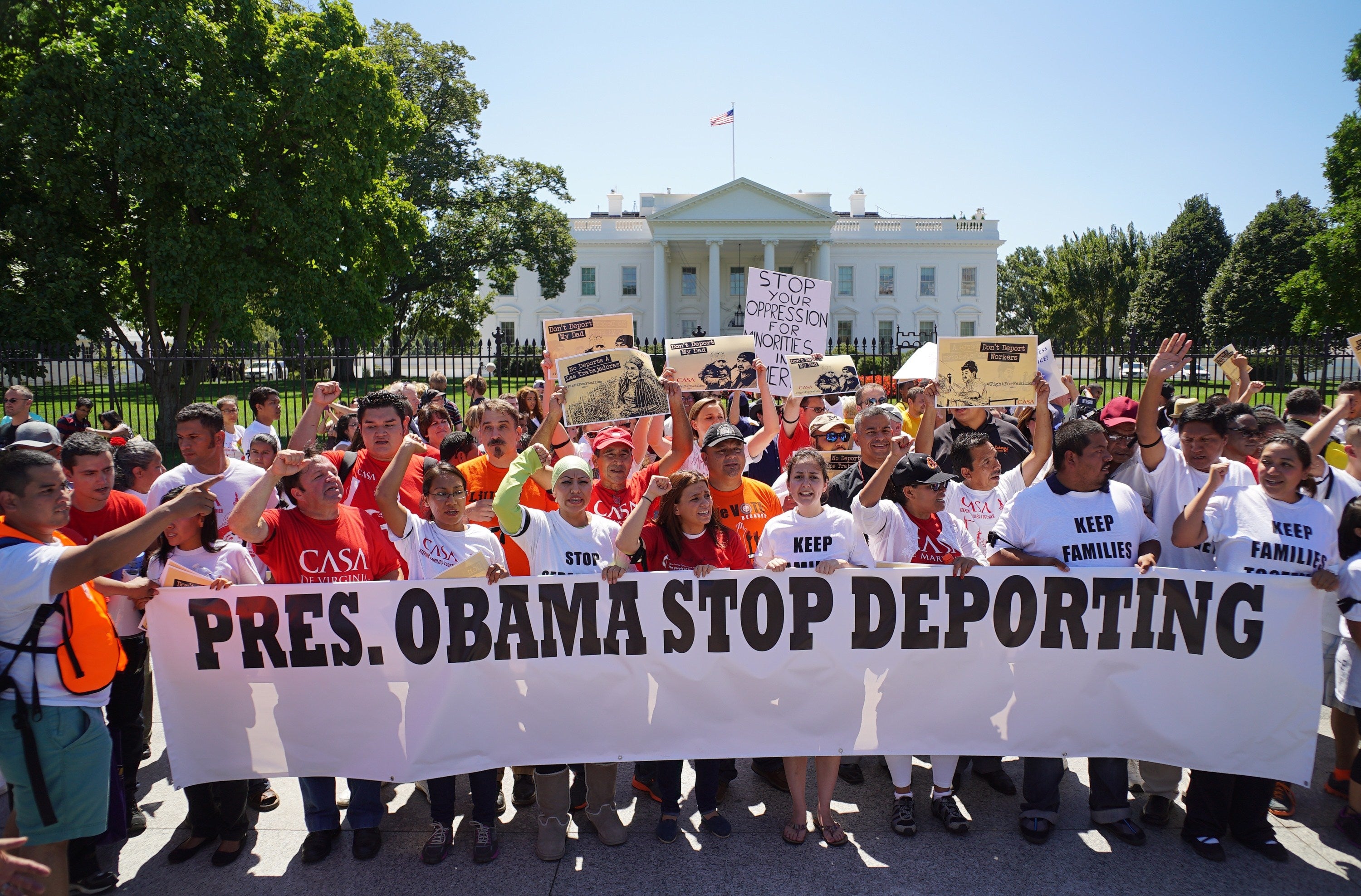 Obama's immigration delay was political, GOP and Democrats agree
President Obama said Sunday that his decision to postpone any executive action on immigration until after November's midterm elections was not driven by politics.
Almost nobody's buying that, of course.
"That's not the reason," the president said on NBC's "Meet the Press" after he was asked whether he delayed action to help vulnerable Democrats in the congressional midterms.
The actions under consideration by the president, among others, include a relaxation of deportation procedures for some undocumented immigrants living in the U.S., and a strengthening of border security resources.
Mr. Obama blamed the surge in unaccompanied minors crossing the U.S.-Mexico border this summer for creating an "impression" that the border wasn't secured and making the politics of immigration more difficult to navigate.
And given that thorny political environment, he said, he punted the decision until after the election to ensure that any action he does take is more "sustainable."
The president offered an instrumental argument, not a political one - he wants to fix the immigration system so ardently, he said, that he's willing to wait if it increases the chances of a successful effort.
But lawmakers from both parties spied politics in the president's decision, and they almost unanimously disagreed with it - albeit for very different reasons.
"It's definitely politics," said Sen. Marco Rubio, R-Fla., on CBS' "Face the Nation." "He doesn't want to be held accountable by the electorate in the mid-term elections for an action that he knows is unpopular."
Rubio was one of the chief sponsors of a bipartisan, comprehensive immigration reform bill that cleared the Senate last June. House Republicans have refused to take up that measure.
Rubio said he still believes the system needs fixing, but he warned that if the president acts unilaterally, he'll spoil his chance at signing a bill.
"If the president takes executive action, he will make achieving that, which won't be easy, even harder," Rubio said. "So I'm glad he's not going to do it, but I'm disappointed he intends to do it anyway after the election."
Rep. Mike Rogers, R-Mich., said on CNN that the decision to punt was "prudent," given the sensitivity of the issue, but he argued it was clearly political as well, "in the sense that he understands how unpopular that decision would be with Americans."
And Rogers agreed with Rubio that the issue is better addressed by Congress, urging the president to forsake the idea of executive action altogether.
The 2012 Republican presidential nominee, Mitt Romney, said on "Fox News Sunday" that the president's delay was "cynical and political."
"He's basically saying he's going to do something the American people won't like and he wants to make sure to do it after the midterms when it won't have consequences for him," Romney argued.
Many Democrats, too, disagreed with the president's decision to punt - but rather than abandoning the idea of executive action altogether, they said, he should have just pulled the trigger earlier.
"It's clear that playing it safe is what is going on at the White House and among Democratic circles, and playing it safe means walking away from our values and our principles," said Rep. Luis Gutierrez, D-Ill., one of the most passionate immigration reform advocates in the Congress, on ABC's "This Week." "Playing it safe might win an election. Sometimes you lose an election playing it safe also. But it's almost never leads to fairness, to justice, and to good public policy that you can be proud of."
Gutierrez predicted there would be a lot of "anguish and anger" in the Latino community about the delay.
"President Barack Obama in the last five years has deported more people than any other president in the history of the United States. So I think that that's the reality," he said. "And while we wait until November, because that's the president's decision, there's going to be another 60,000 people deported."
Rep. Tony Cardenas, D-Calif., told CNN that "of course there's politics going on."
"I don't like what the president's advisers may be telling him," he said. "I can only speculate that they've encouraged them to wait. I would prefer he do it now."
Cardenas said that Latinos are surely "frustrated" with the president, but that Republicans would absorb a far greater share of their ire.
"They're really pissed off with the Republican party," he said.
Sen. Bob Menendez, D-N.J., struck a similar tone, telling "Fox News Sunday" he's "deeply disappointed" with the president for not acting sooner, but directing a far greater share of the blame at the GOP, particularly House Republicans.
"This was sent over to them over a year ago, with a strong bipartisan vote in the Senate," he said. "Republicans are on the wrong side of the inevitable tide of history here."
Thanks for reading CBS NEWS.
Create your free account or log in
for more features.