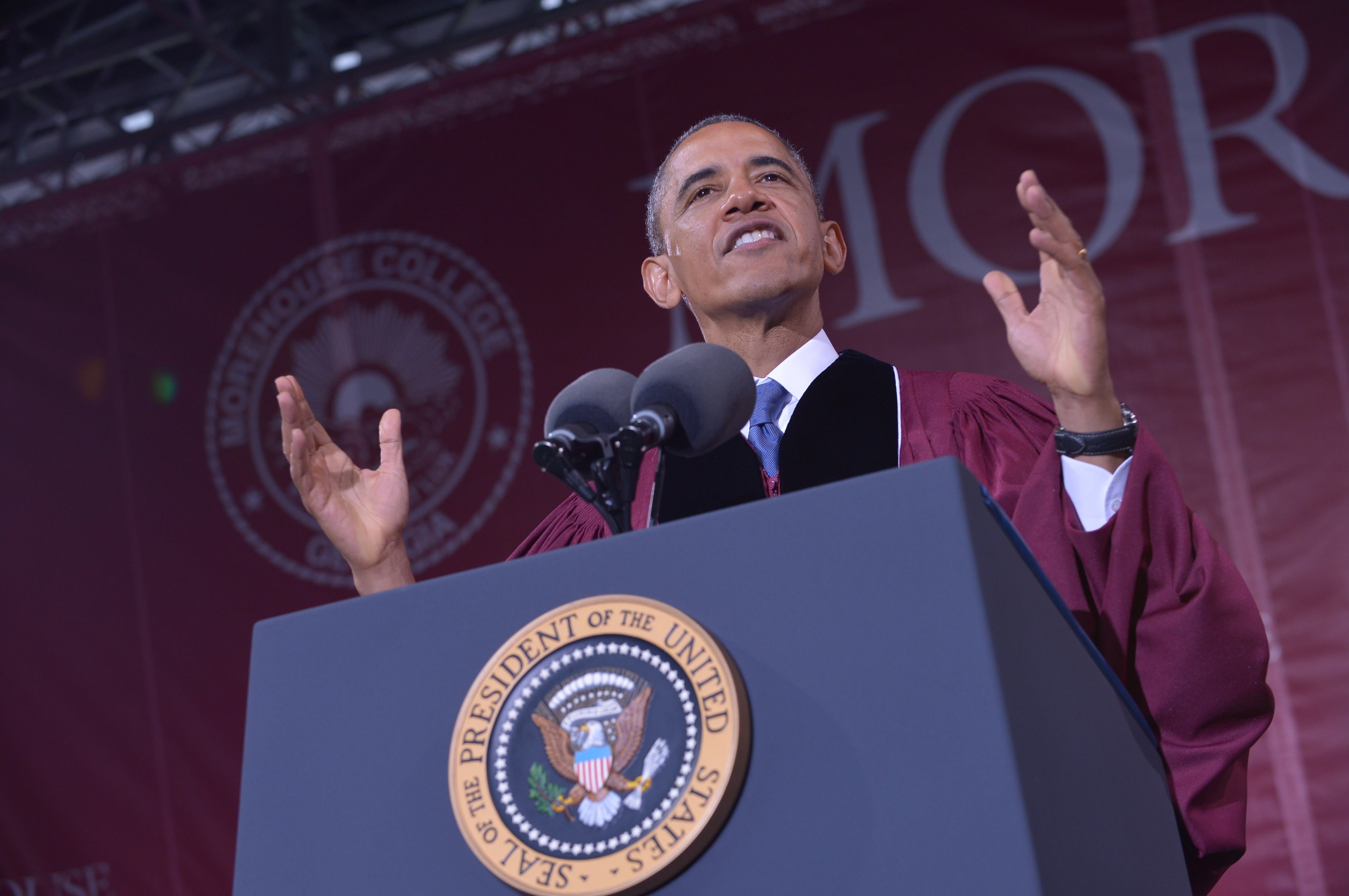 Obama tells Morehouse graduates: "No time for excuses"
In a commencement address on a rain-drenched Sunday at Morehouse College, President Obama drew on his own experience growing up as a black man in America to tell the graduates before him that there's "no time for excuses," saying that whatever difficulties they've had to slog through, "they pale in comparison to the hardships previous generations endured - and overcame."
"We know that too many young men in our community continue to make bad choices," Mr. Obama told the roughly 500 graduates of the all-male historically black college founded in Atlanta, Georgia, shortly after the end of the Civil War. "Growing up, I made a few myself, and I have to confess, sometimes I wrote off my own failings as just another example of the world trying to keep a black man down. But one of the things you've learned over the last four years is that there's no longer any room for excuses.
"Not because racism and discrimination no longer exist," the president added. "We know that's still out there. It's just that in today's hyperconnected, hypercompetitive world, with a billion young people from China and India and Brazil entering the global workforce alongside you - many of them who started with a lot less than you did - nobody is going to give you anything you haven't earned."
The graduates, who were soaked by the downpour throughout the address, frequently broke into the president's remarks to applaud as their families, a sea of beaming faces cloaked in ponchos, looked on.
"You now hail from a lineage and legacy of immeasurably strong men," Mr. Obama said, reciting a list of Morehouse alumni that includes Dr. Martin Luther King, Jr., Thurgood Marshall, and Frederick Douglass. "These men were many things to many people. They knew full well the role that racism played in their lives, but when it came to their own accomplishments and sense of purpose, they had no time for excuses."
Mr. Obama recalled example of Dr. King, who "was just 15 years old when he enrolled here at Morehouse," where he would "forge the intellect, the soul force, the discipline and compassion that would transform America."
With that illustrious heritage to inspire them - and amid more signs of economic revitalization in America - the president said, "your generation is uniquely poised for success unlike any before it."
But "that doesn't mean we don't have more work to do together," he cautioned. "If you think you can get over in this economy, just because you have a Morehouse degree, you are in for a rude awakening. But if you stay hungry, keep hustling, keep on your grind and get other folks to do the same - nobody can stop you."
He also asked the graduates to work to improve and empower their own community, saying, "if we're being honest with ourselves, too few of our brothers and sisters have the opportunities you've had here at Morehouse. In troubled neighborhoods all across the country - many of them heavily African-American - too few of our citizens have role models to guide them."
"And that brings me to my second request of you," the president said. "Just as Morehouse has taught you to expect more of yourself, inspire those who look up to you to expect more of themselves.
"Be a good role model and set a good example for that young brother coming up," Mr. Obama said. "If you know someone who isn't on point, go back and bring that brother along.
"But it is not just the African-American community that needs you," the president said. "The country needs you. The world needs you. See, as Morehouse men, many of you know what it's like to be an outsider; to be marginalized; to feel the sting of discrimination. That's an experience that so many other Americans share.
"Hispanic Americans know that feeling when someone asks where they come from or tells them to go back," he said. "Gay and lesbian Americans feel it when a stranger passes judgment on their parenting skills or the love they share. Muslim Americans feel it when they're stared at with suspicion because of their faith. Any woman who knows the injustice of earning less pay for doing the same work - she sure feels it."
"So your experiences give you special insight that today's leaders need," Mr. Obama explained, urging the graduates to develop the kind of empathy that would allow them to see the marginalized and the downtrodden and recognize, "but for the grace of God, I might be in their shoes.
"So it's up to you to widen your circle of your concern to create greater justice both in your own community, but also across our country," the president said.
Thanks for reading CBS NEWS.
Create your free account or log in
for more features.