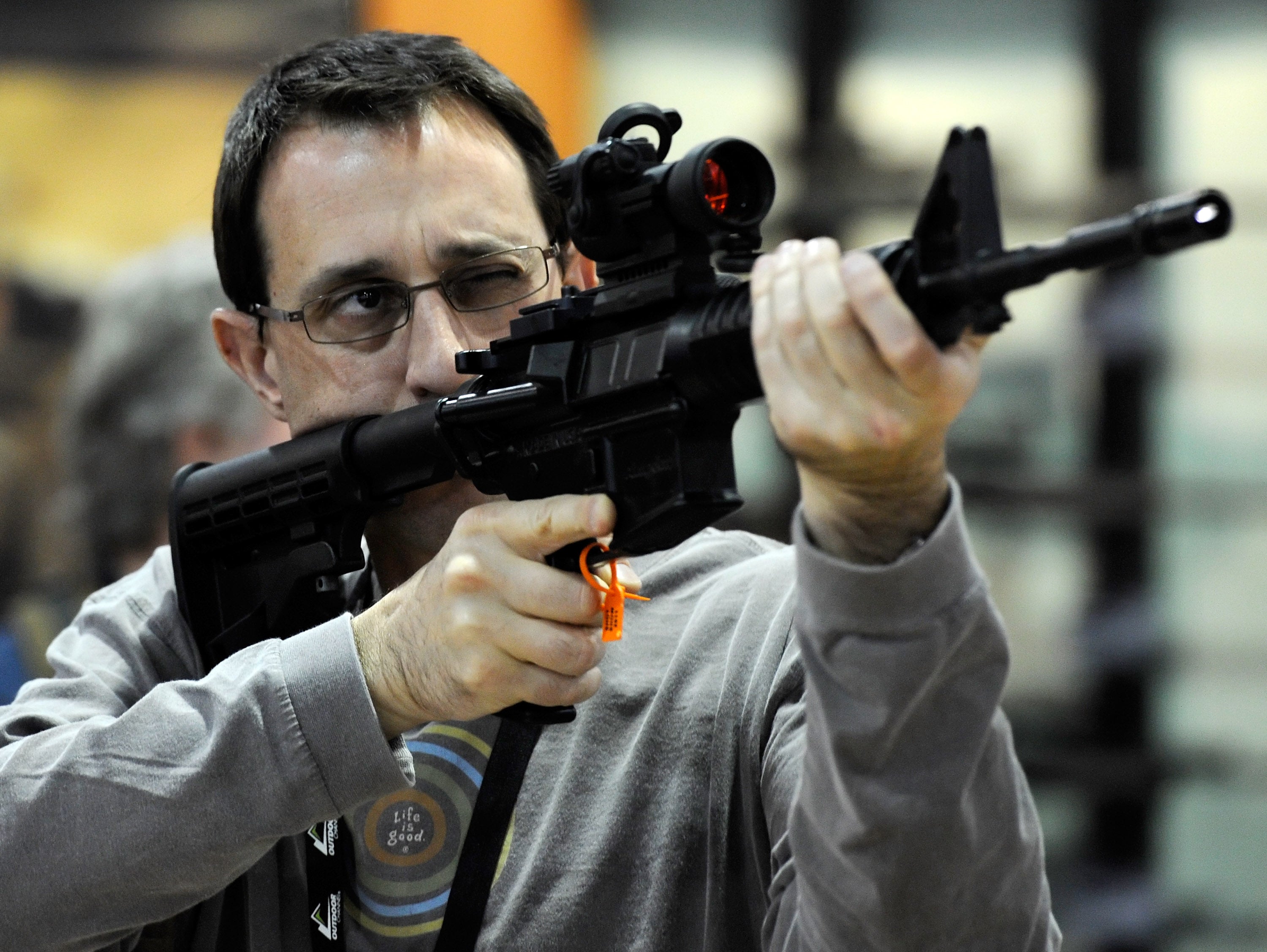 Obama moves to close gun show loophole for background checks
The Obama administration on Monday announced it will unilaterally attempt to close the so-called "gun show loophole" that allows gun dealers conducting business at gun shows or online without conducting background checks.
Existing law exempts gun collectors and hobbyists from conducting a background check before selling a firearm. However, Attorney General Loretta Lynch said to reporters Monday, "There's been an expansion of people claiming the exemption... when they really don't qualify for it."
The new guidance from the Bureau of Alcohol, Tobacco, Firearms and Explosives (ATF) announced Monday "puts in one place clear guidance... on who actually qualifies as a dealer," Lynch said. "It will help individuals who do want to comply and really do want to know the standards, and it will also put everyone else on notice that if they don't comply, there will be consequences."
The new ATF guidance and stepped up enforcement efforts were announced with a series of other steps the administration is taking as part of an ongoing effort to reduce gun violence. Mr. Obama stressed earlier in the day after meeting with Lynch that the new actions are "well within my legal authority."
In early October, shortly after the mass shooting at an Oregon community college, the president assigned White House and Department of Justice lawyers to comb the law in search of any unused administrative authority available to him.
Lynch insisted Monday that the new guidance on the gun show loophole sets "clear, definitive standards" for anyone who wants to sell firearms. However, the new guidance does not include a specific number of guns that must be sold to qualify as a dealer, since existing law does not specify a number.
However, court rulings have set a precedent that says a person could sell as few as one or two guns and still be considered a dealer, depending on the circumstances. For instance, Lynch explained, if an individual sells a gun clearly for profit, or if they buy and sell a gun kept in its original packaging, they may be considered a dealer.
"It's important to note the hobbyist and collector exception is still there," she said. Now, though, dealers can no longer "hide behind that."
The ATF will engage in a "business educational initiative" in the first part of 2016, Lynch said, to help gun dealers, hobbyists and collectors understand the new guidance. This effort will target gun shows, flea markets and online dealers. Lynch added, "We will be looking for those individuals who seek to avoid registering."
She added that the ATF is ramping up its enforcement efforts, particularly online. "If it does stop one act of violence, this effort will be worth it," she said.
To improve enforcement, the FBI aims to start processing background checks 24 hours a day, seven days a week. It also aims to improve its notification to local authorities when someone unlawfully attempts to buy a gun. The FBI wants to hire more than 230 additional examiners but eventually automate the background check process, administration officials explained Monday.
To beef up the information in the federal background check system, the administration is also reaching out to state leaders. Lynch sent a letter to all 50 governors, highlighting the importance of receiving complete criminal history records for the system. Additionally, the Health and Human Services Department (HHS) is notifying states that it can enter mental health information into the system without running afoul of privacy laws.
As part of the overall efforts to reduce gun violence, the administration is also proposing a new $500 million investment to expand mental health treatment across the country.
Meanwhile, White House spokesman Josh Earnest said that the administration's new actions "do not in any way absolve Congress of their responsibility to pass legislation that would make our communities safer."
For example, he said Congress should bar people on the terrorist watchlist from purchasing guns.
Thanks for reading CBS NEWS.
Create your free account or log in
for more features.