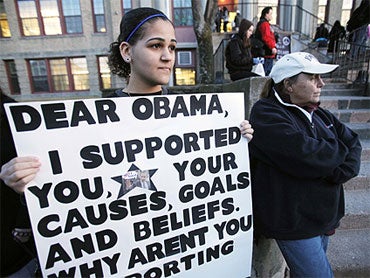 Obama Effigy Hung at Sacked R.I. School
A union is condemning an effigy of President Barack Obama that was hung upside down by a teacher at a failing Rhode Island high school where he and all his colleagues were fired.
The teachers' union said Thursday that the unidentified teacher has verbally apologized to his students. It also said he has asked Central Falls Superintendent Frances Gallo if he may apologize in writing.
Gallo tells CNN that she discovered the effigy in the teacher's classroom Monday. She says that the Obama doll was about 12 inches tall and was hung from its feet from a white board.
She says it was holding a sign saying "Fire Central Falls teachers."
Mr. Obama had called the firings in Central Falls an example of holding failing schools accountable.
"So if a school is struggling, we have to work with the principal and the teachers to find a solution," Mr. Obama said during a weekly radio and Internet address on education Saturday. "We've got to give them a chance to make meaningful improvements. But if a school continues to fail its students year after year after year, if it doesn't show any sign of improvement, then there's got to be a sense of accountability."
The state's education commissioner earlier ordered Gallo to choose from one of four reform options, including mass firings, to improve the high school.
Only 7 percent of 11th-graders tested this fall were proficient in math, while 33 percent of the high school students tested proficient this fall in writing and just 55 percent were proficient in reading. Less than half of students graduate from Central Falls in four years, according to state statistics.
The Central Falls school board voted in late February to fire 93 teachers and staff from the city's high school after the end of the school year. No more than half the staff could be hired back under federal rules.
But earlier this month, Gallo indicated she was willing to negotiate with its teachers union after it publicly pledged to support reforms.
The union offer included support for a longer school day and providing before- and after-school tutoring for students, she said.
"That gave me enough hope that I could say, 'What are we waiting for? Get back to the table,"' Gallo said.
The firings are still in effect pending a deal.
Thanks for reading CBS NEWS.
Create your free account or log in
for more features.