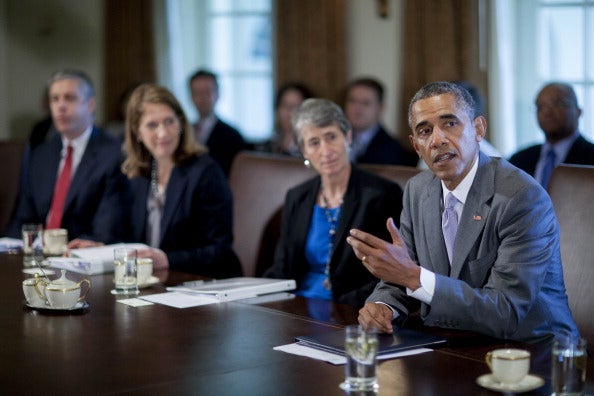 Obama considers large-scale move on immigration
WASHINGTON -- White House officials are making plans to act before November's midterm elections to grant work permits to potentially millions of immigrants in this country illegally.
The move could scramble election-year politics and lead some conservative Republicans to push for impeachment proceedings against President Barack Obama.
Advocates and lawmakers who've been in touch with the administration say officials are weighing a range of options including changes in the deportation system and ways to grant relief from deportation to targeted populations in the country.
That might include parents or legal guardians of U.S. citizen children - which could be around 3.8 million people - or parents of immigrants brought here illegally as kids who've already received executive relief from Obama. That could be an additional 500,000 to 1 million people.
Obama recently put a $3.7 billion proposal on the table to provide resources for additional border security and additional immigration judges to deal with an increasing number of unaccompanied minors crossing the border from Central America. Last week, he urged Congress to pass his proposal, saying "we need action and less talk."
"It is my hope [that Congress] will not leave town for the month of August for their vacations without doing something to solve this problem," Obama said.
Several Republicans have expressed interest in including a provision in the funding to end DACA (Deferred Action for Childhood Arrivals) -- the program that Mr. Obama enacted in 2012 to allow certain undocumented youths to stay in the country legally (temporarily) if they meet certain requirements. However, it's unclear whether many GOP members would insist on including this provision in any bill.
A bipartisan coalition of senators passed a reform bill last June that would extend an earned path to citizenship to some undocumented immigrants, throw considerably more security resources at the border, and strengthen domestic enforcement of immigration laws.
House Republican leaders refused to take up the Senate bill, and though some smaller bills targeting border security and visas for skilled workers have passed through the House Judiciary Committee, nothing has reached the House floor.
GOP leaders tried earlier this year to rally their caucus around a bill that would confer citizenship on those who have served in the military, but even that proved too heavy a lift for the fractious Republican conference. House Majority Leader Eric Cantor, R-Va., even lost his seat to a conservative challenger in a stunning primary upset last month that some blamed on his support for the measure.
Thanks for reading CBS NEWS.
Create your free account or log in
for more features.