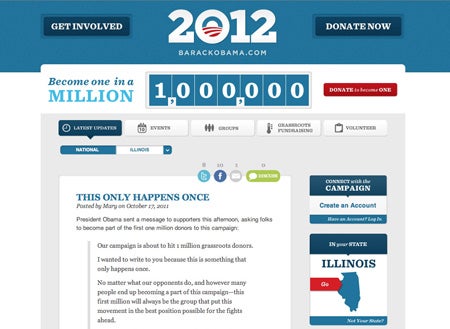 Obama campaign boasts of one million donors
The Obama campaign on Monday said that one million people have donated to the president's reelection campaign.
A ticker on the Obama campaign website showed the campaign moving past the one million mark. Before the landmark was reached earlier in the day, Mr. Obama used the benchmark in a call for donations, emailing supporters that "no matter what our opponents do, and however many people end up becoming a part of this campaign--this first million will always be the group that put this movement in the best position possible for the fights ahead."
Obama for America Press Secretary Ben LaBolt stressed that the campaign "rejects donations from special interest PACs and Washington lobbyists" in a statement to CBS News.
"Instead, we rely on contributions from Americans across the country," he said. "During the last campaign, it took us a full year to reach one million donors, but we reached one million donors almost twice as quickly this time."
The campaign says more than 600,000 people donated to the Obama campaign during the summer fundraising quarter, with 98 percent of the contributions totaling less than $250. (By contrast, Republican presidential candidate Mitt Romney reported 55,000 individual donors in that quarter, with 80 percent of donors giving less than $250.) The Obama campaign and Democratic National Committee brought in $70 million in the summer fundraising period.
That's not to say the Obama campaign isn't also dependent on large donors. While the campaign boasts about its small donors, on Friday it released a list of more than 350 "bundlers" who have raised more than $55 million for him this year.

Thanks for reading CBS NEWS.
Create your free account or log in
for more features.