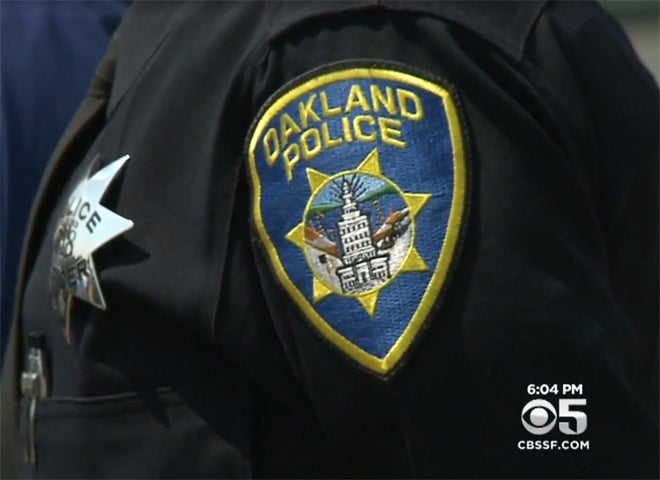 Oakland loses third police chief in just over a week
OAKLAND, Calif. -- Amid investigations into a widespread sex scandal and racist texting by police, Oakland Mayor Libby Schaaf said Friday the latest temporary chief for the Oakland police department has been removed after only two days on the job.
Schaaf announced Paul Figueroa has left the position of Acting Chief and the police department will temporarily be headed by City Administrator Sabrina Landreth, CBS San Francisco station KPIX reported.
Figueroa said in a statement he would be taking a leave of absence as he was "unable to fulfill the functions of the Acting Chief of Police." Following his leave, he intends to return to his position as Captain in the Oakland Police Department.
Figueroa is the third chief to be replaced in nine days amid a scandal that the city's mayor said involved "disgusting allegations" that a number of officers had sex with a teenage prostitute.
"As a Mayor of Oakland I am here to run a police department, not a frat house," Schaaf said.
She appointed Figueroa on Wednesday after abruptly removing the interim police chief, Ben Fairow, whom she had appointed after Chief Sean Whent suddenly resigned June 9.
In a statement issued early Wednesday afternoon, Schaaf said that Fairow had been hired as interim chief as "an individual who understood the dynamics in Oakland and who, based on his previous employment with OPD, could hit the ground running. However, I have just received information that has caused me to lose confidence in Ben Fairow's ability to lead the Oakland Police Department at this particular moment in time."
Schaaf said she could not provide more details about her reasoning due to state law.
At a Wednesday afternoon press briefing, the mayor said, "I need to be confident that our chief is 100 percent effective in making cultural changes" in the way that the department operates.
Schaaf admitted that "the process was very rapid" when she hired Fairow in the wake of Whent's departure and said, "I own the mistake and I'm not trying to hide."
KPIX reported evidence indicates an extramarital affair that happened more than a decade ago may have led to Fairow's dismissal.
While Fairow did not speak to the media, his current boss may have revealed to the reason behind his ouster.
BART Police Chief Kenton Rainey released a statement welcoming Fairow back Wednesday evening.
"Ben has shared information with me that, while he was married, he had a personal relationship with a consenting adult more than a decade ago, none of which precludes him from serving as a sworn law enforcement officer or as one of my Deputy Chiefs," Rainey's statement said.
Addition sources have corroborated that the extramarital affair was what spurred Fairow's firing after less than a week on the job.
The woman at the center of the sex scandal, who goes by the name "Celeste Guap," told KPIX she had sex with 14 officers from the Oakland police department, as well as officers from the Richmond and Livermore police departments and three Alameda County sheriff's deputies.
She said she only had sex with three officers -- all from the Oakland PD -- while she was underage. Guap named only one -- officer Brendan O'Brien, who committed suicide last September.
While Schaaf maintained that Whent stepped down for his own reasons, skeptics including city politicians speculated his departure was connected to the scandal.
This is the second time in three years that Oakland has faced a rocky transition in obtaining a new police chief. When Chief Howard Jordan resigned in May 2013, the assistant chief assigned to replace him on an interim basis served for two days before Whent took over.
The department has been operating under federal oversight since 2003 because of past failures to adequately hold officers accountable for misdeeds that included planting evidence and robbing residents in predominantly black west Oakland.
Two officers with the troubled Oakland department have resigned amid the sex scandal, and three others remain on paid leave.
Alameda County District Attorney Nancy O'Malley has also placed an investigator on leave in connection with the scandal, saying her agency will not ignore human trafficking or the sexual exploitation of a minor.
O'Malley did not identify the investigator or specify why the person had been placed on administrative leave.
O'Malley said in a statement that "we do not and will not turn a blind eye to human trafficking or the sexual exploitation of a minor, whether the offender is a civilian or law enforcement officer."
Thanks for reading CBS NEWS.
Create your free account or log in
for more features.