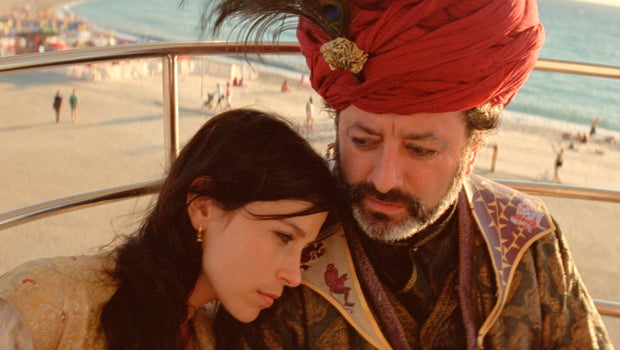 ​NYFF review: "Arabian Nights," or Portugal today
"Where are stories born?"
"They spring from the wishes and fears of men."
"And what is their purpose?"
"To help us to survive."
The story of Portugal's recent economic disaster -- it's the "P" in the "PIIGS" that threatened to pull down the rest of the European Union with it -- was writ large on global financial pages. But the real story of Portugal is writ small, in how the poor and impoverished working classes coped with high unemployment and a government that could not deliver basic social services.
Director Miguel Gomes has chosen to give voice to those lingering on the precipices of financial collapse, political upheaval and personal turmoil through a novel device: the storytelling of Scheherazade, the "Arabian Nights" princess who desperately conjured up tales each night to intrigue her royal husband and thus delay her expected execution.

"Arabian Nights," Gomes' three-part, six-hour meditation on Portugal in the 21st century (which has its U.S. premiere today at the New York Film Festival), weaves parables with surrealism as it introduces us to all manner of Portuguese citizens struggling to cope, trying to maintain their dignity in the direst of circumstances. Though the movie does not adapt actual tales from the ancient collection, it takes its storytelling spirit to heart.
It's a brazen conceit to tackle such a broad topic in one extended film, which Gomes signals by blasting the very heart of his own project ("It's stupid beyond words to want to tell marvelous stories, timeless fables, fettered by the transient -- the foam of days, the present's closed horizon"). In the opening minutes, juggling narratives of unemployed dockworkers with documentary-style footage of men setting fire to the nests of wasps invading their bees' territories, a film director (Gomes himself) suddenly deserts his crew, leaving them in the lurch and the audience up in the air.
A narrator (Scheherazade) then takes over, regaling us with snippets of stories that bring us close to Portugal's citizens mired in misery and their seemingly futile attempts to cope. One such tale comes from the monologue of a 50-year-old accountant who despairs having lost his job, his savings and his home. There is no resolution to his tale, alas, before Scheherazade moves on to the next stage.
Each of the individual characters or subjects could themselves be classified as storytelling devices, their lives the stuff of narratives, as are the rituals (patriotic hymns, mass protests). Even the songbirds that are trapped and put through their paces in chirping competitions, their vocalizations learned from MP3s of bird songs manipulated by computers, are storytellers.
Each film in the trilogy follows the same form, but their subtitles suggest differing tones. In Volume 1, "The Restless One," we witness the turmoil of nature and markets (such as when finance ministers agree to less draconian cuts in social services only after a wandering mystic has applied a magical aerosol spray to their genitals, causing significant arousal), and the absurdist story of a rooster on trial for his life for waking the neighbors.
In Volume 2, "The Desolate One," a woman calls her mother to inform her of having lost her virginity, and receives surprising advice; and a little dog is traded from owner to owner, altering their lives in unexpected ways.
In Volume 3, "The Enchanted One," Scheherazade herself appears, debating the purpose of stories (beyond keeping herself alive), before retiring to her nightly tales of birds, jilted lovers and suicides.
Gomes, as suggested in the opening vignette, may have bitten off more than he could chew -- a two- or three-hour "Arabian Nights" would have sufficed -- but the audacity of the concept is worth applauding. Despite the films' leisurely pacing, the individual stories of a society beset by tectonic changes draw us in, because the challenges they face -- the result of economic policies beyond their control -- are similar to those of most any nation today. Maybe the idiom's reverse is also true: Company loves misery.
The film actually suffers a bit when, in Vol. 3, Scheherazade briefly stops telling her tales and journeys away from her palace, encountering musicians, a hunkish lothario, and the mischievous Genii of the Wind. Instead of becoming a font of stories, she becomes the story herself. This pulls us out of the realm of parable and pushes us into parody, where a princess rides a sedan chair through a 21st century car parking lot.
But her brief sojourn underscores a theme that may lie in the back of Gomes' mind: Maybe Scheherazade is Portugal itself: trapped in a ridiculous life-or-death situation, she eeks out her existence through wiles, craft, duplicity or resignation, wary that at any moment the blade can come down on the chopping block.
Following its festival playdates, "Arabian Nights" will be released, in three parts, in theatres by Kino Lorber in December.
Want to just dip your toe into this magnum opus? While Volume 3 is the most interesting visually, with Oriental costumes and locations representing the fabled "Baghdad archipelago" (OK, it's the Portuguese shoreline, but it's pretty), I would recommend Volume 2 (which also happens to be Portugal's submission for the Academy Award for Best Foreign Language Film). Of the three films, it is the most interesting narratively, with its centerpiece an extended trial scene in which a judge finds nearly everyone in the community culpable of one crime or another -- plus, you don't often get to see a trial in which the chief witness is a cow.
The "Arabian Nights" trilogy (in Portuguese, English, French, German, and Mandarin with English subtitles) is not rated.
Volume 1, The Restless One (125 mins.); Volume 2, The Desolate One (131 mins.); Volume 3, The Enchanted One (125 mins.).
To watch an international trailer click on the video player below.
For more info:
More NYFF53 reviews:
Thanks for reading CBS NEWS.
Create your free account or log in
for more features.