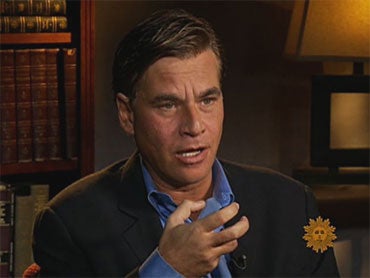 Aaron Sorkin Doesn't Mince Words
The clever dialogue that delighted fans of the TV series "The West Wing" was the work of veteran writer Aaron Sorkin. Last night his screenplay for the movie "The Social Network" won a Writers Guild Award, which could foreshadow a screenwriting Oscar later this month. Here's Lesley Stahl of "60 Minutes" with The Envelope, Please:
We met Hollywood screenwriter Aaron Sorkin in New York, where his career began.
"If we were to do 'The Aaron Sorkin Story,' like a movie -" Stahl suggested.
"I wouldn't recommend that!" he replied.
Well, of course . . . no one wants to have a movie made of them.
Sorkin has risen to the top of his profession. He's written "A Few Good Men," inspired by a military court martial . . . "Sportsnight," based on Keith Olberman & ESPN's "Sportscenter" . . . "The West Wing," inspired by the Clinton White House.
And now "The Social Network," about Facebook's Mark Zuckerburg.
"It's said that the movie, captures our time, that it's the Zeitgeist," Stahl said. "Is that what attracted you to this subject?"
"Exactly the opposite," Sorkin said. "I'm not sure I even know what our time is. So I wouldn't be able to capture it if I tried.
"But what attracted me to the subject wasn't that it was timely - what attracted me was that it was timeless."
Oscar Nominees: "The Social Network"
"Inception," "Social Network" Win WGA Awards
The movie is controversial, in part because Sorkin's script used real names, and he portrays Zuckerberg as, Stahl says, "a prickly guy. Socially awkward, vindictive, with a kind of touch of Asberger's Syndrome. Did you get him right, do you think?"
Sorkin told Stahl he'd never met or spoken to Zuckerberg. "I have seen him on television. Fact, the first time I saw him on television was being interviewed by you two years ago."
"Did that influence you, that interview?" she asked.
"It did. A lot."
"You portray him at times in the movie as kind of a nasty guy: He betrays his friends, all of that," Stahl said. "Did did you ever, while you were writing, say, 'Oh my God, the real Mark Zuckerberg is going to see this. It's gonna be in his face. People are gonna judge him by this.'"
"Yeah. It's something that I thought about, a lot,' Sorkin said. "And it's not something I was ever giddy about.
"But let me say this: I know that I wouldn't - and I don't think anybody would - want a movie made out of the things that they did when they were 19 years old. And that's what I did."
When Sorkin was 19, he was a musical theater major at Syracuse University. He graduated in 1983 and came to New York with hopes of acting on Broadway. Instead he had survival jobs. ("Yeah, yeah. You have to pay the rent and phone bills somehow.")
He worked at the half-price TKTS booth in Times Square, and after selling tickets to shows, he took another survival job at a Broadway T-shirt store - and became a genius at folding.
"That's how you fold a 'Cats' T-shirt," he demonstrated.
He was also a bartender at the Palace Theater, when "La Cage aux Folles" opened.
"I wrote 'A Few Good Men' on cocktail napkins during the first act of 'La Cage aux Folles,'" he said, "and I would come home with my pockets stuffed full of cocktail napkins."
But to get "A Few Good Men" from napkins to the stage, he needed an agent. So he dashed something off for a workshop theater.
"I got a funny idea for a one-act play," he recalled. "I wrote it, and it got accepted. And Nathan Lane was in it, and I was in it, too."
"I don't suppose there's any videotape of this?" asked Stahl.
"I sure hope not!" he laughed.
It was performed at the nearby West Bank Cafe, literally an "underground" theater. Back then in 1988, it was run by the comedian Lewis Black...
"Yes, Lewis Black, the guy who yowls!" Sorkin said.
Black recalled: "He comes down, he's got this play, and I'm the Playwright-in-Residence, and I read it and it's really funny."
After the play was put on, Sorkin was "discovered. He got an agent, which led to "A Few Good Men" on Broadway.
"He gives you credit," Stahl told Black.
"Well, that's terrific. And I wish he'd give me a job!" Black replied. "I mean, I would've been so good in 'The West Wing'! Just a touch! Would that have been too much to ask?"
"'Social Network'!" Stahl laughed. "I look at you and I see Mark Zuckerburg!"
"Exactly!" Black said.
And then, in Hollywood, Sorkin became a big-deal screenwriter, producer . . . and crackhead.
"You got hooked on crack?" Stahl said.
"I tried it once, and that's all that you have to do," he said. "I should have died several times."
He was on crack when he wrote both "Sportsnight" and "The West Wing."
After a stint at the Hazelden Rehab Clinic, he stayed clean for a while. But in 2001, he was caught at an airport in California with drug paraphernalia and arrested.
"When you get clean, you start thinking, 'Well, I'm thinking clearly now, and I don't have to use the way I was using before - I can use once in awhile,'" Sorkin said. "You can't!
"Now I was very lucky to have gotten caught and arrested, because if I hadn't I would've gone on using, and my life would've completely fallen apart."
After another stint in rehab, he joined a men's support group. And he says he's been clean for ten years.
"Do you still think about it?" Stahl asked.
"Not nearly as much as I used to," Sorkin said. "There are triggers. You'll see something, you'll hear something, and you have to put your head down on your desk for a minute. And, you know, I still go to meetings once in awhile, that kind of thing. But it's not nearly as bad as it used to be."
If you meet Aaron Sorkin now, and want the conversation to remain light and amusing - don't bring up politics.
"I have a big problem with people who glamorize dumbness and demonize education and intellect," Sorkin said. "And I'm giving a pretty good description of Sarah Palin right now."
He seems to be having a second career these days going after Palin. In an essay for the Huffington Post he called her a "witless bully."
"I think that we have big problems right now," Sorkin said. "And Sarah Palin? She needs a therapist, okay? We need the smartest guys, the best Ph.D.s around to be solving these problems. I don't have any patience for the glamorization of dumbness."
Sorkin only dabbles in political commentary. What he works really hard at is writing his plays and movies.
"I'm always the first actor to play the part," he said. "I'm playing it, you know, in my office as I'm writing it."
"Are you talking out loud when you write?"
"All the time. It's a very physical thing. I'm talking out loud all the time, not just at my desk, but in my car. I start arguments with myself!"
Stahl asked about some issues in "The Social Network" that Mark Zuckerburg argues about, such as the movie's contention that he started Facebook because a girl rejected him, or because he wanted to get girls.
Zuckerberg recently told Stahl that he actually was dating his current girlfriend, Priscilla Chan, since before he created Facebook.
"Did you know about Priscilla Chan when you wrote the movie?"
"No, no. Her name didn't come up," Sorkin said.
"If you had known that he had a girlfriend, would you have put that in, do you think?"
"No. I - listen, there's a lot about Mark's story [not in the film]. Like, he's an accomplished fencer," Sorkin said. "This isn't a biopic. It's not a profile of Mark Zuckerberg. It's a story about a lawsuit. And I used everything that was involved in that lawsuit. Priscilla Chan was not a witness. Her name does not come up in depositions."
Well, not everything came out of the depositions.
"There was a moment in my first interview that I did for '60 Minutes' with Mark Zuckerberg in which I ask him a question, and he just stares back at me - and he says, "Is that a question?' I wondered if you got that little moment from us," Stahl said.
"Absolutely," Sorkin replied.
.
These days Sorkin is keeping real busy. He's writing a movie about John Edwards and his love child; a TV series about a cable news show; and a Broadway musical - all while he waits to see if he wins the Oscar for his screenplay about Mark Zuckerberg.
"We were struck by all the similarities between you and Mark Zuckerberg," Stahl said. "Both Jewish kids who grew up outside New York."
"From Westchester. We grew up 20 minutes apart," he said.
"You both went to California to make your fortune. You both write alone in front of a computer all day and night. And you know what? He even lists 'The West Wing' as his favorite TV show."
"I know. And I thank him for that!"
For more info:
• Aaron Sorkin's Blog on Huffington Post
Thanks for reading CBS NEWS.
Create your free account or log in
for more features.