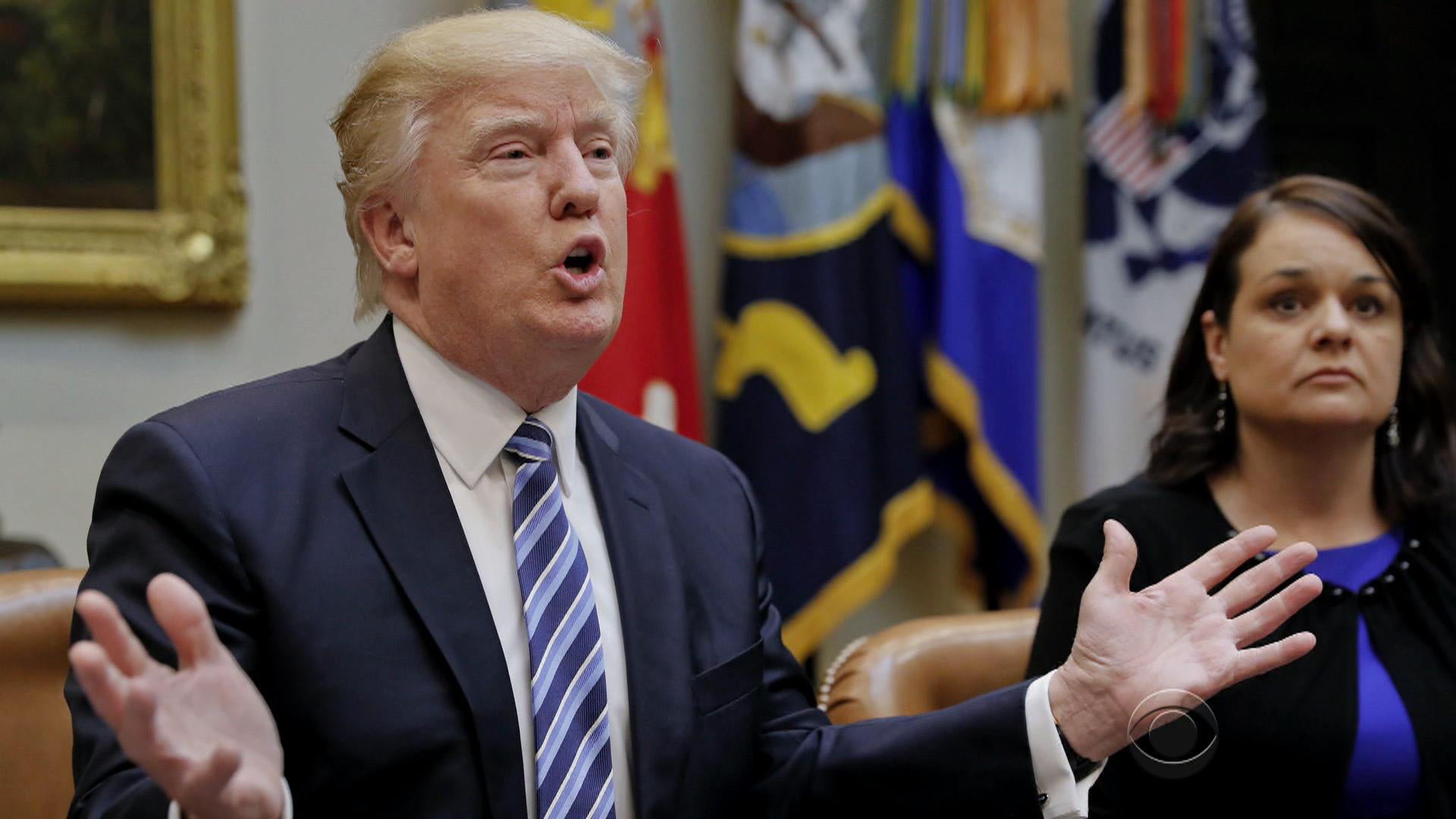 Numerous states refuse voter fraud commission's request for voter data
A growing number of states and Washington, D.C., are refusing or partially refusing to comply with a request for sensitive voter information from President Trump's Advisory Commission on Election Integrity.
Mr. Trump announced the formation of the commission in an executive order released in May, naming Vice President Pence as Chairman and Kansas Secretary of State Kris Kobach as Vice-Chair. The commission seeks to "study vulnerabilities in voting systems used for federal elections that could lead to improper voter registrations, improper voting, fraudulent voter registrations, and fraudulent voting," according to a statement from the White House.
As part of the voter fraud commission's goals, it requested voter registration information on individual voters from state records, including names, home addresses, voting histories, party affiliations, dates of birth, felony convictions and the last four digits of voters' Social Security numbers among other voter data points.
Sixteen states and Washington, D.C. have publicly said they will refuse the commission's request. Four states-- Florida, Hawaii, Nebraska and New Jersey-- are still deciding. Illinois has decided to delay their immediate response to the request until August 22, according to the Chicago Sun-Times.
In addition, The Electronic Privacy Information Center has filed for a temporary restraining order against the request. In its legal brief, the EPIC calls the request for extensive personal information on voters, with a White House promise to make such information publicly available, "both without precedent and crazy." A court hearing on the EPIC filing was scheduled for Thursday in Washington.
The states that have partially refused the request have agreed to give the commission only the voter information that is legal to disclose according to the terms of that specific state. Laws regarding this vary from state to state, but none would allow a state board of elections to give the commission, for example, a voter's social security number.
Mississippi Secretary of State Delbert Hosemann, who also serves as the state's chief elections officer, said in a statement that his "reply would be: They can go jump in the Gulf of Mexico and Mississippi is a great State to launch from."
D.C. Mayor Muriel Bowser said the commission's request "serves no legitimate purpose and only raises questions on its intent" in a statement on Friday.
"The best thing I can do to instill confidence among DC residents in our elections is to protect their personally identifiable information from the Commission on Election Integrity," Bowser said. "I will join leaders of states around the country and work with our partners on the Council to protect our residents from this intrusion."
Mr. Trump, who lost the popular vote by nearly 3 million to 2016 Democratic presidential candidate Hillary Clinton, has alleged that he lost the popular vote due to illegal voting, despite a lack of evidence for this claim.
The president tweeted out his response to the growing number of states refusing to comply with the voter fraud commission's request, asking "What are they trying to hide?"
Maryland's response to the request for voter information came Monday from Democratic Attorney General Brian Frosh, rather than Republican Governor Larry Hogan. Frosh released a statement saying the disclosure of the sensitive data requested would be prohibited under Maryland law.
"As Attorney General, I take seriously my responsibility to protect the voting rights and privacy interests of Maryland citizens," he said. "I find this request for the personal information of millions of Marylanders repugnant; it appears designed only to intimidate voters and to indulge President Trump's fantasy that he won the popular vote."
Louisiana Secretary of State Tom Schedler criticized the commission's request as "politicized" in a statement released by his office on Monday.
"This Commission needs to understand clearly, disclosure of such sensitive information is more likely to diminish voter participation rather than foster it," Schedler said. "I have been fighting this kind of federal intrusion and overreach, and will continue to fight like h*** for the people who trust me with the integrity of our election process."
Detailed below is a full list of each state's response to the commission's request for personal voter registration data thus far as of Wednesday:
States refusing the request:
California

Delaware

D.C.

Kentucky

Louisiana

Maryland

Massachusetts

Minnesota

Mississippi

New Mexico

New York

North Carolina

Ohio

South Dakota

Tennessee

Virginia

Wyoming

States partially refusing the request:
Alabama

Alaska

Arizona

Arkansas

Colorado

Connecticut

Georgia

Idaho

Indiana

Iowa

Kansas

Maine

Michigan

Missouri

Montana

Nevada

New Hampshire

North Dakota

Oklahoma

Oregon

Pennsylvania

Rhode Island

South Carolina

Texas

Utah

Vermont

Washington

West Virginia

Wisconsin

States still deciding:
Florida

Hawaii

Nebraska

New Jersey

Other:
Illinois— The Illinois State Board of Elections has said it will wait until August 22 to decide whether to comply with the Advisory Commission on Election Integrity's request
Thanks for reading CBS NEWS.
Create your free account or log in
for more features.