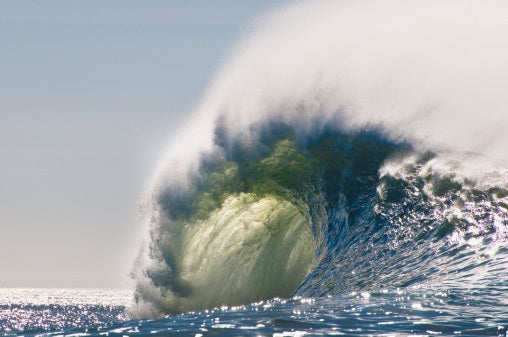 Northern California braces for possible hurricane-force winds
SAN FRANCISCO -- Northern California residents are bracing for a powerful storm that could be the biggest in five years and prompted the National Weather Service to issue a high wind and flash flood warning.
CBS San Francisco reports that sustained winds at or near hurricane strength in the highest elevations with gusts exceeding 100 miles per hour across the Sierra summit are forecast for Thursday, with Bay Area winds easily gusting past 50 miles per hour in urban areas and 70-80 miles per hour in the local mountains and hills in what could be the "storm of the decade."
Computer models are able to break down the exact time of highest danger. By mid-morning Thursday, models indicate winds peaking. Along the coast, 60 mile per hour winds are forecast, with higher gusts.
Officials with the National Weather Service said warmer ocean temperatures could make the storm stronger before it arrives, CBS San Francisco reported.
The storm is expected to arrive Wednesday and pelt the region through Thursday. It could overwhelm waterways and roadway drainage systems, possibly leading to flash flooding.
This storm is "expected to be one of the strongest storms in terms of wind and rain intensity" since storms in October 2009 and January 2008, respectively, said the National Weather Service in Monterey.
The term "hurricane" is only used to refer to tropical storms, and is used when sustained winds reach 74 miles per hour. That level of wind strength is possible at extreme elevations above 9,000 feet and higher Thursday, according to the National Weather Service warning.
"Given the long-term drought and short-term saturated ground, many trees will lose the battle with the wind on Thursday," said KPIX 5 chief meteorologist Paul Deanno.
The station reported that waves approaching 30 feet are predicted for surf breaks like Mavericks, and ocean swells will build to at least 20 feet by Wednesday, triggering the Small Craft Advisories and Hazardous Seas alerts.
Heavy rainfall is expected, especially in the North Bay.
Overall, the heaviest rainfall totals are expected from western Washington to Northern California, with numerous 3- to 5-inch rainfall totals expected. This includes much of the San Francisco Bay Area and Sacramento, the weather service reports.
Mark Ghilarducci, the director of the California Governor's Office of Emergency Services, issued a warning that the storm will present a risk of flash flooding and debris slides.
"This year was also a significant fire season for Northern and Southern California and burned areas are especially at risk for debris slides. Even regions that don't experience regular seasonal flooding could see flash flooding during this intense storm system, which could be the largest to date of this year's rainy season," he said in a statement.
High winds from 20 to 40 mph are expected, with gusts of 40 to 60 mph.
Authorities are warning motorists to avoid driving through standing water; stay clear of outside roadway lanes, especially at night; keep headlights on at all times; and drive slowly to prevent hydroplaning. People should also have emergency contacts available and a stock a small emergency kit that can sustain each person for three days.
Farther north, a series of strong weather fronts with high winds and heavy rains could lead to flooding and landslides this week in western Washington state.
The National Weather Service expects as much as 14 inches of rain between Monday and Thursday in the Olympic Mountains west of Seattle. And it expects as much as 13 inches of rain in the North Cascades east of the city.
Saturated soils will bring the risk of mudslides, while winds could topple trees.
Thanks for reading CBS NEWS.
Create your free account or log in
for more features.