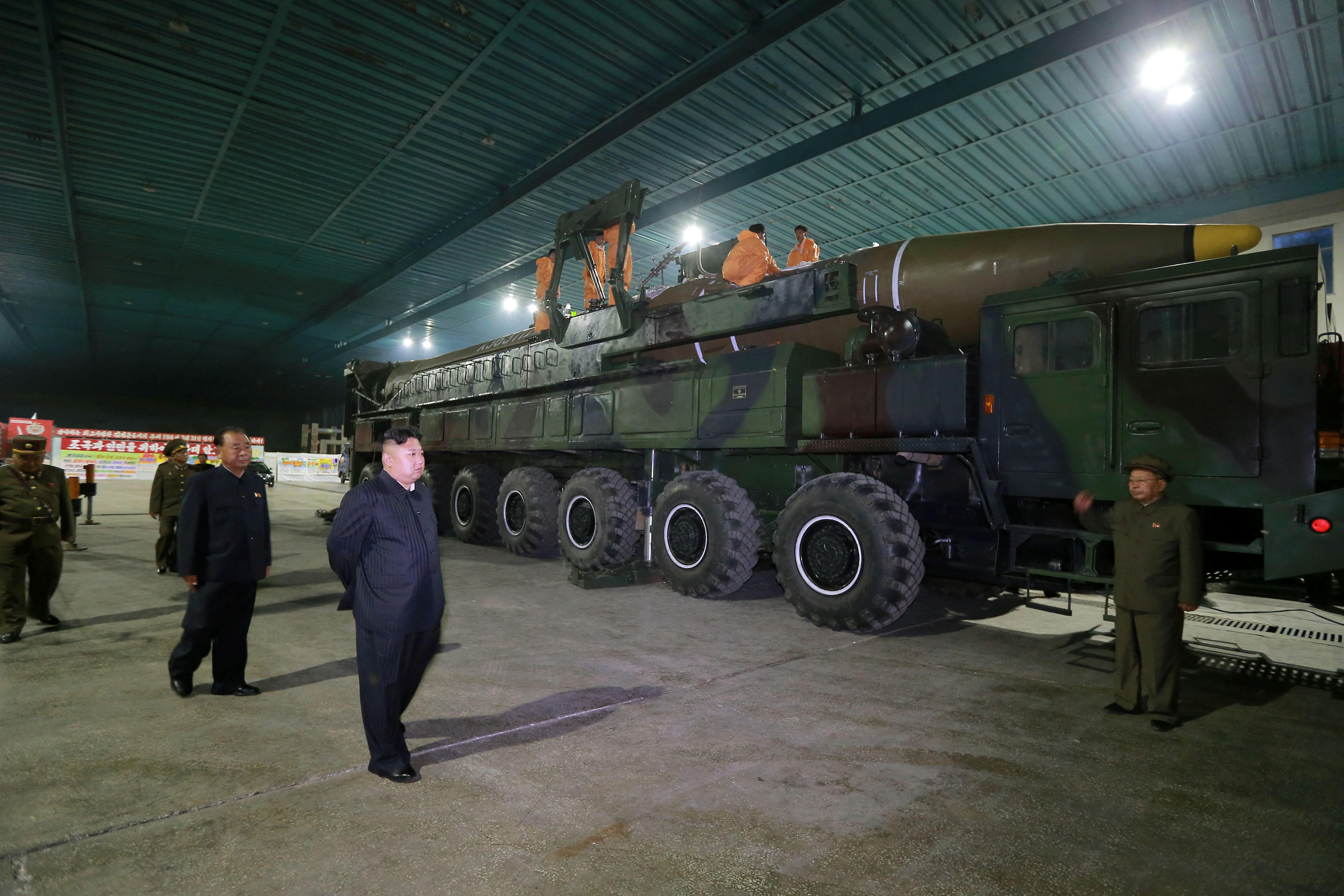 North Korea says it has successfully launched new type of ICBM
North Korea said Wednesday it had successfully launched a new type of intercontinental ballistic missile (ICBM), which it claimed is capable of reaching the United States.
The North's state television said Wednesday that the new ICBM was "significantly more" powerful than the previous long-range weapon the North tested.
The report called the weapon a Hwasong 15. The launch was detected early Wednesday morning (Tuesday afternoon on the U.S. East Coast) from a site near Pyongyang.
The Pentagon confirmed on Tuesday that North Korea had launched its first ballistic missile in 10 weeks. Spokesman Col. Robert Manning said U.S. officials detected the launch at about 1:17 p.m. ET, and that an initial assessment indicated it was an ICBM.
Manning said the missile was launched from Sain Ni, North Korea, and traveled around 1,000 kilometers (620 miles), before landing in the Sea of Japan. He added that the launch did not pose a threat to "North America, our territories or our allies."
Because North Korea fired the missile at such a high angle, it was never a threat to the U.S., but calculations done by David Wright of the Union of Concerned Scientists showed that had it been fired on a standard trajectory, it could have traveled 8100 miles, far enough to reach Washington, D.C. or anywhere else in the U.S.
While North Korea has demonstrated a capability to reach the U.S. mainland with its missiles, it has yet to demonstrate technology that would enable those missiles to successfully deliver a nuclear warhead at such distance.
As of this summer, Western analysts believed Kim's missile engineers were still working to overcome two key hurdles; building a nuclear warhead compact enough to fit onto an ICBM, and building a missile capable of surviving the extreme heat of atmospheric re-entry without disintegrating.
After the North's previous ICBM test in July, experts reduced their estimate of how long it might take North Korea to clear those remaining hurdles to months, from years.
A U.S. intelligence official told CBS News the U.S. was "not surprised" by the launch, and said there were plenty of recent "indications" of a possible launch.
The launch marked the country's first since Sept. 15, when it fired an intermediate-range ballistic missile over the Japanese island of Hokkaido.
President Trump addressed the missile launch in televised remarks Tuesday. "We will take care of it," Mr. Trump said. "We have [Secretary of Defense James Mattis] in the room with us to have a discussion on it. It is a situation that we will handle."
Mattis said the ballistic missile went higher than any previous shot North Korea has taken, and that in response, South Korea had fired pinpoint missiles out into the water.
Last week, the Trump administration declared North Korea a state sponsor of terrorism. Washington also imposed new sanctions on North Korean shipping firms and Chinese trading companies dealing with the North Korea. The rogue nation called the terror designation a "serious provocation" that justifies its development of nuclear weapons.
The U.S. Mission to the U.N. announced on Twitter that Ambassador Nikki Haley and her counterparts from Japan and the Republic of Korea have scheduled an emergency U.N. Security Council meeting for Wednesday.
In September, the U.S. drafted a U.N. resolution calling for a complete oil embargo along with an asset freeze and travel ban on North Korea's leader Kim Jong Un -- a measure that had the support of U.S. allies but was met with resistance from China. Diplomats now say the U.S., along with Western nations and Japan, will be looking to increase pressure with tougher sanctions as a last resort to diplomatic and economic measures, CBS News' Pamela Falk reports.
Thanks for reading CBS NEWS.
Create your free account or log in
for more features.