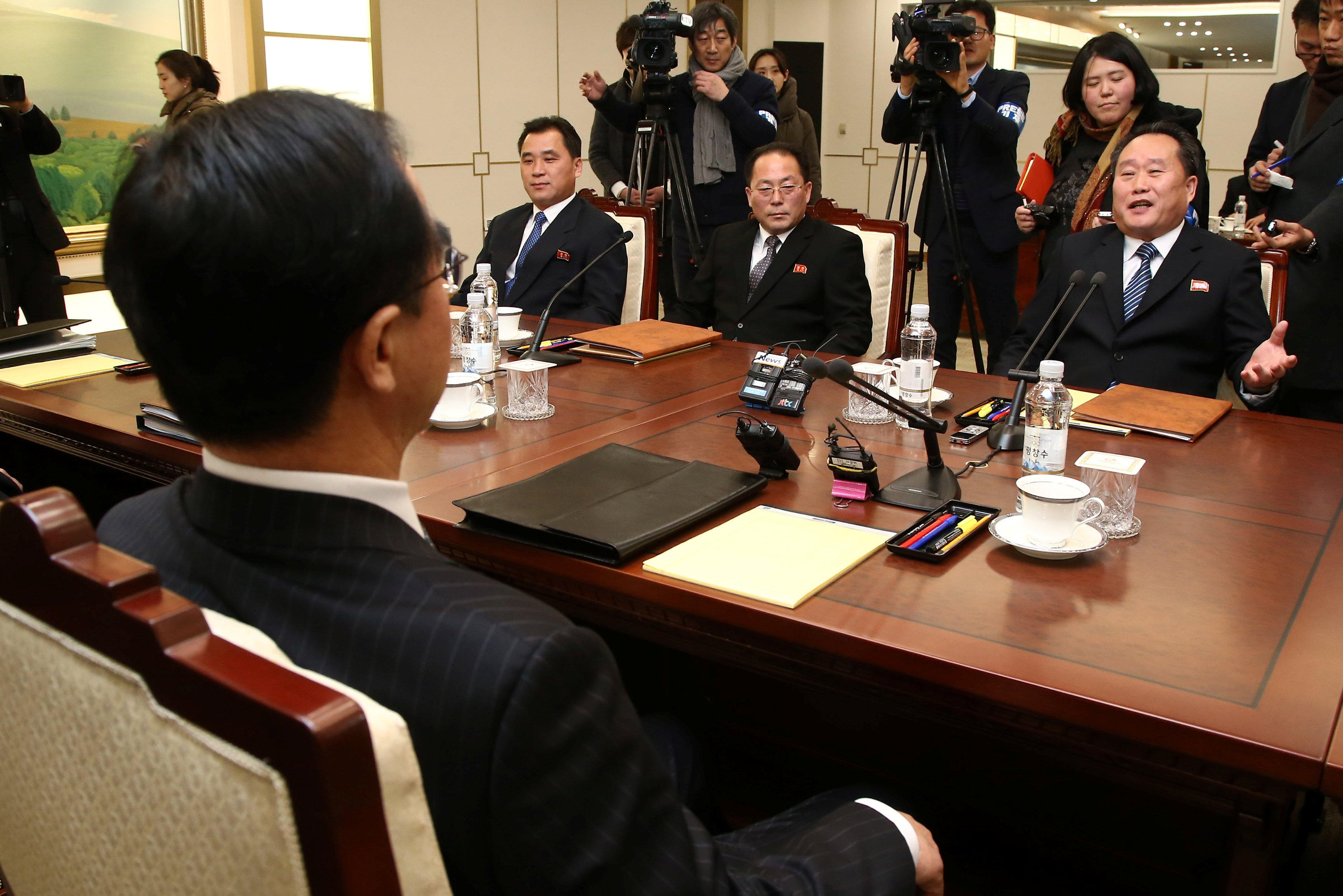 Quick progress as North, South Korea hold 1st talks in years
SEOUL, South Korea -- North Korea agreed Tuesday to send a delegation to next month's Winter Olympics in South Korea, Seoul officials said, as the bitter rivals sat for rare talks at the border to discuss how to cooperate in the Olympics and improve their long-strained ties.
As CBS News correspondent Ben Tracy reports, the very fact that the meetings were even taking place is a fairly stunning turn of events; the South has been trying to engage North Korea for months, but Kim Jong Un's regime wasn't interested in talking. Now it is, and the two sides made early progress on at least one issue.
The Koreas' first talks in two years were arranged after Kim Jong Un recently made an abrupt push for improved ties with South Korea after a year of elevated tensions with the outside world over his expanding nuclear and missile programs. Critics say Kim may be trying to divide Seoul and Washington in a bid to weaken international pressure and sanctions on the North.
That theory may be bolstered by remarks from a North Korean diplomat taking part in the talks, who claimed Tuesday that the North's weapons are aimed exclusively at the U.S., not South Korea, Russia or China. The remarks did not mention key U.S. ally Japan.
President Trump has taken credit for drawing the Kim regime back to a negotiating table, claiming it was his strong position toward the North that set the stage for the talks between the Koreas. The North's ruling party newspaper criticized the claim that tougher enforcement of sanctions and increased pressure on the North were a "diplomatic success" of Mr. Trump's first year in office, however, calling it a "ridiculous sophism" in a commentary published as the two sides started their talks on Tuesday.
"It is very deplorable to see the U.S. politicians boasting of their diplomatic failure as 'diplomatic success,'" it said.
The North Koreans said they were serious and sincere, offering what they called "invaluable results" from the talks. As Tracy reports, they could afford the optimism because the conversation was not about Kim Jong Un's nuclear program, focusing instead primarily on the North's attendance at next month's Winter Olympics.
Hinting at optimism with diplomacy restored between the two Koreas -- and raising questions about both governments' stances on any potential U.S. involvement in the dialogue, the South's unification ministry issued a statement following Tuesday's talks saying the delegates had agreed, "our people's issues should be solved by ourselves."
CBS News' Pamela Falk says there's little doubt that the mounting pressure on North Korea seen in the last year -- and in particular China's agreement to tighten U.N. sanctions -- contributed to bringing this new round of talks to fruition.
North Korea is evidently feeling the pinch of U.N. sanctions, particularly as China has cut off significant income to the Kim government, but neither U.N. nor South Korean diplomats see any "give" on Pyongyang's interest in abandoning its nuclear program.
There was significant, if limited progress, however. The North Korean delegation said it would send an Olympic delegation, which includes officials, athletes, cheerleaders, journalists and others, South Korea's Vice Unification Minister Chun Hae-sung told reporters, according to media footage from the border village of Panmunjom, the venue for the talks.
The South Korean delegation, for its part, proposed North Korea send a big delegation and conduct a joint march during the Feb. 9-25 Game's opening and closing ceremonies, Chun, one of the five South Korean negotiators, said.
He said South Korea also suggested resuming temporary reunions of families separated by war and offering military talks designed to reduce animosities in frontline areas. South Korea also stressed the need to achieve denuclearization of the Korean Peninsula, Chun said.
North Korea responded by saying the two Koreas must try to promote peace and reconciliation through dialogue, he said.
The two sides continued their negotiations later Tuesday at Panmunjom, the only place on the tense border where North and South Korean soldiers are just feet away from each other. A North Korean soldier late last year defected to the South across Panmunjom amid a hail of bullets fired by his comrades. He was hit five times but survived.
The meeting began with an amicable atmosphere Tuesday morning, with chief North Korean delegate Ri Son Gwon saying he hoped the talks would give "a New Year's first gift -- precious results (of the talks) to the Korean nation." Ri's South Korean counterpart, Unification Minister Cho Myoung-gyon, said he also hoped they would come up with a "good gift" for people in both Koreas.
In a significant agreement in one of several subsequent rounds of talks on Tuesday, the North and South said they would reopen a military hotline between the feuding neighbors, aimed at providing a means to quickly clear up cross-border misunderstandings and avoid escalations. The hotline, which North Korea shutdown about two years ago as tensions soared, was to reopen Wednesday morning.
The overall prospect for the negotiations was still unclear. The two Koreas have a long history of ending key talks without any agreement and failing to follow through with rapprochement accords.
An agreement on the North's Olympic participation had been widely expected before the talks began, but the Koreas remain sharply at odds over how to improve their overall ties.
North Korea is expected to demand rewards in return for South Korea's offer for family reunions and military talks, like Seoul halting propaganda broadcasts and scaling back or halting military drills with the U.S., observers say.
Suspension of the military drills would be unacceptable for Seoul because that would seriously undermine the alliance with its chief ally the United States, which wants to put more pressures on Pyongyang. The North views the drills as a rehearsal for a northward invasion.
President Donald Trump on Saturday expressed hope for some progress from the talks and said he was open to talking with Kim himself. But U.N. Ambassador Nikki Haley later said the U.S. administration isn't changing its conditions regarding talks with North Korea, saying Kim would first need to stop weapons testing for a "significant amount of time."
In his New Year's Day address, Kim said there is an urgent need to improve inter-Korean ties and that he is willing to send a delegation to the Pyeongchang Games. He urged Seoul to halt the military drills with the U.S. and said he has a "nuclear button" to launch missiles at any target in the United States.
South Korean liberal President Moon Jae-in, who favors dialogue as a way to defuse the North Korean nuclear standoff, welcomed Kim's outreach and proposed talks at Panmunjom. Kim quickly accepted.
"As President Moon has said, the improvement of relations between North and South Korea cannot advance separately from resolving North Korea's nuclear program," Brian Hook, a chief adviser to U.S. Secretary of State Rex Tillerson, told reporters in a conference call late Monday Washington time. "And so, we remain focused on our global pressure campaign. That campaign is designed to bring Kim Jong Un to the table for meaningful negations."
The Trump administration agreed last week to delay springtime military drills with South Korea until after the Games. Defense Secretary Jim Mattis insisted the delay was a practical necessity to accommodate the Olympics, not a political gesture.
Trump and Kim traded bellicose warlike rhetoric and even crude insults last year, as the North conducted it sixth and most powerful nuclear detonation and three tests of intercontinental ballistic missiles.
The International Olympic Committee said Monday it has "kept the door open" for North Korea to take part in the Games. IOC spokesman Mark Adams said the registration deadline has been extended and that the Switzerland-based committee supports North Korean athletes in the qualification process, while respecting U.N. sanctions against North Korea.
Thanks for reading CBS NEWS.
Create your free account or log in
for more features.