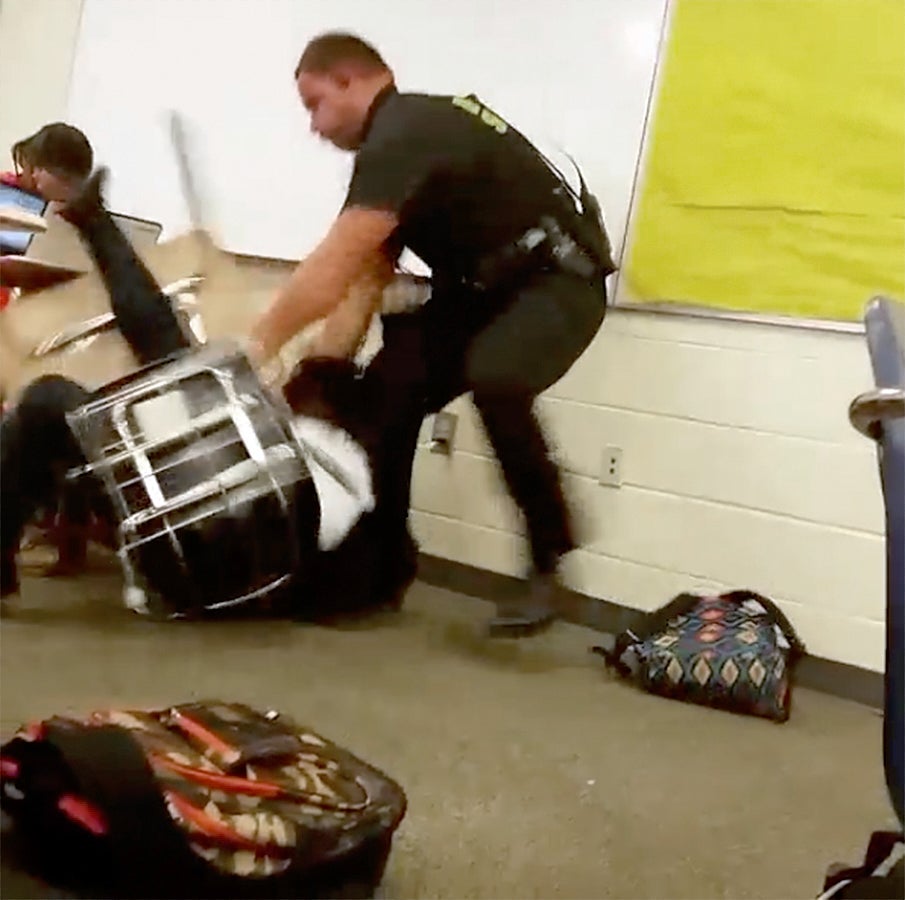 No criminal charges for deputy seen dragging SC high school student in video
COLUMBIA, S.C. -- A South Carolina sheriff's deputy will face no charges for dragging a student across a classroom, a prosecutor announced Friday in a case that focused attention on the consequences of bringing law enforcers into classroom confrontations.
In a 12-page report, Solicitor Dan Johnson said he found no probable cause to charge Ben Fields. The school resource officer was recorded by students at Spring Valley High School flipping a female student to the floor and dragging her across a classroom after she refused to surrender her cellphone last October.
Fields was fired by the Richland County Sheriff's Department. Videos of the confrontation between the white officer and black student stirred such outrage that Sheriff Leon Lott - who said what Fields did made him want to "throw up" - called the FBI and Justice Department for help.
The student videos posted online showed Fields telling the girl to leave her seat or he would forcibly remove her. The officer then wraps his forearm around her neck, flips her and the desk backward onto the floor, tosses her toward the front of the room and handcuffs her.
Johnson's report includes statements from a slew of witnesses, one of whom said "the incident looked worse in the video than it did in the classroom." Another said Fields didn't intentionally throw the student across the room but lost his grip in trying to remove her from her desk after she refused to leave.
Niya Kenny, who recorded the confrontation and was arrested along with the girl after verbally challenging the deputy, told authorities that she didn't think the incident would have happened if the student had listened to their teacher.
Kenny also acknowledged that she made false statements to reporters that Fields was known around the school as "Officer Slam."
Both girls have faced "disturbing schools" charges for nearly a year. Johnson said Friday they would be dropped.
In a statement included in the report, Fields gave his own account.
"I realized that I was going to have to physically remove the student from her seat to effectuate her arrest" after she repeatedly refused to come with him, Fields said.
He said the desk flipped over only because the student had locked her leg inside it, and claimed she punched him in the chest while he was subduing her.
Johnson- a former chief deputy under Lott - said the sheriff had the right to fire Fields, but said such swift action, coupled with administrative changes at the school district, undoubtedly affected the ensuing criminal investigation.
A U.S. Justice Department review was settled in August,when Richland County agreed to provide intensive training for deputies working in 60 schools on how to de-escalate situations, avoid bias and interact properly with disabled students.
"The reality, from a prosecutorial standpoint, is that these administrative actions, taken prior to the completion of the investigation, have been injurious to the prosecution of the case," Johnson said.
An attorney hired by Fields after his firing didn't immediately return an email seeking comment late Friday afternoon.
The American Civil Liberties Union has sued South Carolina over what it calls the criminalization of normal adolescent misbehavior, challenging the state's "disturbing schools" and "disorderly conduct" charges as unconstitutionally vague. Kenny and several other students have joined that lawsuit as plaintiffs.
Thanks for reading CBS NEWS.
Create your free account or log in
for more features.