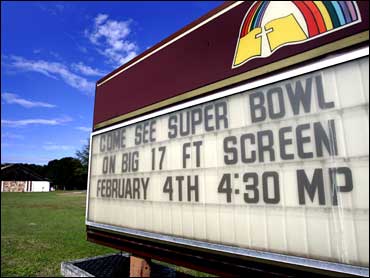 NFL To Churches: Not In Thy Father's House
The Indianapolis Colts' first Super Bowl appearance made Calvary Temple want to party like it never had before — and now, thanks to the NFL, it won't.
The church had planned a Sunday shindig for about 100 young adults, complete with snacks and a big screen TV to watch the game.
But temple leaders scrapped the idea after learning the NFL stopped a similar get-together at another Indianapolis church, saying it would violate copyright laws.
Church leaders, regretting the turn of events, say the Super Bowl has turned into an annual way to connect with their community.
"It's just a good opportunity to get everybody together, have some fellowship and fun and watch the Super Bowl," business manager Bill Kaler said.
"I didn't realize the Super Bowl was a copyrighted thing," Kaler said.
Several congregations around the country have curtailed or abandoned party plans to avoid ending up on the wrong side of the law.
In suburban Chicago, Poplar Creek Church plans to host about 100 people to watch the game on a big-screen TV in the sanctuary. Pines Baptist Church north of Miami plans to host flag football games before guests gather to eat and watch Sunday's Colts-Bears game, Pastor Luis Acosta said.
"It's nothing different than a bunch of guys coming together at somebody's house ... it's just a church thing," Acosta said.
NFL spokesman Greg Aiello said these gatherings are fine, as long as the churches stay within certain guidelines. That's where Fall Creek Baptist Church went wrong.
The Indianapolis, Ind. church planned to charge admission to cover the food tab for its party and show the game on a big screen using a projector. It also promoted its "Super Bowl bash" on the church's Web site.
Those are some copyright no-no's. The league's long-standing policy is to ban "mass out-of-home viewing" of the Super Bowl except at sports bars and other businesses that televise sports as part of their everyday operations, Aiello said.
Dr. John Newland of Falls Creek Baptist Church in Indianapolis, told CBS's Indianapolis affiliate WISH correspondent Mike Corbin that his church had planned many activities, including games for kids and teenagers, to go along with a big-screen projection of the game. But then the church got a letter from the NFL.
"I thought, well this doesn't make sense because sports bars all across America are showing the game," Newland said.
The NFL also warned Newland that they could not air the game on a screen larger than 55 inches.
The pastor tried to debate the issue with the NFL, but the football league wouldn't bend.
Places (including bars) are prohibited from charging admission to watch the Super Bowl, and the law prevents them from showing the game on a TV bigger than 55 inches.
The idea is to honor the NFL's contract with networks that provide free broadcasts of the game and to protect the Super Bowl trademark, Aiello said. [Major League Baseball and the NCAA have similar policies.]
Aiello said the NFL has had to inform theaters, schools, museums, casinos and hotels about these limits. Officials also have talked to hundreds of churches in the past.
"They say 'Thanks' and they have their Super Bowl viewing parties within the rules," he said.
Others have spiked their plans.
In suburban Houston, members of the Cypress United Methodist Church decided Thursday to cancel their Super Bowl party after being told the gathering would violate the league's copyright.
The church planned to charge a small admission fee to raise money for its youth mission activities.
"We felt like we were offering a wholesome environment for the youth," church administrator Quinn Edmondson said. "We were, frankly, pretty shocked."
In Indianapolis, Fall Creek Baptist Church Pastor John Newland said he's received about 200 e-mails since The Indianapolis Star first reported about the NFL's letter. Some told him to hold the party anyway and dare the league to sue him — tossing a "Hail Mary pass," if you will.
"We think the law is wrong, and it discriminates against people of faith while opening up an exception to certain businesses who stand to make millions," he said.
Even so, he has no intention of breaking the law. Instead, he wants to tell people about it to motivate change.
"We have to teach our kids that just because you don't like a law, that doesn't mean you have to break a law."
Calvary Temple's Kaler also preaches respect.
"If that's the way it is, that's the way it is," he said. "I think being a church and a Christian organization, you've got to do what's right."
Thanks for reading CBS NEWS.
Create your free account or log in
for more features.