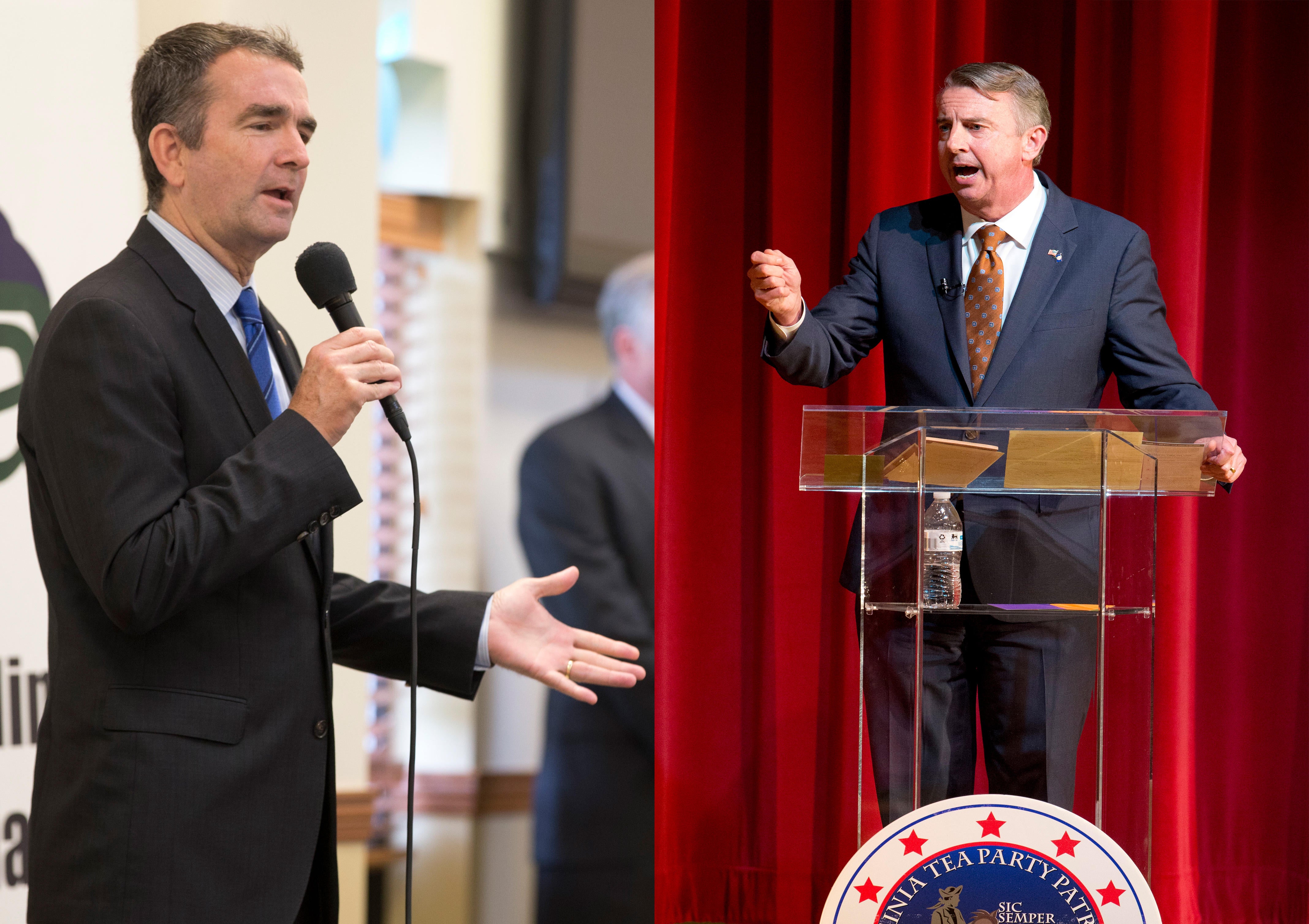 Polls shows close Gov. race for Ed Gillespie, Ralph Northam in Virginia, Northam edging out
A new poll by Monmouth University shows that Republican Ed Gillespie and Democrat Ralph Northam are deadlocked in the race for Virginia governor.
The poll shows 48 percent of likely voters support Gillespie, the former chairman of the Republican National Committee, and 47 percent support Northam, the commonwealth's current lieutenant governor. Last month, Northam had a 49 percent to 44 percent edge over Gillespie. The race was tied at 44 percent in July.
"This has never been more than a five point race in Monmouth's polling, and that means either candidate has a very real shot at winning this thing. We have seen lots of little movement that has either helped or hurt each candidate but with neither one being able to break out," said Patrick Murray, director of the Monmouth University Polling Institute.
A Suffolk University poll conducted just last month found similar trends the day before the two candidates were set to debate.
Meanwhile, a new poll conducted by Quinnipiac University found that Northam currently holds a 14-point voter lead in the region, with 53-39 in support of the Democrat.
"One number says it all. Lt. Gov. Ralph Northam's 14-point lead among independent voters is all you need to know about the race to be Virginia's next governor," said Peter A. Brown, assistant director of the Quinnipiac University Poll.
Brown added, "The two major-party candidates do about the same among their respective party bases, but a candidate who carries independent voters by double-digits is almost always a winner."
Quinnipiac found strong support mostly among women and non-white voters, as well as a double-digit lead among independent voters.
The Monmouth poll also found that the race has become more regionally divided, with Gillespie widening the gap in western Virginia and Northam picking up steam in northern Virginia.
"As the northern and western parts of Virginia revert to their partisan norms, the battle for swing voters will occur right down the I-95 corridor," added Murray.
While President Trump has thrown his support behind Gillespie, just over four in 10 commonwealth voters say Mr. Trump is either a major (29 percent) or minor factor (14 percent) in their gubernatorial vote choice.
In northern Virginia, however, more than half (54 percent) say Mr. Trump is a factor in their vote.
The two candidates had broached the topic of the president's role as commander in chief at their first debate back in July.
Northam had referred to Mr. Trump as a "narcissistic maniac," and was asked if he felt the president was fit for the office. Northam told the moderator he stood by his previous comments.
"I believe our president is a dangerous man, I think he lacks empathy," said Northam. He added that Mr. Trump has "difficulty telling the truth, and it happens again and again."
Meanwhile, when pressed to respond to a question of whether he'd support impeaching Mr. Trump, Gillespie didn't directly answer, saying instead that the state is in need of a "governor who can work with the president, vice president and administration."
"What are you going to do as our governor?" Gillespie posed to Northam. "Call the White House, put me through to the narcissistic maniac?"
The two are vying for the gubernatorial seat that Gov. Terry McAuliffe currently holds. McAuliffe, elected in 2013, is term-limited, as Virginia does not allow governors to serve two consecutive four-year terms.
Thanks for reading CBS NEWS.
Create your free account or log in
for more features.